Greetings. Snoops and Kommando Kitty here. Did you know that October is National Animal Safety and Protection Month? Guess humans need to be reminded on a regular basis how important it is that they take care of us. We wanted to take this opportunity to remind you and your humans of some common sense ways to keep us happy and healthy.
Electrical Cords are Not Food or Toys
Some cats love playing with yarn. And some cats love playing with anything that looks like yarn, including electrical cords. If you're not careful, you can get zapped chewing on a cord. Even if that doesn't happen, it could start a fire and ruin your happy home. If you are one of those kitties who can't seem to resist cords, we recommend your human coat them in cayenne pepper, hot pepper sauce, or orange/lemon peel. Or possibly bundle them together and put cardboard tubing around them (of course, some of us also love gnawing on a good cardboard tube.)
Houseplants Also are Not Food
A lot of plants are not good for kitties. Additionally, some humans get really attached to their houseplants and are upset if you eat them. We have written about the types of plants that are not good for kitties here and here. We recommend hanging plants, although a previous resident cat here managed to devour a huge hanging spider plant in one sitting so that's no guarantee.
Just Because it's Good for Humans, Doesn't Mean it Will Help Cats
Humans put a lot of things in their bodies that are just not good for cats. We have talked about poisonous foods before. In particular, avoid onions and garlic. Some of us love milk, and some of us are lactose-intolerant. Some of us love beef, and some of us have trouble digesting it. Also, do not let your human give you aspirin or Tylenol. They work well for humans, but may be toxic to kitties. Also encourage your human not to throw their trash where you can get into it.
Curtains and Drapes aren't as Much Fun as They Look Like
Curtains look like a lot of fun to climb. But it's really easy to get a claw caught. You can pull a muscle trying to get down. And humans are really fussy about having pulls or tears in their curtains. Vertical blinds are the best; there's nothing to get stuck on. Avoid pull-cords that have loops. You can get your neck caught in it, and that will not end well.
Carpets and Rugs are Potential Traps 
You shouldn't sharpen your claws in the carpet; it really upsets the humans. Besides, you can get caught and hurt yourself trying to get free. Additionally, don't play beneath rugs (particularly if you're small or a kitten). The humans might not see you and could step on you. Encourage your humans to get tight weaves if they're looking for new carpeting.
Plastic Bags and Buckets
It's fun to play in bags. But if you get caught in a plastic bag, you can't breathe. Make sure your human doesn't leave them laying around where temptation may get the best of you. Also, watch out for buckets/trash cans that have lids that can close on you. Being trapped is scary and could end badly.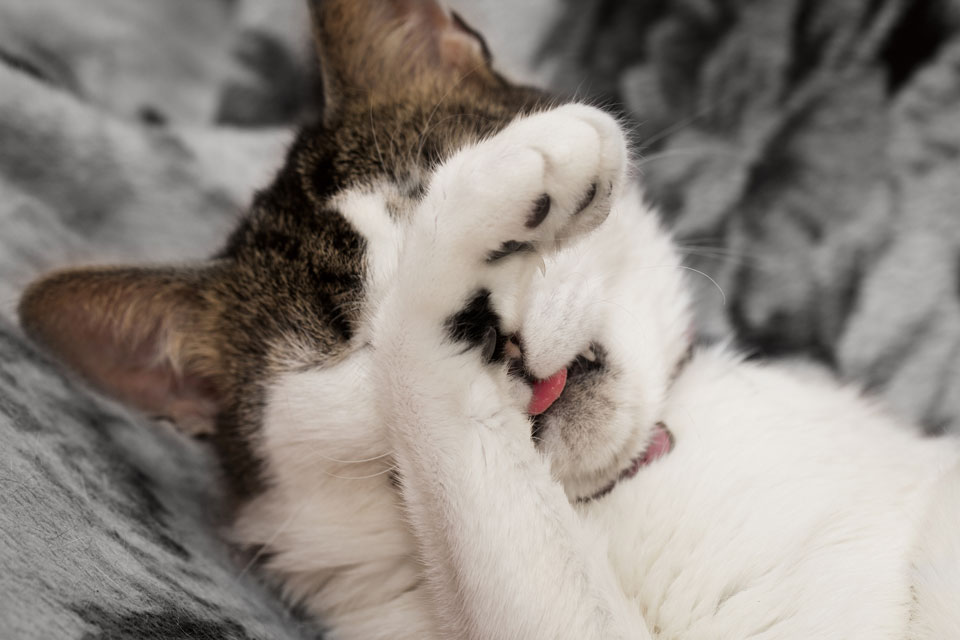 Cleaning Products Don't Just Smell Bad
You know how bad it smells when your human is cleaning the kitchen? Some of those products are really bad for kitties. In particular, stay away from drain cleaners and oven sprays. Make sure your human never uses bleach or industrial-strength cleaners on your litter box. Those cleaners are irritating to a lot of cats; and If there's still urine in the box, it can create toxic fumes. (And the smell may drive you away from your box.)
If You Break It, Run Away
Humans really shouldn't leave breakable things in a place where we can push them off the counter/shelf, but you know how they are. If you do break something, we recommend you run. First, they're probably going to be mad. Second, you don't want to cut yourself on the pieces.
Don't Play in the Machines
The humans have a lot of big toys that we really should stay away from. The washing machines, dryers, ovens, dish washers, and refrigerators all look like fun places to explore and maybe take a nap. Problem is, humans are pretty absent-minded and might turn them on with you inside. That would be extremely unpleasant.
Miscellaneous Tips
Visit the vet as needed (you know your schedule).
Make sure you're micro-chipped or have a collar with contact information in case you get separated from your human
Have your humans draw up a plan in case of emergency (who is responsible for you)
Have your human learn basic animal first aid
If you're not feeling well, make sure your human knows it. They know what's normal for you.
Hopefully, you've enjoyed going over this information with your human. If not, we'll be back next week with something more fun.
Pictures courtesy of Google Images