Where we are: Jake Rabbit had been planning to spend the winter with his girlfriend Suzy in the home of the hibernating Woodchuck family. Unfortunately, he made too much noise and woke up the Woodchucks. Now he had to find a new place to stay. You can read Part 1 here.
Early the next morning, Suzy set out to find Jake. It didn't take long. He was under the other end of the porch where the Woodchucks had burrowed. He looked pretty bedraggled.
Suzy: Jake! What are you doing here?
Jake (embarrassed): I kinda got lost last night. After hopping around for a while, I came back here to get a little sleep.
Suzy: Where are you going to go?
Jake: I don't know. Do you think I can go back and apologize to Wally?
Suzy: I don't think that's a good idea. He's sleeping.
Jake: Oh, right. Maybe he wouldn't notice if I just slipped back in.
Suzy: That is not a good idea.
Jake: Maybe we can find a place of our own.
Suzy: It's the middle of winter. All of the good spots are taken. And there aren't any leaves or grass around to make a bed.
Jake: Right. That's a problem.
Suzy: What about your buddies? Maybe you can stay with one of them?
Jake: Nah. They're a bunch of slobs. It would drive me nuts living with them.
Suzy: Could you move back home?
Jake: I don't want to go back there.
Suzy: Why not? I'm sure your Mom would let you stay.
Jake: It's embarrassing. I said I was ready to leave home.
They went for a walk around the woods. It was a beautiful day. There were deer and squirrels running around. They didn't see any of their friends, but ran into a couple of Jake's sisters.
Jasmine: Jacob! How are you? We miss you!
Jake: I'm good.
Jenny: How do you like living with the Woodchucks? Is it hard being quiet all the time?
Jasmine (looking at Suzy): We have a bet about how long he's going to last before he gets in trouble.
Jenny (laughing): Yeah. Jake's kinda loud for a rabbit.
Suzy and Jake looked at each other but didn't say anything. Jenny stopped laughing.
Jenny: What's wrong? Isn't it working out?
Jake: That stupid woodchuck threw me out last night.
Suzy: Jake! He's not stupid! You woke him up. He had a right to be mad.
Jake: Whose side are you on? I thought you were my girlfriend.
Suzy: I am. But you knew they were sleeping, and you had a party.
Jasmine: That was kinda dumb, Jake.
Jenny: Yeah. We love you, but no one could sleep through one of your parties.
Jake: I guess you're right. It was dumb. But now I don't have anywhere to live.
They all sat and thought for a few minutes. Jasmine started smiling.
Jasmine: Hey, Jen. Didn't Aunt Sheila say that she was looking for someone to help around the house?
Jenny: That's right! She's been having a terrible time trying to find anyone.
Suzy: Isn't she the one that lives in that gorgeous burrow by the big oak tree?
Jenny: Yep. It's huge.
Suzy: You should talk to her.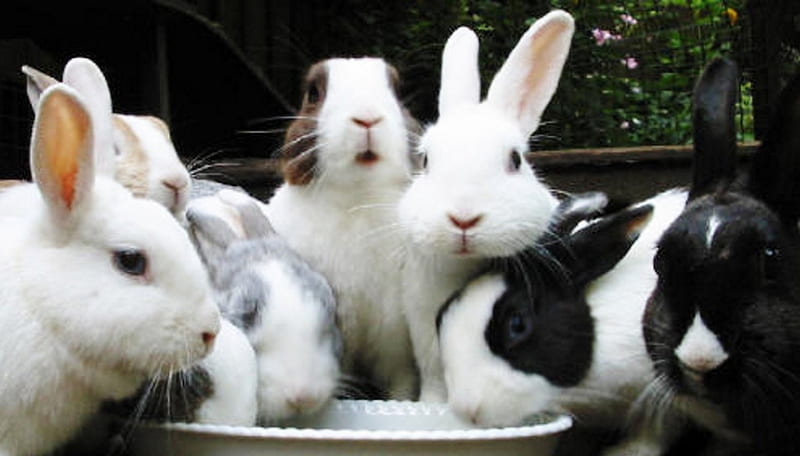 Jake: I don't know. She has like a million kids. It's a zoo over there.
Jenny: That's why she needs someone to help.
Jasmine: You'd be perfect! You're like a big kid.
The three girl rabbits talked Jake into visiting Sheila. He didn't really like little rabbits, but he didn't want to spend another night hiding under the porch. He nervously knocked at the door.
Sheila: Jake! It's so nice to see you! How are you? Jennifer! Jasmine! And a beautiful stranger! Come in!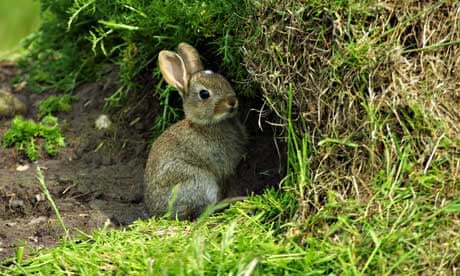 They all entered the burrow. It was beautiful. Sheila listened while Jake explained that he was looking for a place to spend the winter. There were several young rabbits running around, but it was not at all crowded.
Sheila: You are welcome to stay here if you would like, Jake. You can have a room at the back.
Jake: That would be wonderful! Can I have friends over?
Sheila:  Certainly. We can't have any parties, of course, because of the children. But your girlfriend is more than welcome to visit, if she'd like. And, of course, your family is welcome.
Jake couldn't believe his luck. He promised himself that this time would be different.
Pictures courtesy Google Images.