Where we are: Katie Kitty has been given a scholarship to Mid-America Animal Tech. She plans to become a Feral Purrfessional to provide medical care to the feral cat population. She has arrived at the school with her mother and sister Charlene. They have just met Katie's roommate Elise and her father Edgar. Read the beginning of the story here and Part 2 here.
Elise: We start tomorrow. Let's go see where everything is.
Katie: Great idea! I think the labs are across the street. And the lecture rooms are the next building over.
Charlene: That way you guys can't blow up everything at the same time.
Katie: Thanks, Char. We really appreciate your support.
Katie looks at her mother and Edgar.
Katie: Are you coming, Mama?
Mama: I don't know. I might be more frightened than ever about leaving you here.
Edgar: Let's go with them, Mrs. Kitty. That way you can see how safe it is.
Mama: Please call me Rose. No one calls me Mrs. Kitty. It sounds so strange.
Edgar: All right, Rose. I can explain what things are. It will make you feel better.
Rose: I guess that's a good idea.
The girls race ahead chattering about how much fun they are going to have. Rose and Edgar follow close behind. There is a puma guard at the door to the labs.
Guard: I'm sorry, but you're not allowed in the building until tomorrow when classes start.
Edgar pulls out an identification card.
Edgar: It's OK. I'm Edgar Khatt, Anatomy Purrfessor.
Guard: I'm sorry, Purrfessor. I'm new to the building. Please go ahead.
They enter the building, and Katie looks at Elise.
Katie: Your dad works here?
Elise: Yeah. I don't like to tell people. They think he got me in the program.
Edgar: Don't worry, Katie. She won't get more help than anyone else. I have an assistant who does the grading.
Katie: That's pawsome, Purrfessor Khatt! I already know one of my teachers.
Edgar laughs.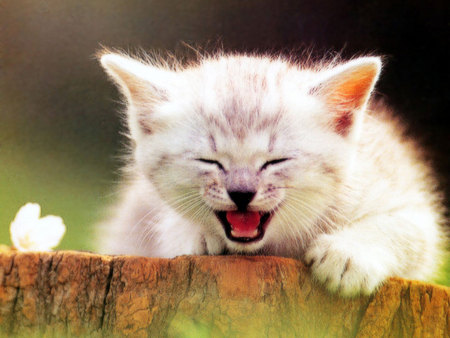 Edgar: That's the spirit, Katie.
Rose: You mean you'll see Katie every day, Edgar?
Edgar: Not every day. But several times a week.
Rose: I'm so glad to hear that. You don't seem scary at all.
Edgar laughs again.
Edgar: Well, I'm glad to hear that. Here's my lab.
He opens the door and turns on the light.
Charlene (startled): There are dead cats in here.
Rose (terrified): You're going to make them kill cats?
Edgar: Of course not. These are models, not real cats. We need the students to learn all of the bones and such so they can help others.
Rose (relaxing): Oh, of course. That makes sense.
Katie: Look, Mama. This one opens up to show the muscles.
Charlene: And this one has bones.
Elise: And they have real cats come in to show how the parts work for walking and jumping and other things.
Katie: I can't wait!
Rose: Well, I guess this isn't too bad. What about the other classes?
Edgar: The students are very closely supervised. Some of the skills are practiced on each other, like weight and length.
Rose: How do you know when they're ready to graduate?
Edgar: It's a two-year program. Then the students work in our clinic for 3 months to practice their skills.
Rose (hesitantly): Well, it does sound like a good program. Do you think she'll be safe here?
Katie: Mama! Stop asking so many questions. You're embarrassing me.
Edgar: It's OK, Katie. (Turning to Rose) It's very safe here. We've never had a problem with any of our students. All of the buildings are locked at night, and guards patrol the campus.
Rose: Thank you, Edgar. I feel much better.
Edgar: I'm glad to hear it.
The girls have been examining all of the models and displays. Katie and Elise seem to be bonding. Charlene still thinks some of the models are real cats.
Edgar: Anybody interested in an anchovy and tuna pizza? I know a great place.
They walk to the restaurant and find a table. Katie and Elise talk nonstop about classes, books, shopping, and room decorations. The others mainly listen. Finally, they walk back to the dorm.
Edgar: How long are you staying, Rose?
Rose: We're going to sleep here tonight and catch the train in the morning.
Edgar (disappointed): I was hoping to show you more of the town. At least let me take you to the station in the morning.
Rose: That's very kind of you.
Early the next morning Edgar picks up Rose and Charlene.
Rose: I want to thank you again. I feel so much better about Katie staying here. I'm going to miss her, but I won't worry so much.
Edgar: If you'd like, I can call once in a while to let you know how she's doing.
Rose: That would be wonderful. Here's my number.
Charlene: There's our train. We have to go.
Rose and Edgar purr.
We will be taking a break next week for Cat Forum: Surviving Back to School. Then we will find out how things work out for Katie and Rose.
All pictures courtesy of Google Images