Background: Every two years Zeke, Anthony, Joe, and Benjamin got together for a week-long camping trip at the lake. One of the highlights of the trip was story-time around the bonfire. This year's topic is "Chance Encounter With Another Species". It is Anthony's turn to speak. You can read Zeke's story here. Anthony's story is here.
Now it was Joe's turn to tell his story.
My story is a little different because it's about a human.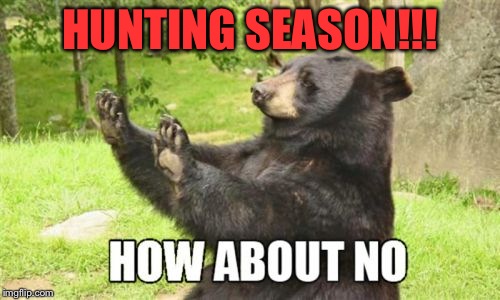 As you know, they have what they call "hunting season." They think that as long as it's the season, they can do whatever they want in our woods. Mainly they seem to tromp around and make a lot of noise. So I hear a couple of them walking around, trying to find whatever it was they were looking for.
They ended up separating to see if they had better luck. I heard a shot, so I assumed they had been successful.
Then I heard one of the humans start yelling. I don't really understand human very well, so I went closer to see what had happened. One of the humans was bleeding and the other one was leaning over him. My best guess is that the first human got shot somehow.
I thought I should help, so I went closer to offer. I guess it wasn't a very good idea. The uninjured human tried to shoot me. Luckily, he was a terrible shot. So he started to run.
I couldn't believe it. He left his friend behind so he could get away. I  guess he doesn't know black bears are friendly around here.
I looked down at his buddy. He didn't look so good. I mean humans are kinda funny looking without any fur, but this one looked particularly bad.
I didn't know what to do. On the one paw, he had been out in my woods trying to kill someone. On the other paw, it seemed cruel to leave him there bleeding.
I  decided to drag him over to Dr. Fox. It wasn't very far, but when the human saw me coming toward him, he fainted. It was a little insulting. After all, he was the one with the gun.
Dr. Fox looked at the human and asked where I found him. I told him the whole story and asked whether he could help the human.
The doctor said that he would clean up the human and pack some herbs into the wound. It had worked on some others patients, but he hadn't tried it on something so big. It was going to take a lot of herbs. I  said that I would go out and find them while he cleaned up the patient.
When I got back, it looked like the human was dead. Dr. Fox said not to worry; he had given his patient something to make him sleepy. I had to admit that he did look a lot better cleaned up and sleeping.
I gave Dr. Fox the herbs. He packed the wound with most of them, then made a paste to hold the herbs in place. The doctor asked how I was going to get him home.
I hadn't thought about that. I thought he'd be able to go home after Dr. Fox had fixed him. I certainly didn't want him in my den; he would scare the children. And I had no idea where he lived. Besides, someone would probably try to shoot me again.
I told Dr. Fox that I needed to go home and talk to Ginny (my wife). She said that he could stay overnight, but that was it. We carried him home and made him a nice bed.The kids looked in on him, but weren't impressed, so they went back to playing.
We found a phone in his pocket and found a number for "Home." I couldn't call them. Most humans don't understand bear talk. Ginny said we should text them. She sent, "Git me."
We waited for a response. "Where are you?" Hmm. That was a good question. How would the humans find him? "Lake Vista beach"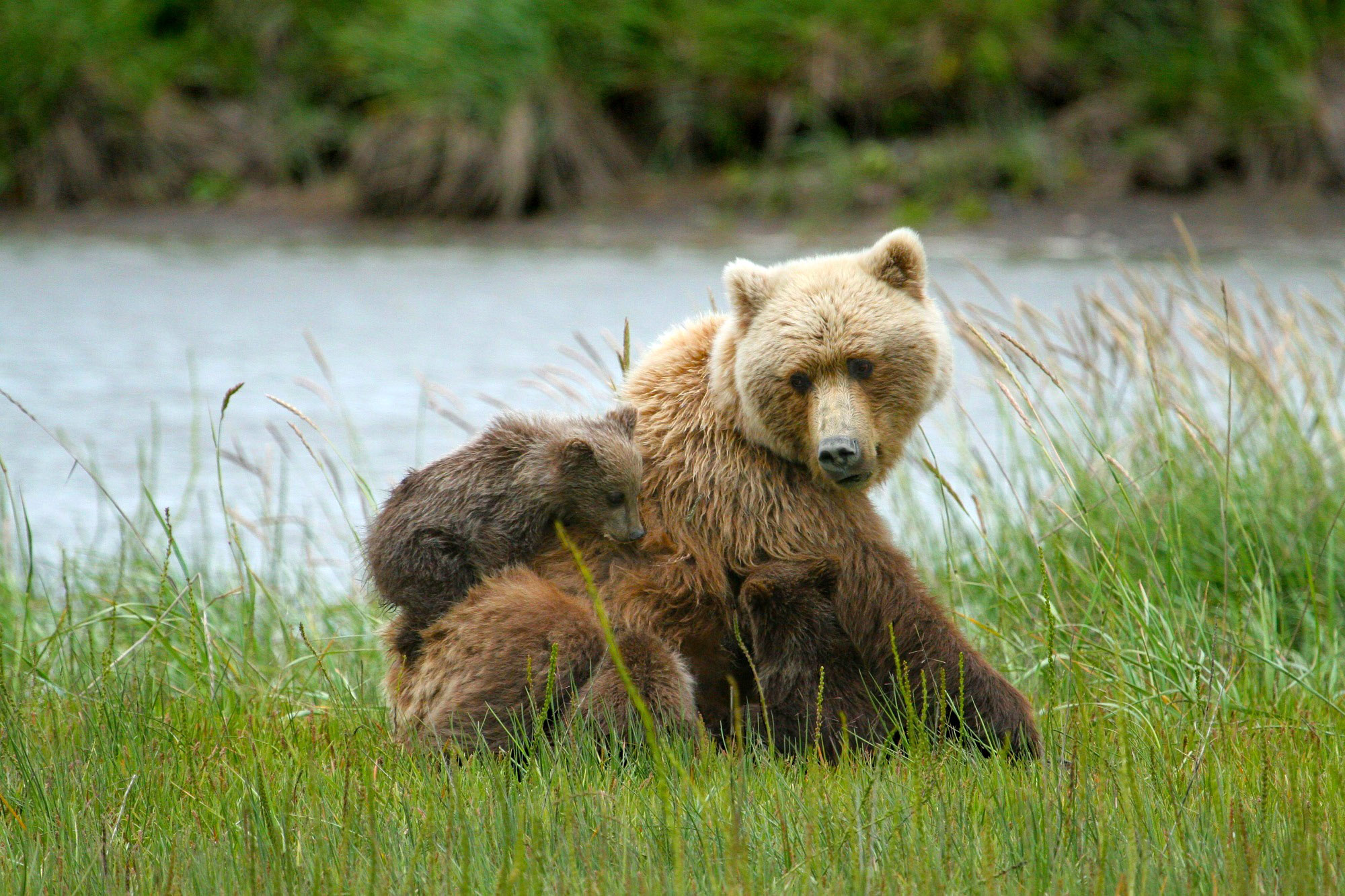 "I'll pick you up in the morning."
We took him over to the lake in the morning and waited with him. A car finally got there, so we waited in the woods. A woman got out of the car and looked at our human. She started crying and called someone. An ambulance arrived a little later. They said they had no idea who would have packed the wound with herbs, but it saved the man's life.
Nexr week: Benjamin's story
All pictures courtesy of Google Images