Greetings. Snoops and Kommando Kitty here. We have some rather annoying news.
Kommando: Remember a couple of weeks ago when you heard from Gypsy Katt, our basement-dwelling cousin?
Snoops: She's still here. And not ready to go anywhere soon. She comes out to say hello to our human sister, but isn't getting near enough to any of the humans to be put in a carrier.
Kommando: We don't see her either, but we know she's there. We can hear her. And smell her.
Snoops: She doesn't smell bad.
Kommando: No. Just like strange cat.
Snoops: But that's not the big news. Now we have an outside visitor too. And it looks a lot like Kommando.
Kommando: No way. I'm much more beautiful.
Snoops: Our human sister thought you had escaped the first time she saw that cat.
Kommando: You notice she's wearing glasses now, right?
Snoops: I guess. But they got a couple of pictures of the visitor. (Top and bottom of the page.) And that cat does look a lot like you.
Kommando: But dirtier and without my beautiful markings. It definitely needs to be brushed. And probably bathed.
Snoops: I've seen that cat around before.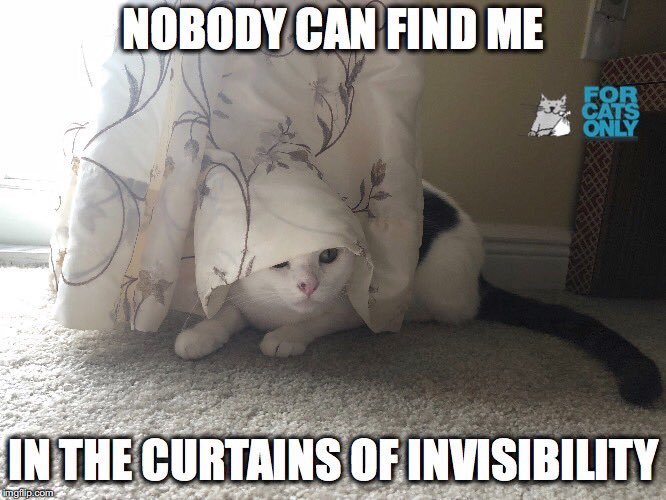 Kommando: Yeah, for at least a couple of years. But she always disappeared before Mom could feed her or get a closer look.
Snoops: She's been coming back for almost two weeks now. Every day, almost. A couple of times she even waited for Mom to feed her.
Kommando: I wonder if the field mouse population is decreasing. Maybe that's why she's hungry.
Snoops: I don't know. She talks a lot, but I don't really understand what she's saying. She was here every day, then disappeared. I thought she was gone again.
Kommando: Mom thinks a raccoon got into the food one night and scared the kitty away for a couple of days.
Snoops: She was back today and hung around for quite a while. I think she might be settling in.
Kommando: I hope not. What if she starts eating our food? We might starve.
Snoops: We're not going to starve. Mom won't let that happen.
Kommando: Maybe that cat will try to come in and wreck our happy home.
Snoops: She runs whenever one of the humans tries to approach her.
Kommando: I don't know. I don't like it. We have a strange cat downstairs, and we have a strange cat outside. Pretty soon we're going to be outnumbered.
Snoops: You do have a point. Right now, we have two cats and two humans. Four cats and two humans sounds like a definite downgrade. We better talk to Mom about it.
Ed. Note – No one has gotten close enough to know the gender of the cat. We call it "she" for convenience – "it" seems kind of rude. Kommando just appeared at the window well one day. It is possible that this cat is related to her.
Memes courtesy of Google Images.