Note: In the United States and Canada, February 2 is celebrated as Groundhog Day. According to legend, if a groundhog (or woodchuck) comes out of its den on that day and sees its shadow, it will return to the den and winter will last another six weeks. If it is cloudy, and the groundhog cannot see its shadow, it will remain out and spring will arrive early.
It's mid-fall somewhere in Northern Michigan. Gustav Groundhog and his family are getting ready for hibernation.
Monique: Has everybody had enough to eat?
Juliette: I'm stuffed, Mom. Couldn't eat another bite.
Junior: I've been filling up on the last of the rutabagas. I love rutabagas.
Gustav: Remember to leave a couple for the end of the season. I'm going to be hungry when I wake up early.
Juliette: Dad, I don't understand what the big deal is about Groundhog Day. We should all just sleep until we wake up naturally. Who cares how long winter is going to last?
Gustav: It's a family tradition. We've been the "weather hogs" for generations. It's not so bad now that I finally got the humans to stop trying to pull me out of the den. If I go out on my own, it's a lot more pleasant.
Monique: It is really nice getting all of those veggies your fans leave.
Junior: I hope they bring rutabagas this year. There was an awful lot of celery last year.
Juliette: Yeah. And it was still wrapped.
Monique: The flowers were pretty tasty too.
Gustav: All I have to do is walk out of the den, stand on my back legs for a few minutes, and come back in. As long as they get their pictures, everyone's happy.
Monique: And if you're quiet, the rest of us don't even have to wake up.
Juliette: Yeah, Dad. Quiet. Not like last year when you stepped on all of us.
Gustav: It's dark in the den at the beginning of February. Besides, that wasn't me. That was the goofy rabbit I paid to wake me up. I thought rabbits had good eyesight. He couldn't tell which one was me.
Junior: It's dark in here because we're supposed to be asleep. How are you going to keep Herkimer quiet?
Gustav: Don't worry. I'll sleep closest to the door this year. Besides, I have the Internet now, so I don't need Herkimer. I have my own alarm.
Junior: Let me make sure you set it right.
Gustav: Thanks, son. Put it at half-past dawn on the the second.
Gustav and his family settled in for their long winter nap. Before he knew it, Gustav heard the soft buzzing of his alarm. He carefully turned it off. Gustav got up and stretched. He was cold and sleepy. Hopefully this wasn't going to take very long. He walked over to the edge of the den and looked out.
He saw some snow in the early light. It would be a little while before the humans showed up. He decided to have a snack and got one of the rutabagas. As he munched, he walked outside. He was surprised to see a line of hedgehogs surrounding his den.
Gustav: Hi, guys. What are you doing here? You're going to have to move. This is my big day to predict the end of winter. The humans should be arriving shortly.
Hedgehog: I'm Nigel and my buddy is Oliver. We brought some of our friends to protest your ceremony.
Gustav: Why are you protesting? My family's been doing this for generations.
Nigel: We heard. And it's not right. This is supposed to be Hedgehog Day, not Groundhog Day.
Gustav: That's silly. Whoever heard of Hedgehog Day?
Oliver: It's not silly. You've stolen our day. It started with the Romans. If we come out in early February, it means spring is close. If you don't see us, winter will last several more weeks.
Gustav: There aren't any Romans around anymore.
Nigel: No. But some people still celebrate in Europe. It's particularly popular in Ireland.
Gustav: You're in Michigan, not Ireland. We celebrate Groundhog Day here. Now get out of my space.
Oliver: We're not going anywhere. We've come to reclaim our holiday. And the treats that go with it. We're not moving.
Next week: Will Gustav get the hedgehogs to move along so he can collect his Groundhog Day goodies?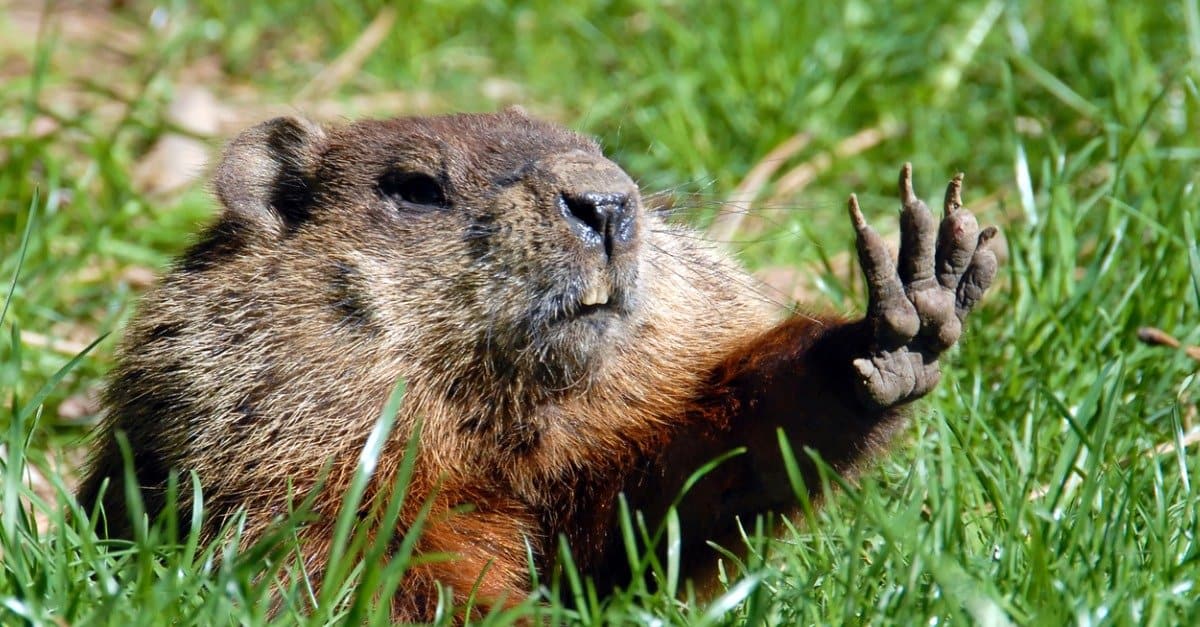 Pictures courtesy of Google Images.