Greetings. Mom looked at the calendar yesterday and realized that it's only two weeks until Thanksgiving here in the US.  She told our human brother that it's time to make the shopping list. That got us to thinking about what we needed to make sure was on that list. After all, it is a holiday centered around food. And what kitty doesn't love a good treat?
It turns out that the newest cat in the house, Sgt Stripes, has a thing for Google and enjoys looking things up. (Mom complains that every time he helps her on the computer, the first thing he does is open up the inquiry screen.) So we put him to work on research. As it turned out, he may be a little too good. We had to sort through a lot of stuff to get to the goodies. But we don't pay him, so we probably shouldn't complain.
TURKEY
Most of us kitties love turkey. The humans that study these things say we should eat the white meat (less fat) with no skin or seasoning. And NO bones. They can splinter and choke us.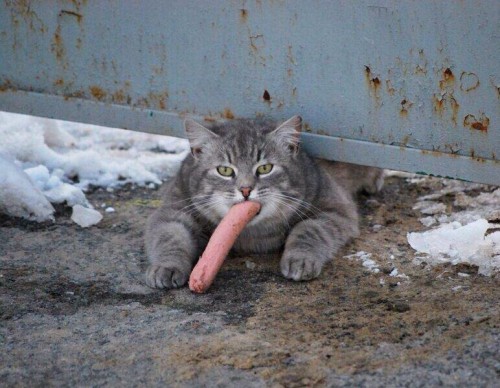 HAM/SAUSAGE
Hams and sausages smell really yummy. Unfortunately, we shouldn't eat them because they are full of salt and fat. (If you love either one, we recommend stealing a piece or two while the humans aren't watching.)
STUFFING/DRESSING
We really don't understand the appeal of this dish. It's basically bread that pretends to be real food. The bread part isn't a problem for cats. The problem is the other stuff that makes it look like actual food. A lot of humans use onions and garlic, which are toxic to cats. They also sometimes use sausage, chorizo, oysters, butter, and spices which are bad for kitties. (Kommando loves a good butter taste, but it really isn't good for her.)
MASHED POTATOES and GRAVY
We kitties can safely eat potatoes. Unfortunately, humans don't generally serve plain potatoes at Thanksgiving. At the very least, they mix the potatoes with butter and milk/cream. Butter and cream are both high in fat and cause tummy trouble for a lot of kitties. They also smother their potatoes with turkey gravy. Turkey gravy smells heavenly (like the turkey), but usually has a lot of salt and fat because it's made with drippings and/or broth.
BREAD/ROLLS
We are allowed to eat plain bread. Nothing containing garlic, onion, raisins, or chocolate. And avoid the butter. And definitely stay away from the dough. The active yeast will make your belly swell up and you'll get bloated. We don't see the appeal, but it's up to you..
CRANBERRY SAUCE
Kitties are allowed to eat cranberries, but the sauce isn't good for us. It's full of sugar. (Are you beginning to notice a trend here?) Apparently, some kitties like mashed cranberries. (None of them live in our house.) Some humans recommend mashing a few in with some mashed pumpkin. We recommend knocking them on the floor and batting them around.
PUMPKIN/SWEET POTATOES
Here we go again. Pumpkins and sweet potatoes are fine. (You want to have your human cook and mash it for you.) Pumpkin/sweet potato pie is bad. Too much sugar. Same thing for those sweet potatoes covered in marshmallows. The little pumpkins are a lot of fun to roll around. Sweet potatoes are lumpy and don't roll well.
GREEN BEANS
Not sure who we're talking to here, because green beans are not a delicacy in our book. But if you like them, have at them. They are very nutritious and can be eaten by cats either raw or cooked. As always, no butter, oil, or seasonings. And NO green bean casserole. Most casseroles contain onions and canned/dried soup, two things that are bad for kitty tummies.
OTHER VEGGIES
Some humans serve a variety of other vegetables for Thanksgiving. Among the most common are carrots, spinach, broccoli, and cabbage. Cats are allowed to eat them; we're not sure why you'd want to. They are best steamed for kitties, but you can eat raw carrots if you want. And no, you may not have butter with these vegetables either.
APPLES
If you would like a bite of apple, help yourself. Make sure the piece isn't too big. Otherwise, they are safe.
BEER, WINE, and COCKTAILS
No. No. And No. Generally, cats do not like the smell or taste of alcohol.
We have made it to the good part of the post. This is where we provide recipes for your human to make stuff especially for you. (Note that there is dairy in some of the recipes.)
TURKEY TRIANGLES (from Chewy)
1/2 cup ground turkey
1/2 cup whole wheat flour
1 egg
1/2 tablespoon olive oil
Preheat oven to 350 degrees Fahrenheit.
Mix all the ingredients together. (It may be easiest to do by hand.)
Knead the dough into a ball.
Lightly flour a workspace.
Roll out the dough to 1/4-inch thickness, roughly in the shape of a rectangle.
Place the dough on a baking sheet lined with parchment paper.
Score 1/2-inch rows into the dough (do not cut all the way through).
Score 1/2-inch diagonal lines across the dough (creating diamonds).
Score 1/2-inch diagonal lines the opposite way across the dough (creating triangles).
Bake at 350 degrees for 20 minutes.
Once cool, break into pieces.
TURKEY TOTS (from PetSafe)
1 egg
1 pound turkey
1 teaspoon parsley
1/2 cup vegetables
1/2 cup cheese
Preheat the oven to 350 degrees Fahrenheit.
Mix all the ingredients.
Shape into small chunks and spread on a baking sheet lined with parchment paper.
Bake 10 minutes (until they turn brown).
Allow to cool before serving.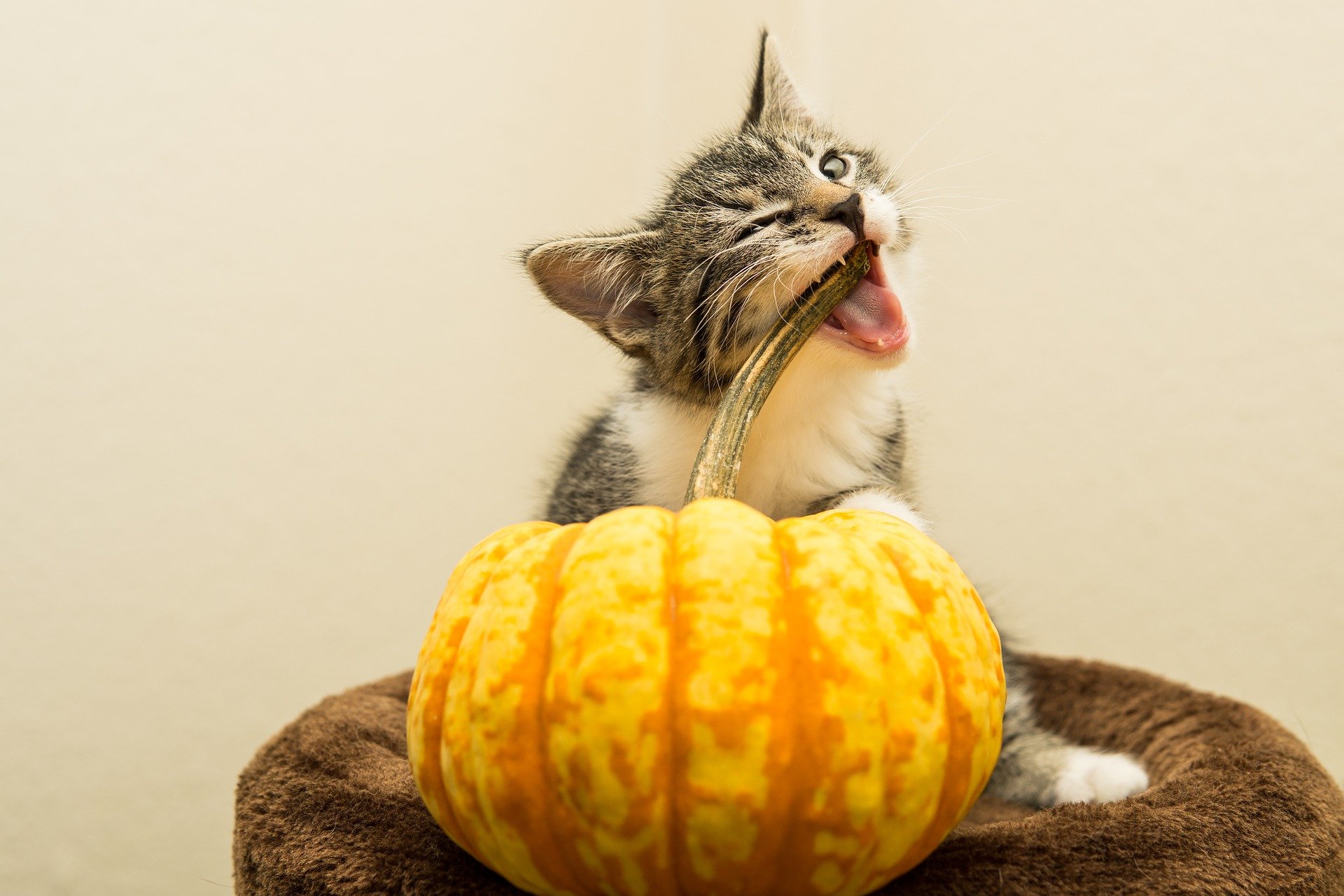 PUMPKIN SMOOTHIES
1 cup plain pumpkin puree
1 cup plain non-fat yogurt
Instructions
Blend ingredients thoroughly.
Pour out.
May also be frozen in an ice cube tray.
PUMPKIN PIE FOR CATS
Flour
1 cup grated carrots
1 cup plain pumpkin puree
2 cups rice flour
1/2 cup plain unsweetened applesauce
1/2 cup oat milk
Preheat oven to 350 degrees Fahrenheit.
Measure flour into a bowl.
Blend applesauce, milk,  carrots, and pumpkin until smooth.
Add mixture to the flour a little at a time until dough forms.
Flour a workspace.
Roll dough to 1/4-inch thickness.
Cut into small pieces.
Place small pieces on a baking sheet lined with parchment paper.
Bake for 5 minutes on each side.
Let cool before serving.
Hopefully you'll find something you like here. We've given you plenty of time to get it on the shopping list before the big day. Enjoy!
Pictures courtesy of Google Images.