Snoops and Kommando here. Mom didn't notice that there were five Saturdays in August, so she has an extra post to fill. And guess which very talented kitties came to the rescue? That's right. So here we are. (We get to write more next week since it's our regular week. Pretty exciting, eh?)
Anyway, we have decided that we would show you just how intelligent cats are. She and the young male human went to a place called Stratford, Ontario on Sunday to see a play called Henry the VIII.
Weird, huh? Seems like they should have seen the first seven Henrys before this one. Apparently, it's like some of human TV. It really doesn't matter where you start. It sounded pretty boring (also like most human TV). No cats (or even dogs) in the whole thing.
But they did bring home one interesting item: Cat Poems, edited by Tynan Kogane. We had high hopes and began reading right away. Humans don't write many books for cats. We were not impressed.
Mujer by William Carlos Williams
Oh, Black Persian cat!
was not your life
already cursed with offspring?
we took you for rest to that old
Yankee farm, –so lonely
and with so many field mice
in the long grass—
and you return to us
in this condition–!
Oh, black Persian cat.
So, what's the deal with this? Cats shouldn't have kittens? Black Persian cats shouldn't have kittens? We know there are currently too many kittens. But if no one had kittens, we'd run out of cats.
And what condition is he talking about? Is she pregnant again? Covered with dirt and prickly things? A dead mouse for dinner? We don't like this poem. Let's move on.
She Sights a Bird by Emily Dickinson
She sights a bird – she chuckles—
She flattens—then she crawls—
She runs without the look of feet—
Her eyes increase to Balls—
Her jaws stir—twitching—hungry—
Her Teeth can hardly stand—
She leaps, but Robin leaped the first—
Ah, Pussy of the Sand.
The hopes so juice ripening—
You almost bathed your Tongue—
When Bliss disclosed a hundred toes—
And fled with every one—
This one starts out pretty good. We've all seen birds we want to catch. The cat gets all excited. Then loses the bird. Then something with lots of toes ran away. Who is Bliss? Why does she need one hundred toes? Not only did the poem disappoint us, it ended strange.
We were going to tell you more poems, but most of them were really long. Or talked about dead cats or about old cats who were getting ready to die. Or were just too weird to even understand.
We decided that what the book needed was some poetry actually written by cats. We came up with a couple of ideas we think they should consider for the next version. They are much easier to understand.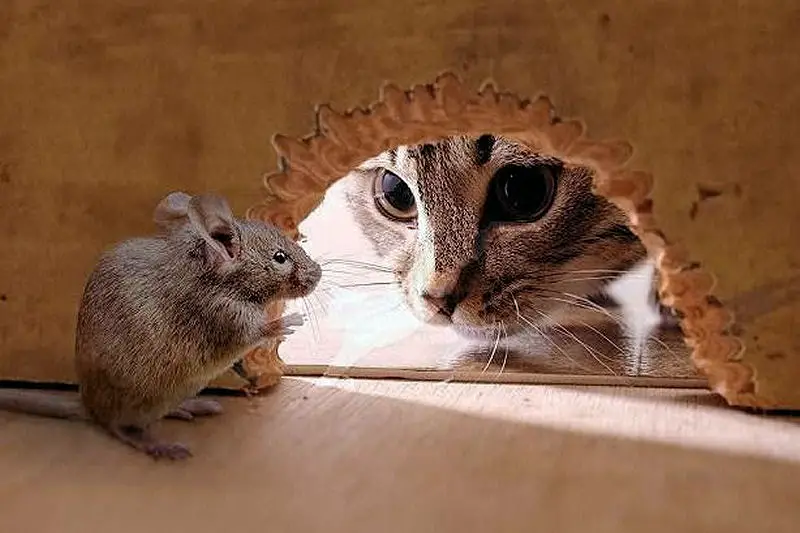 Mothers Ruin Everything
A mouse wandered out of a hole in the wall.
Two excited kitties raced quickly down the hall.
One came for the kill,
The other, the thrill.
Rats! They lost their prey, who heard his mother call.
Mothers Ruin Everything – Part 2
The cats saw birds out the window pane.
They tried to get out; it was in vain.
The door they used before
Was shut to the floor.
Mom closed it when it started to rain.
See? Short. To the point. Easy to understand. If they're going to write a book for cats about poetry, they should write ones that cats can understand them. We're smart; people just don't get how to communicate with us.