Where we are: Bella Bear is frustrated that cats run everything at the Academy. She talks to the cats about it, and they recommend that she run for student government office. Her friend Daphne agrees, but Bella isn't too sure.
Bella couldn't decide what to do. She knew that the cats ad Daphne were right. Someone had to represent the other animals, but why did it have to be her? Maybe she could get someone else to run. But who?
Bella: Ollie, don't you think the rest of the animals deserve representation in the student government?
Ollie: That's a great idea, Bella! We otters have almost nothing in common with the cats. Sometimes it's hard to get them to understand what we're saying.
Bella: Exactly. That's why I thought you would be the perfect animal for us to get behind. The rest of us could help with signs, social media, —
Ollie: Wait a minute, Bella. I said it was a great idea. I don't have time to do it. I'm captain of the swim team, do gymnastics, and still need to study.
Bella: I understand. Do you have any ideas?
Ollie: I would ask one of the squirrels. They always seem to have extra time to run around.
Bella: Good idea. Thanks.
Bella finally found the squirrels racing around the courtyard. She asked them to stop so she could explain her idea.
Joe: That's a wonderful idea. We're all behind you. Just tell us what you need us to do.
The other squirrels nodded.
Becky: We could make signs and hold rallies.
Bella: Actually, I was thinking that one of you could run for office.
Becky: I don't think that's a good idea. If we have two non-cats running, it would probably split our votes. You should definitely be our candidate.
Bella: I meant someone to run instead of me.
Joe: No, you'd stand a better chance of winning. Everyone takes bears more seriously than squirrels. They think we're cute and brainless.
The other squirrels agreed. Bella thanked them and left. She talked to the sheep and goats. Everyone was enthusiastic about the idea, but no one wanted to be the first non-cat to run for office. She went through all the species in the school with no luck.
The only one she hadn't talked to was Greta, the red fox who was at the school as an exchange student. Bella decided to talk to her. Foxes were like dogs with fluffy tails, weren't they? Surely a dog would want to run against a bunch of cats.
Bella: Hi, Greta. How are you?
Greta: I am well. How are you?
Bella: I'm fine. I was just wondering if you'd heard that we're having student government elections in a few weeks?
Greta: Yes, I have. It sounds very exciting. I am looking forward to watching the whole process.
Bella: You might have noticed that all of our leaders are cats. We were thinking that it might be nice to have a non-cat run to offer a different viewpoint.
Greta: Yes. That does sound like a good idea. Other perspectives are always helpful to a group as a whole.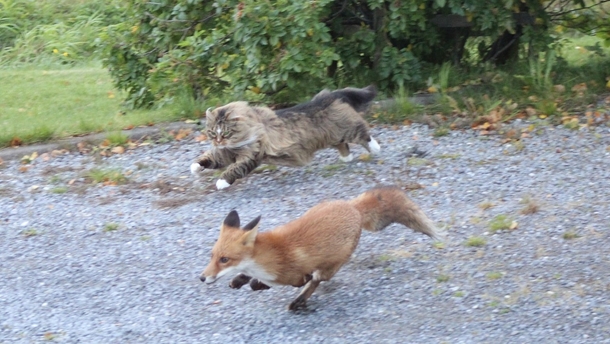 Bella: I was hoping that you would be our candidate. I'm sure you have fresh ideas.
Greta: I am honored that you would think of me as a good candidate. But I really don't understand how a student government works. Besides, I think that some students would have trouble understanding me. Not only is my native language fox, I have a rather thick accent when I speak cat.
Bella had to agree. Greta would probably need a translator at her rallies and speeches. She thanked Greta and walked away, dejected. Bella went to find Daphne.
Bella: I can't believe it. No one wants to run for student government.
Daphne: Why can't you believe it? You don't want to run. You had a great idea, and you won't do anything to make it happen.
Bella: That's not true. I'd do anything that was needed to get them elected.
Daphne: OK. Since no one will run, we'll continue to do everything from the cats' viewpoint. And you'll keep complaining about it. But I don't want to hear it. You had a chance to try to change it, and you walked away.
Bella: I'd never win.
 Daphne: That's not the point. The rest of us need to stand up for ourselves. Besides, how do you know you won't win?
Bella: I have no idea how to get animals to vote for me.
Daphne: The rest of us will work on that.
Bella went home to think about it. If anyone was going to do it, it would have to be her. Finally, she filled out the paperwork for the election. Now came the hard part.
Next week: Bella's campaign and the election.