Where we left off. Tori's boyfriend Robbie has asked her to marry him. She wants to invite her father. He lives with two Persian cats. She goes to his house to invite him, and the Persians are not happy. Tori is frightened and hides behind her father. She tries not to run. The female human hears the hissing and comes outside.
Woman: Caesar! Cleopatra! What are you doing?
She sees Tori.
Woman: Are you hissing at that poor little kitty? She's hiding behind Davy. Shame on you. Get in the house.
The Persians slink into the house.
Woman: Hello little kitty. Aren't you cute. Are you a friend of Davy's?
Tori is too frightened to say anything. First the Persians, now this woman who had stolen her daddy. She didn't say anything.
Woman: You look frightened you poor little thing. Those other kitties really scared you, didn't they? Is she a friend of yours, Davy?
Davy: Mrrow. Mrrow.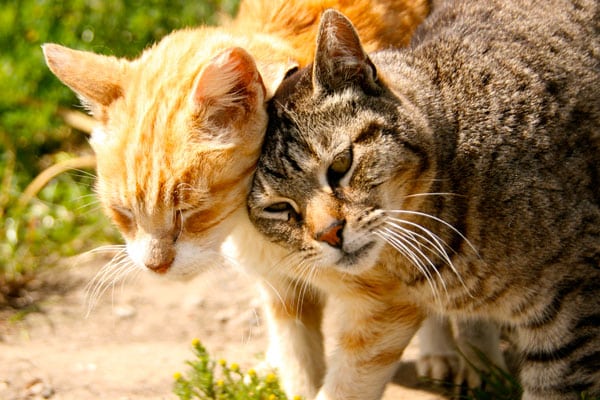 He nuzzled Tori and rubbed against her. He was purring.
Woman: Okay, Davy. You can play with her. But don't run away with her. You know you live here.
Davy: Mrrow. Mrrow.
The woman went back into the house.
Davy: Are you okay? Cleo and Caesar are all right. They just don't really like strange cats.
Tori (crying): Daddy, why did you leave us to live here? Aren't we good enough for you?
Davy: Of course you're good enough. Cleo really liked me, and the lady thought I would be a good companion for her. She didn't know I had a family. The food is really good, and I have a nice, soft bed to sleep in. I couldn't go outside for a while, and I got used to it. It doesn't have anything to do with you, sweetie. Besides, the humans really like me. I think they have adopted me. They would go looking for me. I really don't want to be on the run.
Tori: I guess I understand. But you're still my daddy, right?
Davy: Of course I am.
Tori: And what about Mama?
Davy: Well, that's a little harder. Since I can't live with her, she should probably find another cat if she wants companionship.Did she send you over here?
Tori: No, Daddy. I came over on my own. I'm getting married, and I want you to come to the wedding.
Davy: My little girl's getting married! Who's the lucky cat.
Tori: It's Robbie, Daddy. He lives down the street from us.
Davy: I remember him. He's a nice fellow. I'm very happy for you both.
Tori: So you'll come to the wedding?
Davy: Where is it at?
Tori: Our house. It isn't very far.
Davy: Okay, I'll be there. I'll ask Cleo and Caesar. Like I said, they are actually very nice. So how is your mother? I'd really like to see her and reassure her that it was nothing personal.
Tori: She's doing well. I think she'd like to see you too.
Davy goes inside and tell the Persians who Tori is, and why she came to visit. They want to go out and see her. Davy warns them that Tori is afraid of them, and may be a little standoffish. They go outside, and Tori starts to back away..
Cleo: It's okay, Tori. We won't hurt you. Your daddy told us who you are. We're pleased to meet you. Tori looked at Davy.
Davy: She means it, sweetie.
Tori (slowly): I'm pleased to meet you too.
Caesar: Davy told us that he wants to go to the wedding. We'll figure out a way to keep our human mama from chasing after him.
Tori: Oh! Thank you very much! That's very kind of you.
Caesar: We're pleased to do it. And we'd like to congratulate you and wish you well on your wedding and life together.
Tori purred and nuzzled each of them. They welcomed her.
Tori: I'd better get going. Mama will wonder if I got lost.
With one last nuzzle for her father, she was on her way. She was very happy and ran all the way home.
Next week: The wedding.
Pictures courtesy of Google Images.