Greetings from Snoops and Kommando Kitty. This week we have a game for you. We're going to give a list of characteristics and you need to identify the kind of cat being described.
We know this isn't much of challenge for you kitties, so we recommend you team up with a human. You can help them with the hard ones.
There is a list of possibilities at the top and answers at the bottom. The pictures do not correspond to the description above or below. There are more possibilities than there are clues.
Some are breeds and some are coat patterns. Good luck!
Possible answers: American Shorthair, Balinese, Calico, Havana Brown, Maine Coon, Norwegian Forest, Siamese, Siberian, Snowshoe, Tabby, Tonkinese, Tortie, Turkish Angora
Hint: Snoops is a representative of one of these cats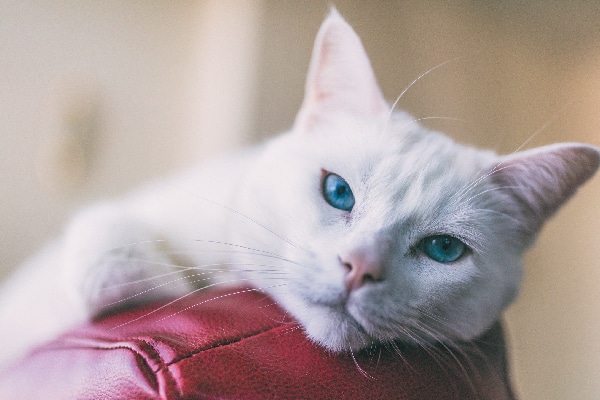 Cat #1
Males are generally considered good luck.
Early Japanese sailors thought they could chase away storms
Official state cat of Maryland
An Irish wives' tale says that rubbing a foot wart on this cat's tail will make the wart go away
Maneki neko, a Japanese cat good luck talisman, is usually this cat
Cat #2
Mix of Burmese and Siamese
Likes to talk
Very affectionate
Loves interactive toys
Very playful and energetic
Cat #3
Likes to talk
Sensitive to human moods
Great leapers
Smart
Highly social
Cat #4
Highly intelligent
Crave human attention
Love to touch their favorite humans
Love to carry toys and other objects in their mouths
Very adaptable to new situations
Cat #5
Affectionate
Love water
Great jumpers
One of the largest breeds
Very playful
Cat #6
Natural athlete
Friendly and family-oriented
Adaptable to new situations
Fun loving
Would rather cuddle than prowl
Cat #7
Thought to have a strong attitude about most things
Celts believed the males were good luck
Japanese sailors believed the males protected them from ghosts
Are believed to bring money and have psychic abilities
If you dream about one, you'll soon be in love
Answers: 1 – Calico, 2 – Tonkinese, 3 – Balinese, 4 – Havana Brown, 5 – Siberian, 6 – Norwegian Forest, 7 – Tortie
Humans, don't feel bad if you missed some, we cats have trouble telling most of you apart too.
Ed. Note: Don't forget that the cats that need you most are the (mainly) moggies/mixed breeds that are found in shelters. And most of them have paw-some personalities.
Pictures courtesy of Google Images.