The alligator clan was getting ready for the annual family reunion. This year, Granny Gertie was hosting at her farm in the Everglades. Stan was particularly excited since he hadn't been home in several years. His wife Adele and the girls were less enthusiastic.
Adele: I can't believe we're going to South Florida in August. It'll be a steam bath.
Stan: We're alligators. We love hot, humid weather.
Adele: I guess. But I've gotten used to the ocean breezes here in South Carolina.
Suzy: Yeah, Dad. And you know how your relatives are. Everyone's gonna lay in a huge cuddle puddle.
Stan: Of course. We're family. We only see each other at these reunions. And most folks don't make it every year.
Justine: Well, I don't want to cuddle with Cousin Danny anymore.
Suzy: Why not? He's cute.
Justine: I know. But he thinks he's too good for everyone now that he's at Animal Tech.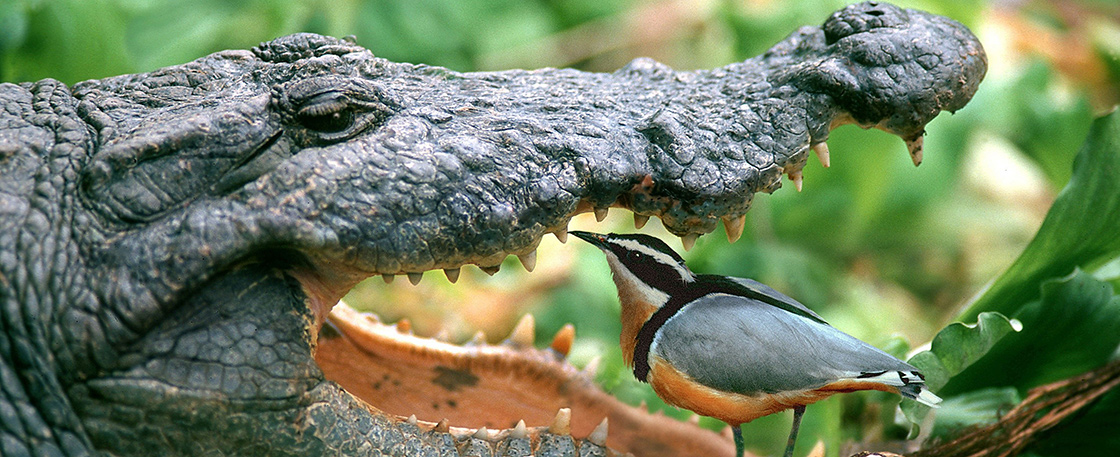 Stan: That's right! He wants to be a bird doctor.
Adele: That's very strange. What's wrong with being a gator doc?
Justine: He says he wants to promote inter-species peace.
Suzy (giggling): He probably has plans to start an exotic bird trade.
Stan: Be nice, Suzy! He's a good gator.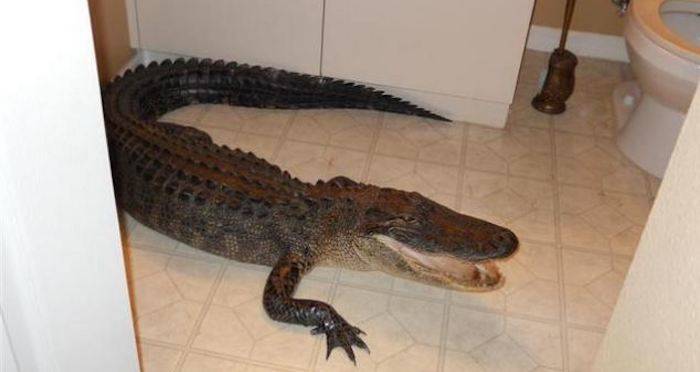 Adele: Is your cousin Vinny going to be there?
Stan: I'm not sure. He's been working a lot of hours at that resort in Miami Beach.
Adele: I can't believe he actually lets humans touch him.
Justine: Eww! What kind of job does he have?
Stan: He's a guard at an upscale beach club. Your mom has it backwards. He touches the humans. They don't touch him.
Adele: Even so. He should be careful. They have germs.
Suzy: And they smell funny. Speaking of smelling funny, I wonder if Roxanne will be there?
Stan: Does Roxanne smell funny?
Justine: Don't you remember last time, Dad? She got caught in those rose bushes and ate her way out. She smelled like flowers for days. Not a natural gator aroma.
Adele: It could have been worse. Your Uncle Stu wandered through a pasture full of cow droppings. He's so low to the ground that he picked up quite a stink.
Stan: Stu has a terrible sense of direction. He gets lost every time he leaves his own swamp. He really should use public transportation.
Justine (giggling): No one's going to let an alligator who smells like cow poop on the bus. Most folks are afraid of us even when we don't stink.
Suzy: That's true. Some of us are kind of scary, though. Like Uncle Charlie.
Justine: Yeah. He growls a lot. And snaps.
Adele: He just doesn't have much patience. He doesn't suffer fools gladly.
Suzy: Gladly? He almost took the head off our waiter the last time we saw him.
Justine: Yeah. The poor guy looked like he wanted to crawl in a hole when Uncle Charlie told him his food was overcooked the third time.
Suzy: He should have just brought him a raw steak.
Adele: It is unfortunate that Charlie normally eats his food wild. He has a hard time in restaurants.
Suzy: Do you think Granny will be serving boa constrictor? It's been trending on GatorGram and looks yummy.
Stan: I don't know. I hear they can be hard to catch. I don't want Mom getting hurt over a stupid picnic.
Adele: Maybe your brother Norm could catch some. She lets him live there rent-free. Seems like he could catch dinner once in a while.
Stan: I guess that's a possibility. He's pretty fast.
Justine: Maybe they sell them in the deli or at a roadside stand. Pickled boa is supposed to be good.
Suzy: And smoked. It doesn't have to be fresh.
Adele: That does sound good. What are we going to bring?
Stan: Since we're traveling so far this time, I was just going to contribute to the wild boars.
Suzy: Ooh! Who's bringing boar? I love pig!
Stan: Your Uncles John and Jacob know a farmer who lets them hunt on his land. I'm helping pay for the refrigerated truck to get them to the party.
Adele: That's a good idea, honey. That way we don't have to lug anything on the train. You're sure John won't eat them on the way, right?
Stan: He promised.
Adele: I hope so. He's the biggest gator I know. He could probably eat a couple of them by himself.
Stan: That's true. But he promised.
Justine: Did you say we're taking the train? Why can't we take the car? I hate the train.
Suzy: What's wrong with the train?
Stan: I'm more comfortable on the train. Gators aren't built to spend hours in a car. You can tell they were designed by humans.
Justine: I guess. But I hate the way everyone looks at me like they think I'm going to eat them.
Suzy (giggling): Some of them do look pretty yummy.
Justine: I'm serious. It's embarrassing. And annoying.
Adele: I know what you mean. It's like they can;t tell the mean gators from the rest of us.
Stan: Don't pay any attention to them. They're just being ignorant.
Justine: Maybe we should travel with kittens to show how gentle we are.
Suzy: Ooh! Kittens are cute! And they could give us massages.
Adele: I don't think kittens would enjoy the reunion.
Justine: Probably not.
Stan: If anyone gives you a hard time, I'll growl at them. Sometimes you have to embrace your inner gator.
Justine: Love you, Dad.
Stan: Anytime, sweetie.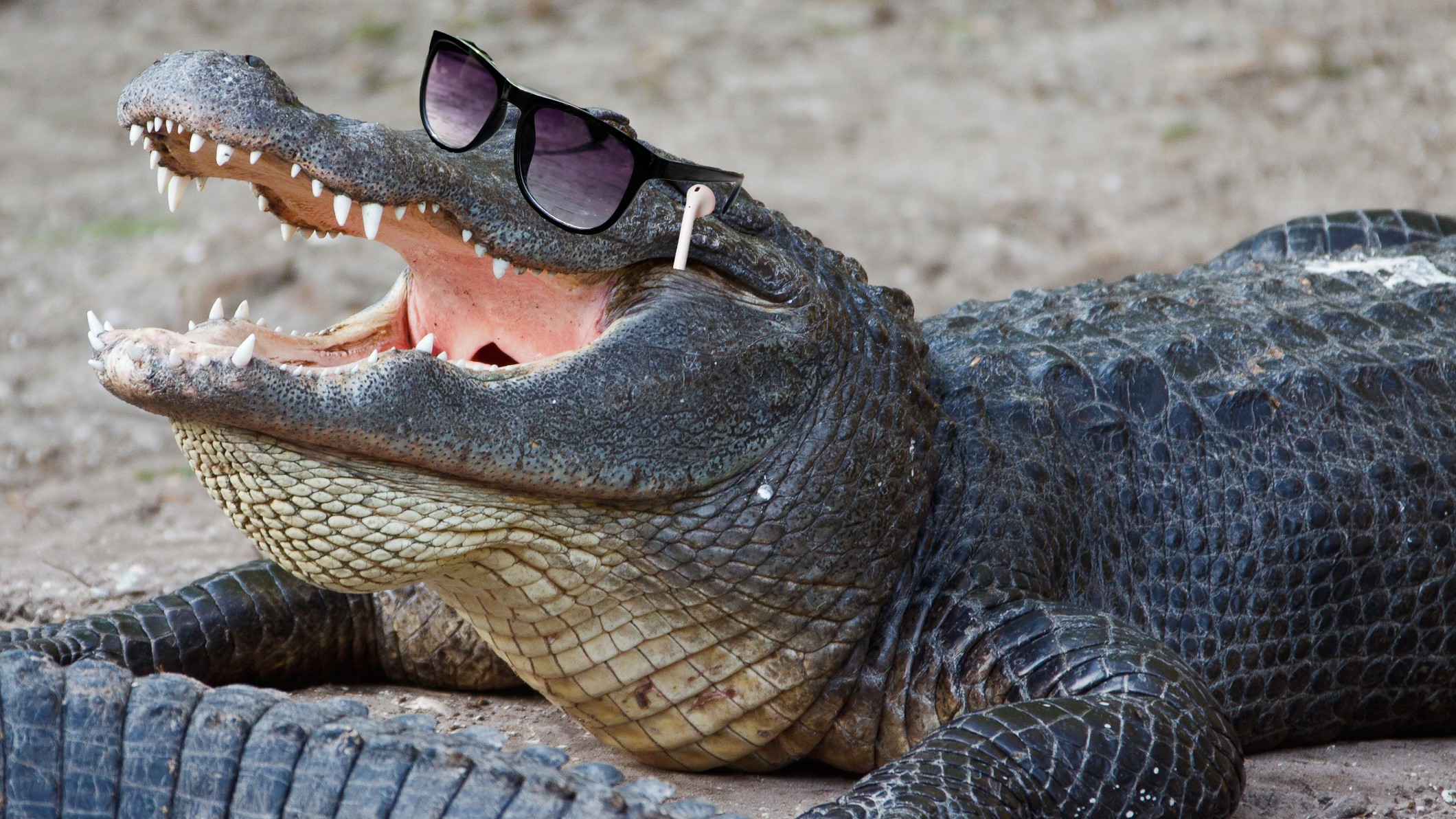 Adele: We should bring your Mom a gift since we'll be staying with her.
Suzy: Cool! We get to stay at the farm?
Stan: Of course. Granny insisted. She misses you girls.
Justine: We miss her too. Maybe she'll teach us more authentic gator moves.
Suzy: And tell us more secrets about Dad!
Justine: I can't wait!
Next week: The reunion.
Pictures courtesy of Google Images.