Kommando Kitty here, You may not know this, but May 27th is National Sunscreen Day in the US. Why should you care about this human celebration? (I guess it's a celebration. They gave it a day. But I haven't seen any ads for it on Amazon, so I don't think it's a real holiday.) Believe it or not, even with our fur coats, we can get sunburned. (So can doggos, for those of you with multi-species households.)
As your human probably knows, one of the real dangers from too much sun is skin cancer. And cats are susceptible to something called Squamous Cell Carcinoma (SCC). It's a skin cancer caused by sunlight damage. Human scientists have determined that white cats (like me) are 13 times more likely to develop SCC than darker-colored cats (like Snoops). Ginger cats are pretty susceptible too. Our skin is lighter colored than other cats. And the older we get, the more at risk we are because it develops slowly (over a period of months or years.)
The most common spots to get SCC are the ear tips, nose, and eyelids. (We can get frostbite those places too.) If you spend a lot of time in the sun, make sure your human keeps an eye out for crusty patches that look like a wound or scratch, but doesn't heal quickly. An affected kitty can get it in more than one of those places, but it usually doesn't spread to the rest of the body.
It's a lot better to prevent SCC than to cure it. It has to be removed surgically by cutting or using radiotherapy. As an indoor cat, I'm not at much risk. But we're going to talk about what you outdoor kitties can do to lessen your risk.
The first thing is pretty obvious. If possible, don't spend a lot of time in the sun during the hottest parts of the day. Find a sheltered, shady spot to hang out. (Most of you are smart enough to do that anyway.) You may want to stay in the house for the middle of the day.
If you need to be out in the sunlight, you need to have your human buy you some sunscreen. They need to buy pet-safe sunscreen, not that glop they use that smells like coconuts. Even the stuff that's good for human babies shouldn't be used on kitties. We're delicate. The thing about sunscreen is that it's supposed to go on you, not in you. It's important to let it dry and not lick it off while it's still wet. (Don't lick it off your human either; you will get sick. Think vomiting and diarrhea.)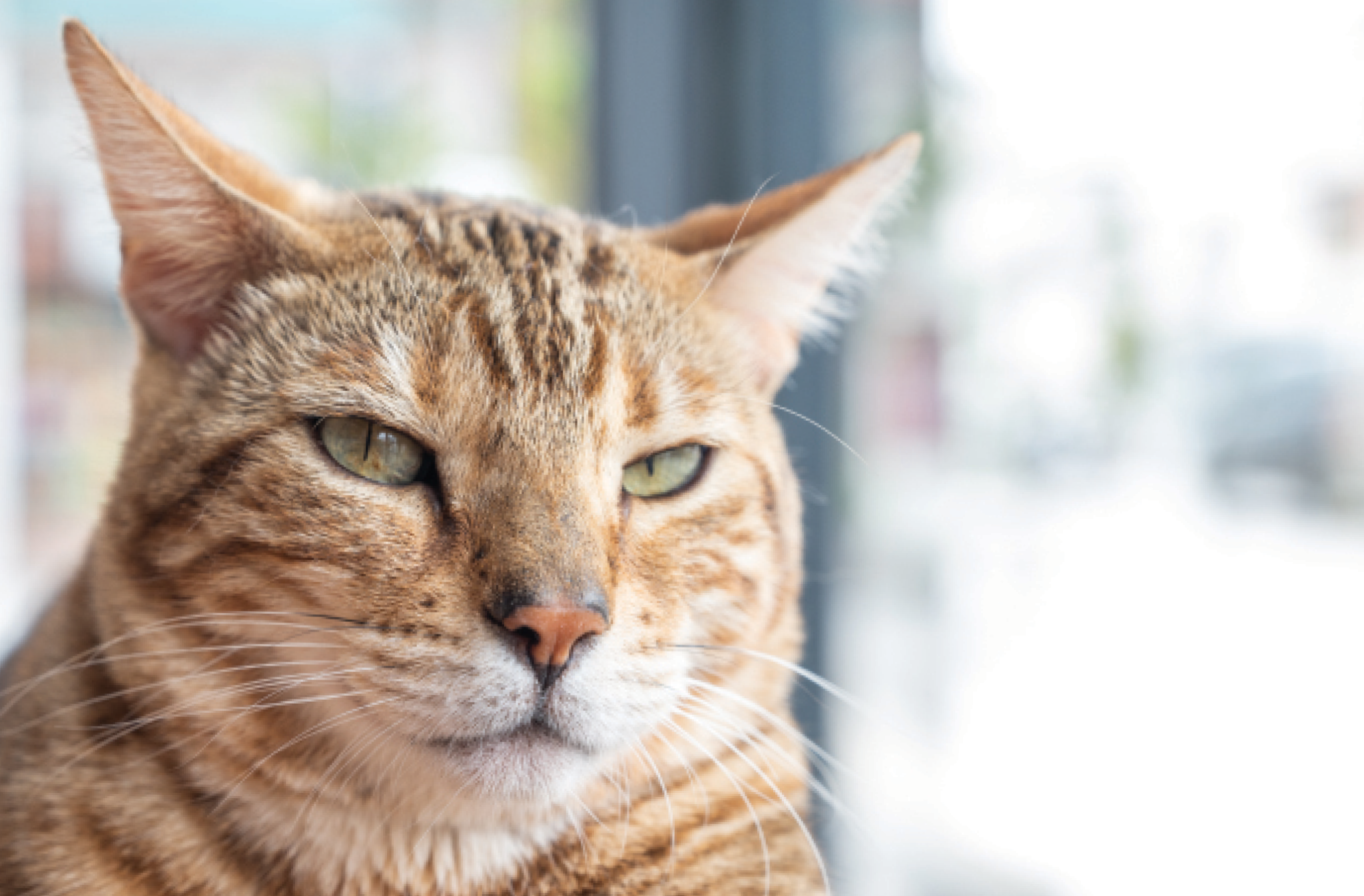 Sunscreen SHOULD NOT be used on the eyelids or nose. It SHOULD be used on the ears and above the nose. Have your human apply a thin layer of sunscreen to both sides (inside and outside) of your ears and above you nose. Smart humans will try to distract you afterwards with play or treats while the sunscreen is drying. Smart humans will also be very gentle while applying sunscreen. As I said, we're delicate. It will get easier for all involved after the first couple of times.
If you think you or a loved one may have skin cancer, here is what to look for:
Scabs
Small, black, crusty patches of skin
Weepy, raw looking skin
Red, raised areas of skin
Non-healing wounds or ulcerated areas
Unusual-looking patches of skin that look worse in the summer and improve somewhat in the winter
Remember: Cats with skin cancer, more often than not, have more than one patch of it.
If you have any questions about whether a sunscreen is safe for you, talk to your vet. They are usually really smart humans. Also talk to them if you have any of the signs of cancer. It's pretty easy to treat if they catch it early,
Enjoy a happy, healthy summer!
Pictures courtesy of Google Images.