Where we are: The Bison family has come to Wyoming to visit Jen's brother Bruce. He's an aspiring actor and has just gotten his first role in a commercial. Unfortunately, Bruce has turned into a caffeine addict and has trouble getting up. His brother-in-law John accompanies Bruce to the commercial to ensure that he makes it. You can see Part One here (or use the links for any of the parts at the right).
Jen: How'd it go?
John: He didn't embarrass himself.
Bruce: It was great! They said I was made for the movies.
John: They said they might have another project for you. Hopefully one where they use your face.
Bruce: Hardwax Jack said I have potential. And he should know; he used to work in Hollywood.
John: That's true. He was in that show with the dogs.
Bruce: That's right. Bernie's Buddies. He lived next door.
JJ: I've never heard of that show.
John: That's because it was cancelled after a couple of episodes.
Bruce: That doesn't matter. He has lots of friends. He said he'd put in a good word for me.
John: After you reminded him that your name is Bruce, not Barney.
Bruce: So what? He meets lots of people. He gave me his card.
Jen: That sounds wonderful Bruce. When do you think we'll see the commercial?
Bruce: They're not really sure. The Hardwax folks need to look at it first.
JJ: Did they pay you a lot?
Jen: JJ! That's not polite.
Bruce: It's OK. I got 2 cases of hoof-wax. I get money every time they show the commercial.
JJ: Wow! That's a lot of hoof-wax!
John: Same old Bruce.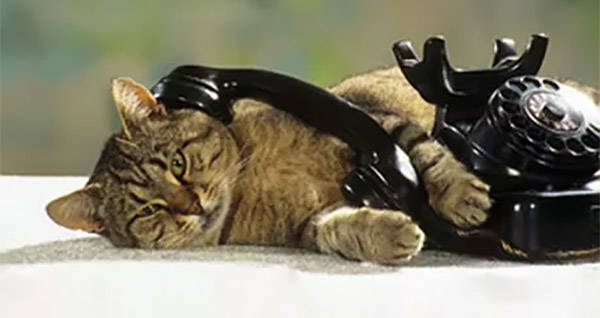 (apparently bison don't really use telephones)
Bruce goes back to work the next night. The Bison family spends their vacation time relaxing. They notice that whenever they see Bruce, he's looking at his phone. After a few days, they become curious.
JJ: Uncle Bruce, why do you keep looking at your phone?
Bruce: I don't want to miss a call from the Hollywood people.
JJ: Doesn't your phone ring like mine does?
Bruce: I might miss it.
JJ: You could call them back.
Bruce (irritated): I don't want to make them wait.
JJ: Oh.
A few weeks go by, and it was time for the Bison family to go home. Bruce still hasn't heard anything and is getting very agitated.
Jen: Don't worry, Bruce. I'm sure they'll call.
Bruce: How do you know? I'm probably stuck here forever.
Jen: So what if you are? Wyoming's a nice place.
Bruce starts to growl something when his phone goes off. He looks at Jen.
Bruce: It's them. (Into the phone) Hello.
. . .
Bruce: This is Bruce.
. . .  Bruce listens for a long time
Bruce: Yes. I would definitely be interested. When does it start?
. . . 
Bruce: That's fantastic! I look forward to it. Talk to you soon.
Jen: What'd he say?
Bruce: He has a long-term job for me!
Jen screams and hugs Bruce. John and JJ run in.
JJ: Mom! What's wrong?
Jen: Your Uncle Bruce got a full-time acting job.
JJ: Awesome, Uncle Bruce! Tell us about it.
Bruce: It's a mini-series called Lone Wolf and Billy Bison. It's about detectives. I'm Billy Bison, Lone Wolf's bumbling assistant.
John (under his breath): Type casting.
Bruce: We're making 6 episodes. If it does well, we'll get renewed for another 6.
JJ: That is so cool, Uncle Bruce. Are you going to Hollywood?
Bruce: No. That's the best part. It's set in the Badlands in South Dakota. I can stay with you guys while we're filming.
CRASH!! John falls over in a dead faint.
All pictures courtesy of Google Images