Davy Kitten fell asleep after his mother had read him several stories from his favorite book, 100 Cats Who Changed Civilization by Sam Stall. He began to dream about a beautiful cat. Her name was Colette. She told him that any cat as good-looking as he was should be a model. Davy blushed.
Colette told Davy to follow her. They went into a building and down a long hall. Davy was a little frightened. What if she was taking him to some big dogs who were going to eat him? He was afraid of dogs. Finally Colette slid through a crack into a large bright room.
"Ah, Colette! You found me a model for my cat beds! He will be purrfect." The man picked up Davy and cuddled him. Davy began to purr and rub his head against the man's face.
"Now, little one, all you have to do is lay in my beds and pretend to sleep. I will take pictures. You will be famous! And so will my beds." Davy curled up in several of them. Finally, the man was done.
Davy went home with the man, whose name was Bob. Bob gave Davy good food and a nice warm bed. Shortly after, Bob showed him a magazine with Davy's picture in it. Davy thought that he actually did look pretty good. He purred at Bob.
Bob's phone rang. He talked for a few minutes. Then he told Davy, "You won't believe it! That was Mon Cheri Cat Food. They want you to be their spokescat. What do you think about that?" Davy wasn't sure; he didn't know what a spokescat was. He didn't speak human.
They went to the Mon Cheri offices. The studio was huge. There were all types of rooms for Davy to wander through. Finally they showed him the food they wanted him to sell. "Eww! That's awful! I can't eat that."
Bob picked up Davy. "You don't have to really eat it. It's all pretend. I'll see if they have another flavor." They put another bowl in front of Davy. That one was yummy. Davy ate it all as the people took the pictures.
The cat food ads were a huge success. Davy began to get fan mail. They took pictures of him, made him put his paw in something gooey and press it on the picture. His fans loved it.
Finally the cat food people decided that he needed to go on tour. Davy didn't like to travel. Bob said he'd be right beside him, so Davy agreed to go. He had a big bus with his picture on the side. Bob made him a special bed for the trip. Davy thought it might not be so bad.
At the first stop, they put a harness on Davy and took him out to meet his fans. Davy had never heard so much noise. And they all tried to touch him! Nobody had said anything about sticky fingers in his beautiful fur.
The fans adored him and the tour continued. In California, he was set up with a cameo in a movie. They gave him a bath in some kind of stinky soap and blew his coat dry. He looked in the mirror. He was a ball of fur. He went on the set. There were so many people. And they all wanted to touch him.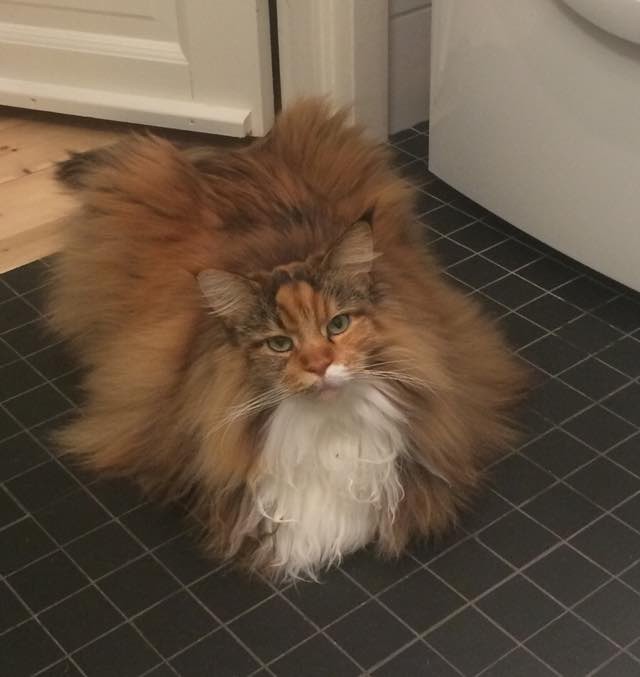 Davy couldn't take it anymore. He ran away from Bob and out the door. Outside there were more people who wanted to grab him. He couldn't get away.
"Davy! Over here! Davy! Davy!
Davy felt someone pushing him. He opened his eyes. It was Mama!
"Mama, I had the worst dream! There were humans everywhere and they all wanted to touch me. I couldn't get away. I never want to be a famous cat. It was terrible!"
Mama snuggled Davy next to her and started to groom him. She decided to read about historical cats that night.