Hello. My name is Gypsy K. Katt. You have met my sisters Thunder, Onyx, and Angel. We were all invited to spend a few days at Snoops' and Kommando's house before Easter. I really didn't want to come. I forced the humans to make a second trip when I hid during the first one. They were not pleased.
When they finally got me over here, I was really unhappy. You see, I spend most of my time alone at home, and I really wasn't interested in making a bunch of new friends. As soon as I got here, I raced downstairs and found a safe spot to hang out. The humans were really nice. They brought me food and water. They even gave me a litter box. Angel kept me company for a while.
Actually, life was pretty good. The basement in this house has a walkout into the yard, so there is a HUGE Cat TV screen. The humans came down a few times, but I hid. Snoops discovered me and wasn't very happy. But she left me alone, so we've compromised on live and let live. She does take some of my food once in a while, but I'm doing OK. I don't see much of her anymore.
My humans picked up my furry siblings after a few days, but I was nowhere to be found. No one was too worried – I was eating, drinking, and using the litter box. Since I like high spots, my human grandma (Cat) figured I was hiding in the (unfinished) ceiling. It was still too cold in the basement for the humans to hang out down there, so they left me pretty much alone. They figured I'd come out on my own in a few days.
They were wrong.
About a week later, my human Mom came over. I heard her in the bathroom and cried to her. I just wanted to say hi. When she came downstairs, I was nowhere to be found. I had definitely made myself at home. The same thing happened the next time they visited. I really love them, but having all this space to myself is so cool!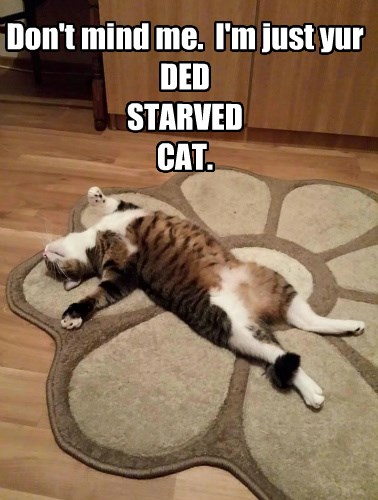 Last weekend, the humans forgot to feed me one day. So I had to forage. (I didn't want to starve.) I went upstairs to share the kibble. Rats! The humans were at the dining room table and saw me! Had to retreat. Came back a few minutes later to look out the front door. Nice view. But my door-wall downstairs is better.
I saw Kommando. She watched me, a little fluffed up, but didn't say anything. I left as soon as the humans started to come near. Close call! I'm getting pretty settled in to my new lair. Kommando's human brother came down later to see if he could talk to me. He got the picture at the top of the page. That's the last anyone's seen of me.
I've heard them talking. Now that it's warming up, Cat's planning to spend more time downstairs to get close to me. I'm not sure what to do. On the one paw, I do miss human companionship. But on another paw, I really like all the freedom here. I've been here a little over a month and it's definitely home-away-from-home.
Maybe I can get a human to move into my new space.
Memes courtesy of Google Images.