Where we are: Tyrone tried to impress the new girl Erin with his pouncing skills in the lunchroom. He had missed the mark, but she had left him a message to meet her in the gym before class. Tyrone wanted to take Erin to the Valentine's Day dance. He was eagerly waiting for her. You can read Part 1 here.
Tyrone was trying not to act nervous. He was sitting on one of the bleachers, looking around. No sign of Erin. He looked at his phone. Maybe she had changed her mind. He was looking down when he heard someone come in. A female voice said his name, and his heart stopped.
Girl: Hello, Tyrone.
Tyrone looked up. Then his heart sank. It wasn't Erin. It was Ivy, one of the girls he had known since he was a kitten.
Tyrone: Hello, Ivy.
Ivy: Hi. How are you?
Tyrone: I am well. And yourself?
Ivy: I'm good. I haven't seen much of you lately. Until yesterday in the lunchroom. That was a really good jump.
Tyrone (embarrassed): Thanks, Ivy. I kind of missed my mark. I wanted to land on the other table.
Ivy: I was really impressed. Whenever I try to make that kind of jump, I end up on the floor.
Tyrone: I wasn't supposed to slide.
Ivy: At least you stayed on the table. I thought it was really good.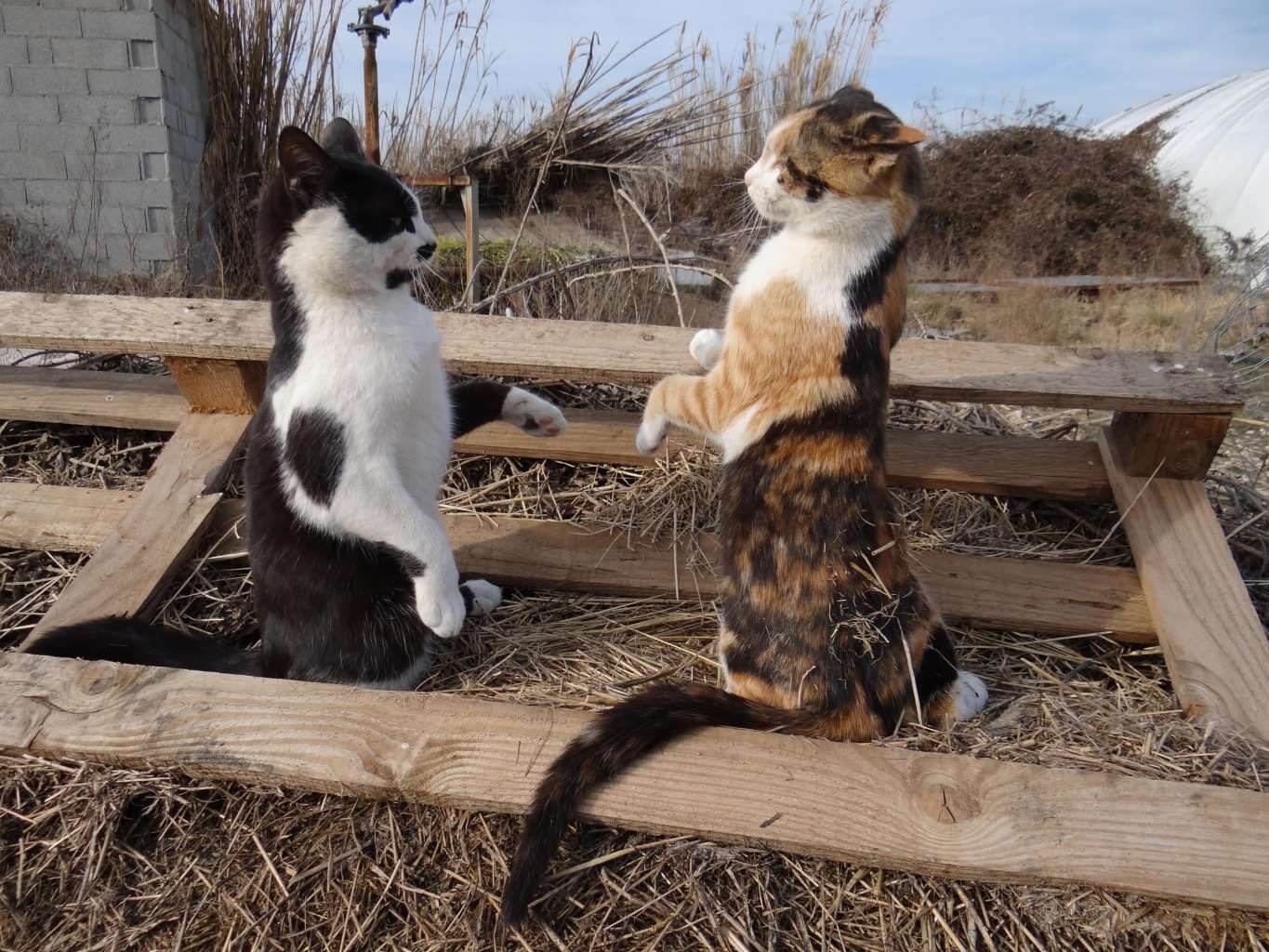 Tyrone couldn't figure out how to end the conversation. He didn't want Erin to come in and see him talking to another girl. But Ivy was being really nice, and he didn't want to hurt her feelings.
Ivy: What have you been up to? I used to see you all the time. Now it's hardly ever.
Tyrone: I guess I've been spending a lot of time with Donny and Clyde. Not as much time outside.
Ivy: That sounds like fun. How are classes going? I'm taking a lot of classes to get ready for college. They're really keeping me busy.
Tyrone: School is good. The guys are talking about starting an extermination business after we graduate, but I think I want to go to college too.
Ivy: You definitely should. You're much too smart to spend your life chasing mice. What do you want to study?
Tyrone was having a good time talking to Ivy, but he really wanted to wait for Erin. Finally, he blurted out.
Tyrone: I'm kinda waiting for someone this morning, Ivy.
Ivy: Erin, right?
Tyrone (blushing): Yeah. How did you know?
Ivy: That's why I'm here too.
Tyrone: What do you mean?
Ivy: She's not coming.
Tyrone: Did she send you?
Now Ivy was embarrassed. Tyrone started to get uncomfortable. He could tell that Ivy was trying to hide something.
Tyrone: It's OK. You can tell me.
Ivy: I'm sorry, Tyrone. I don't really know how to say this.
Tyrone: Just say it.
Ivy: Erin didn't send that message. Jessie did.
Jessie was another girl in their class. Tyrone talked to her once in a while, but they weren't friends.
Tyrone (disappointed): Why would Jessie do that?
Ivy: She saw that you were interested in Erin. She's jealous.
Tyrone: Of what?
Ivy: Of Erin. Erin attracts a lot of boys. She wanted to show you that it's stupid to like a girl just because she's pretty.
Tyrone: That's the dumbest thing I've ever heard. But why are you here?
Ivy: Jessie wanted you to be sitting here alone so she could come and make fun of you. But I know you. You're a really decent guy. You would have treated Erin well. You don't deserve to have Jessie laughing at you.
Tyrone: Erin is really pretty. But I bet she's not as nice as you are.
Ivy (blushing): Thank you, Tyrone. That's a very sweet thing to say.
Tyrone: It's true. I was really enjoying talking to you.
Ivy: I like talking to you too.
Tyrone: Maybe Jessie's right. I am dumb. I should've been talking to you.
Ivy: We've known each other a long time. You just don't think of me the same way.
Tyrone: But maybe I should.
Ivy looked at Tyrone and smiled. He hadn't realized that she was actually a very attractive cat.
Tyrone: Would you like to go out for a bowl of cream after school?
Ivy: That would be fun. We can talk about college.
Tyrone: I would like that.
Pictures courtesy of Google Images. (Sgt Stripes guest-starring as Tyrone,)