Where we are: Joey and Suzy are at the top of their medical school class. Joey has been helping his friend, Socks, do better so he doesn't have to graduate last in the class. Socks did well on his most recent exam. Suzy said it was because Joey cheated for him.
Poor Socks was devastated. He thought that he had been getting smarter. Now someone said the he was cheating.
Socks: Suzy, does that mean that my score doesn't count?
Suzy: Did you know Joey had stolen the information he taught you?
Socks: Of course not. I would never cheat.
Suzy: I didn't think so. I'll make sure you don't get in trouble.
Joey: What about me? You just accused me of cheating. I didn't cheat!
Suzy: Then why did you say you knew the questions ahead of time?
Joey: I never said that!
Suzy: Then why did I hear it?
Joey: You didn't hear it! I never said it. Take it back before I get into trouble.
Soon the accusation spread beyond their group of friends. It seemed like everyone knew. It was only a matter of time before someone told the professor.
Professor Gibbs: Mr. Boxer, may I see you after class?
Joey: Of course.
Joey was nervous. It had to be about the exam. What if the professor had heard about Suzy's accusation?
Gibbs: You did extremely well on my last exam.
Joey: Yes, sir. I studied very hard
Gibbs: So did your friend, Socks. He's never gotten higher than a score of 74 on a test.
Joey: We've been studying together.
Gibbs: What have you two been studying from?
Joey: The textbook and our notes, of course. Mainly my notes.
Gibbs: I've heard from a credible source that you were studying from the actual test that I had prepared.
Joey: Suzy's lying! I never saw that test before we took it. She's just trying to get me in trouble.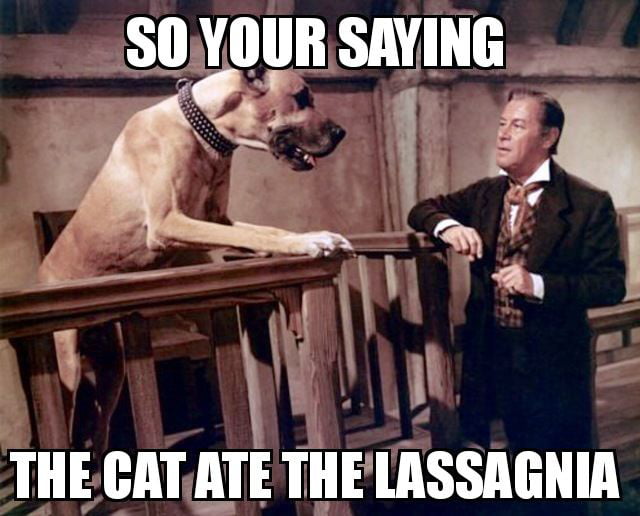 Gibbs: I have no idea what you're talking about. I haven't seen Suzy outside of class in weeks. I wanted to talk to you about the rumor. Is it true?
Joey: No, it is not.
Gibbs: Then you better find a way to prove that. You're scheduled to appear before the academic board a week from Tuesday. If they vote that you've cheated, you're going to be expelled.
One more thing, do you know of Mr. Retriever cheating?
Joey: He would never cheat. He's been studying around the clock since I began tutoring him. He's actually pretty smart when he focuses.
Gibbs: All right. That's what we thought. He has been doing better in class.
Joey: Why do you think I would cheat? I'm at the top of the class.
Gibbs: Exactly. The top students are the only ones who cheat at this point. They'll do anything they can to be number 1 at the end.
Joey: Thanks for telling me. I guess I better go figure out how to straighten this out.
Joey met with a few of his closest friends. He wasn't sure who to trust; someone had told administration. Apparently, it wasn't Suzy.
Joey: I think I'm done guys. How do I prove that I didn't say something?
Alex Owl: Where did you supposedly say this?
Joey: I don't know. I haven't talked to Suzy since she said it.
Jeremy Airedale: When were the two of you at the same place that she might have heard something that sounds like that?
Joey (frustrated): I don't know. Socks, do you remember anything?
Socks: Sorry, buddy. I went out to play ball with some of my old friends, and slept until the next class.
Alex: It looks like you're in a bit of a mess. There's only one thing to do. You have to prove that she's lying.
Socks: That doesn't seem very nice. She was just talking to some friends. I don't think she meant it to turn out this way.
Jeremy: That may be true. But I think Alex is right. If we can't prove that he's right, then we have to prove that she's wrong.
Joey: How do we do that?
The next day, Suzy was given a letter. It said that she had to be in court 2 days later. Joey Boxer was suing her for slander and defamation of character.
Next week: Will the trial vindicate Joey?