By archy cockroach and mehitabel cat, City Desk
You can read Part 1 here and Part 2 here.
We saw a long building with three pens attached. In the first one, there were probably 8 adult cats, male and female. The second pen had pregnant females, and the third had nursing mothers with kittens. They had access to the building for shelter, but couldn't roam free.
mehitabel immediately went up to the first pen and started talking to the cats. He noticed that they were all beautiful long-hairs. Strangely enough, the males all appeared to be Angora and the females were Himalayan. Five were female and three were male.
mehitabel: We're reporters from the Cheeseland News. We heard that humans were holding some cats captive out here against their will. Can you tell us what's going on?
Tom 1: That's right. They're breeding us and then selling our kittens. These are lovely ladies and don't deserve to be treated this way.
Female 1: Thank you Thomas. That's very kind of you. But all of the adult cats were stolen from their homes and brought here, even the males.
mehitabel: How long as this been going on?
Female 2: Well, let's see. The first batch of kittens were taken to be Christmas presents, they said. So that would be about six months.
archy: That's awful! Are they still stealing cats?
Female 2: No, we're the last.
Tom 2: They said they were done after each of these ladies had two litters. They thought they'd have enough money by then.
Female 3: And they're afraid of getting caught.
mehitabel: So each female is let go after having two litters?
Female 1: They said they want a variety of kittens.
Tom 1: But not too varied. So everyone's an Angora-Himalayan mix. They think the kittens look exotic enough to be sold as purebred.
mehitabel: So what happens after a female has two litters?
(The cats look at each other.)
Tom 3: We don't really know. They say the humans release them at the edge of the woods. Of course, none of them would ever come back here, so we don't really know. You might want to talk to some of the females with kittens. They probably know more.
mehitabel: Thank you for your time. And try not to worry.
We continued to the next pen. There were three pregnant females in that one.
mehitabel: Hello ladies. We're from the Cheeseland News and we're trying to get to the bottom of what's going on here. How long have you been captive?
Female 6: Almost three months. This is my second litter. They're going to release me after my kittens are weaned.
mehitabel: Do you know where they are going to release you?
(She motions with her head to the woods.)
mehitabel: Is that where you live?
Female 6: No. I have no idea how to get home from here. I hope someone in the woods can help me. Or maybe I can find some of the other cats from here. We're all going to be out soon.
(She motioned to the others in her pen and the nursing mothers. Then she started to cry. mehitabel tried to comfort her before moving on to the final pen where two nursing mothers were laying. Once again he introduced us.)
Mother 1: Can you help us? They're going to take my babies away next week, and I'll never see them again. And then they're going to throw me in the woods. I'll probably get eaten by something. I've never been in the woods before.
(She finally caught her breath. We looked at each other.)
Mehitabel: Ma'am, we're on our way to do just that.
We ran to the house. Fortunately it was still night, and the men were asleep (very noisily.) Our luck held, and we found a computer. mehitabel quickly sent a message to George and Lenny (our editors). As quickly as possible given that he had to use two paws.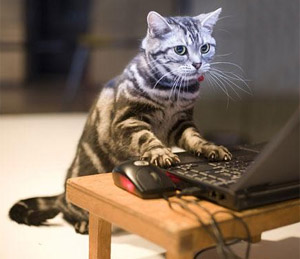 We raced out of house to try and find our own way home.
Follow-Up
George immediately called the local police and told them what was going on with the cats. By morning, the police were at the farm with people from the local shelter. The men were arrested and are in jail. They have to pay back all the people they cheated when  they sold them mixed breed cats as purebred.
It turned out that the humans who had adopted the kittens had already fallen in love with them and had no interest in turning them over to shelters. The kittens were equally happy with their homes and wanted to stay. The humans know that they will be waiting a long time for their money, but are happy the scammers were caught.
The shelter took in the pregnant females and nursing mothers to make sure everyone was healthy and safe. They weren't sure what to do with the adults. No one knew how to get home. Finally the cats agreed to be matched with humans, but only if they had the right of refusal on the human.
The shelter wasn't sure how easy it would be to find homes for 8 adult cats who were rather grumpy after being penned up. But they took pictures and put them on the website. Within a week, they all had forever homes. It turned out that they weren't as difficult as they pretended once they were cuddled and petted.
The humans never found the cats who had been released. But after a little digging, we discovered that they had formed their own family. They settled near a human artists' colony where they could come and go as they pleased. They artists considered them furry muses. The cats considered the humans providers of treats and shelter when needed.
(All pictures courtesy of Google Images)