Snoops and Kommando Kitty here. We thought that we would help you humans understand a little more about us cats. So we decided to try to answer some common questions.
Why do cats spend so much time sleeping in the sun? 
Some of sleep in the sun because it feels so nice on our fur. It's also nice and warm on cool days. Other cats are partly solar-powered. You can tell who these cats are by their behavior after dark. Regular kitties want to play with their humans before bed then sleep at the same time (more or less). Solar-powered kitties will play a little before bed. But when the lights go out, they turn on the stored solar energy. They race around the house, play with their loudest toys, and try to wake up their humans to play some more. If the humans lock the door, they will stand outside and cry or bang at the door.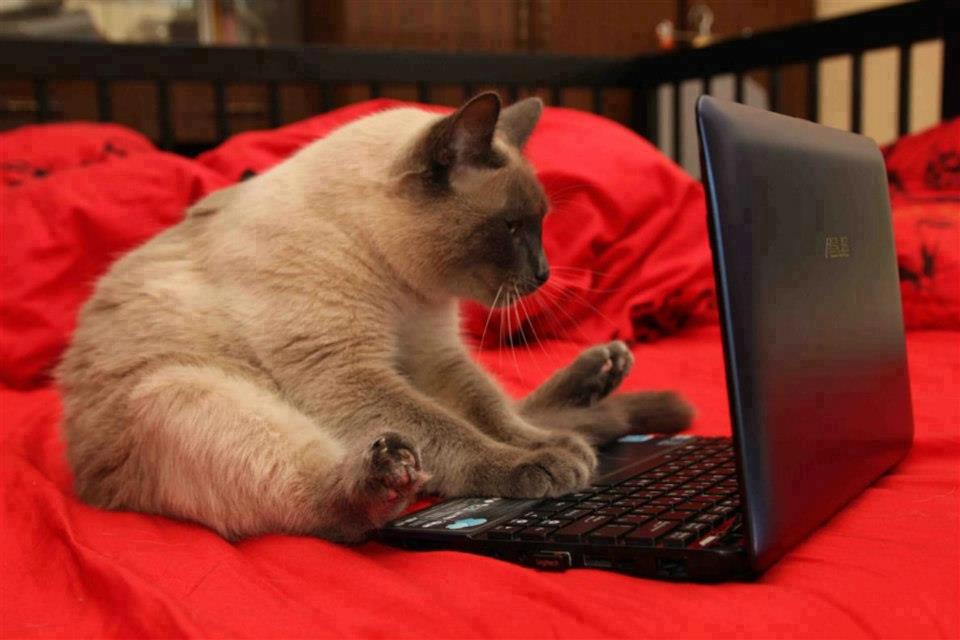 Can cats really use computers?
That's an interesting question. We don't like to type. The claws get in the way and our paws are really too wide to be effective. However, we can use Internet sites. For example, if the human has an Amazon account we can watch them sign in and type enough to copy it. As long as there's a credit card and address registered, all is good. We cannot use Alexa. She's pretty smart. She knows we're cats, and cats can't get credit cards.
Do cats watch TV?
Occasionally there's a show about cats or birds that's interesting. And some of us like sports (the faster ones; cats don't follow golf). But for the most part humans watch junk about other humans. Humans talk a LOT on TV. If we want to listen to humans talk, we have our own.
What do cats like to talk about to each other?
That depends on the cat. Some (like Kommando) talk more than others. Generally speaking we talk about why the humans won't fix the weather so it's not so cold or hot or wet or snowy. Are there any good clothes around to lay on or paw through? Is there anything good to eat?  Did the humans forget to put anything away that we like to play with or eat? We complain about clumsy humans who trip on us. What's on Cat TV? Should we tell the humans that they smell weird?
How do cats feel about sharing the house with other animals (besides the humans)?
It depends on the cat and the other animal. For example, our housemate Horatio Hedgehog isn't a problem. He has a cage and is pretty quiet. He's nocturnal, so we don't hear too much from him. Some sort of small rodent would be acceptable. It's always fun looking at prey. Same for fish or small reptiles. Another cat or a dog would be totally unacceptable. Three humans and two cats live here. That's a spare human in case we need him. Other cats prefer to be alone with their human. And some cats are really outgoing and say the more the merrier. We don't really understand those cats, so we can't comment.
Why do some cats like to go out and others don't?
Most of us like the occasional look outside. Some cats are naturally timid or have had bad experiences and are more than happy to stay inside. Some have complete access to nature and are happy roaming and coming home for dinner and bed. Personally, we don't want to be snacks for the coyotes or hawks and are happy inside. It all depends on the cat's personality and how unpleasant it is to be with their human all day, every day.
Why do cats act so superior?
Because we're beautiful and smart and don't ask dumb questions.
That's all we have time for today. We hope we've helped your understanding of cats. If you have other questions you'd like answered in the future, just send them in.
Pictures courtesy of Google Images