Ms. Hooper had been looking for a new game for her class of younger squirrels. It was almost spring, and they were getting restless.
Ricki: Ms. Hooper. I'm bored. Can we go outside?
Ms. Hooper: I'm not sure that's a good idea. There's still snow on the ground.
Joey: But we're squirrels. We like snow. Look at all this fur.
He did have a very plush coat. Suddenly, Ms. Hooper had an idea.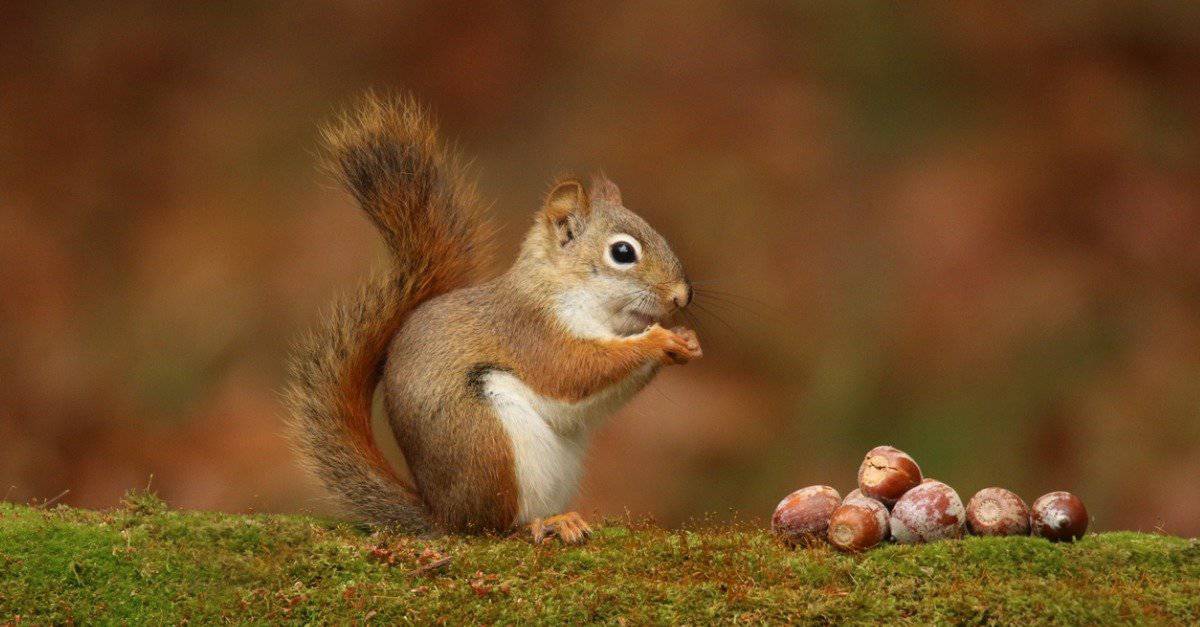 Ms. Hooper: All right. Let's have a treasure hunt. Whoever can find the most acorns in fifteen minutes wins.
Sasha: What do we win?
Ms. Hooper thought for a minute.
Ms. Hooper: You get to choose our next project. I have two ideas, and you can choose which one we do first.
The young squirrels were excited. They loved running around outside. As soon as they heard the signal, they were off looking for acorns. They raced around the schoolyard, looking in the trees and around the bushes. They pawed eagerly at the snow, hoping to find some of the nuts that had fallen from the trees at the end of summer.
Ms. Hooper watched her class, surprised at the number of acorns they were finding. She hadn't realized there would be so many. There were fifteen students in her class. She had planned on each of them finding one or two nuts. Finally, she called an end.
Ms. Hooper: Okay, class. Great job! Let's count what you've found.
She went from squirrel to squirrel, counting. Most of them had five to ten acorns. A few had found walnuts. The last student was Timmy, who had a sizable pile of acorns.
Ms. Hooper: Timmy, you did a great job! Where did you find so many nuts?
Timmy: I guess I got lucky. I was over in that corner by myself. And I was really fast running them back to my pile.
Ms. Hooper had everyone put their acorns in a pile in a corner of the classroom and sit down.
Ms. Hooper: I hope you all had fun. We've got a lot of acorns there. We can use them as school snacks.
Roberta: So who won, Ms. Hooper? I bet it was me. I got eleven acorns.
Judy: Nope. I got twelve.
Edgar: You both lost. I got fourteen.
Ms. Hooper: Sorry, kids. Timmy's the winner. He found twenty-one acorns in fifteen minutes. I didn't think there were a total of twenty of them out there before you started.
Timmy was grinning.
Timmy: Guess I'm the king of the nuts.
Everyone laughed, and he hesitated.
Timmy: That sounded better in my head.
Ms. Hooper: Anyway, you won. Now you get to choose what we study next.
Timmy: Oh, boy!. Let's study running around outside. We can see who's the fastest and figure out why.
The rest of the class cheered. They started to get up.
Ms. Hooper: Back in your seats. I said that I had two ideas, remember?
Timmy: Rats! I forgot. I bet they're not as good as my idea.
Ms. Hooper: I think they're pretty good. It's almost spring. We can study the trees or we can study the sun.
Timmy: Those both sound pretty boring.
The other little squirrels nodded.
Jesse: I know! I heard some humans talking about something called Daylight Savings Time.
Timmy: What's that?
Jesse: The humans said that it makes it lighter longer in the day.
Timmy: Wow! So there's more daylight? How do they do that?
Jesse: I don't know. They must find it somewhere.
Timmy: I'm really good at finding things. I bet I could save more daylight than the humans. We should do that!
Ms. Hooper: I don't think that's what the humans meant.
Timmy: Then what did they mean?
Ms. Hooper: I don't really know. Squirrels don't really tell time.
Timmy: But wouldn't it be great if we could find more daylight? More time for running around and doing stuff. I bet I could find more daylight than anyone else in the class.
The other squirrels started chattering. They were excited about having another contest. Ms. Hooper let them talk for a bit.
Ms. Hooper: All right class. I can see that you are excited about this. Here's what we're going to do. Tomorrow, you can all present ideas on how you are going to save daylight. We'll vote on who has the best idea. Then we'll talk about the seasons.
Next week: How the squirrels are going to improve Daylight Savings Time.
Note from Wikipedia: Daylight saving time (DST), also referred to as daylight savings time or daylight time (United States, Canada, and Australia), or summer time (United Kingdom, European Union, and others), is the practice of advancing clocks (typically by one hour) during warmer months so that darkness falls at a later clock time. 
Pictures courtesy of Google Images