Greetings from Snoops and Kommando Kitty. Welcome to Cat Forum. We received a suggestion about doing a four-hour documentary on kibble. Unfortunately, we were not able to find much information on kibble. It figures. Most of the writers were human.
.So we decided to look into cat food in general. The story really begins in the middle of the nineteenth century. Prior to that, cats were popular for rodent control. Many farmers used milk and meat to attract cats and keep them happy.
Things got a little weird early on once the humans decided to start making food for us . A man decided to make dog biscuits to sell. They were made out of compressed beet root, other vegetables, meat, and wheat. Some people thought they would be good food for cats as well. We disagree.
Small businesses began to sell their own brands of cat food. It was mainly horse meat. Apparently there were a lot of dead horses. Only rich cats got to eat store food  in this era.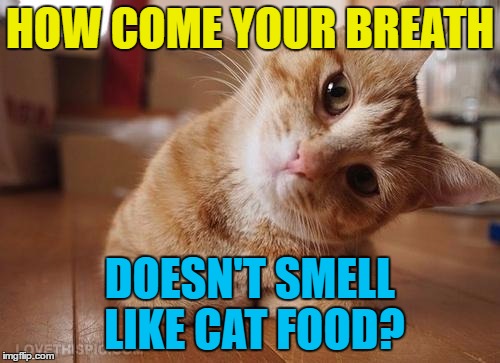 Not all prepared food was created equal .  The government set up the Association of Feed Control Officials in 1909. In 1917, they created rules to standardize the creation of cat food and create minimum health standards.
Don't worry fellow felines For once it wasn't a case of species-ism on the part of the humans. Their prepackaged food was at least as bad. At least we consider rats part of a balanced diet.
Now it gets weird again. Some human was watching a machine make cheese puffs (a tasty human treat that does not use cheese). He decided to use the machine to make cat food. And that was the beginning of kibble.
At this point, most cats went outside at least part of the time. Any problems with the quality of the food could be supplemented with nature's buffet.
A smart human found out that people were willing to spend more money to get better quality food for their furry friends. A man named Paul Iams created the first meat-based, high-protein food for cats.
As the humans say, the rest is history. Today there are shelves in the store dedicated to cat food. In decent stores, there is one aisle for the dry food and one for canned food and treats.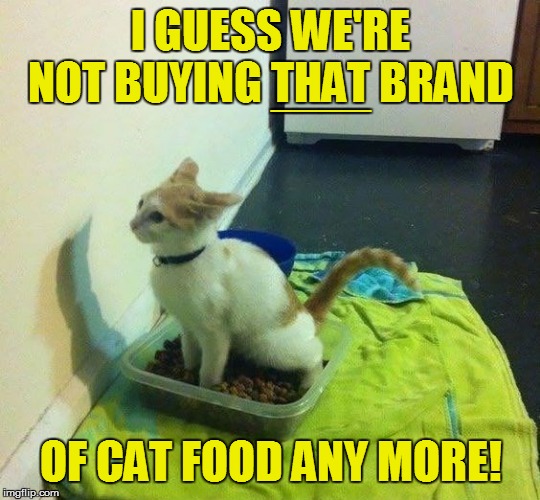 Humans can go one their computers and find all kinds of food and treats for us. Of course, we still need to let them know what is acceptable and what is not. Naturally, their palates are not refined enough.