Background: Every two years Zeke, Anthony, Joe, and Benjamin got together for a week-long camping trip at the lake. One of the highlights of the trip was story-time around the bonfire. This year's topic is "Chance Encounter With Another Species". You can read Zeke's story here. Anthony's story is here. Joe's story is here.

This is Benjamin's story.
My son Beau and I were out gathering some last minute supplies for the winter when we saw a fox race past chasing a couple of young rabbits. It really didn't look good for the rabbits. We didn't have time to see who it was.
The next thing we knew, one of the rabbits was tugging on Beau's paw. The fox had cornered her brother in some bushes, and she wanted Beau to help him get free. She must have been pretty desperate to come to a bear for help. We didn't know her, but the forest was full of rabbits.
Beau and I looked at each other. I was going to explain that it was probably too late, but she looked so sad that I didn't have the heart. He was her only family. We told her to wait there, hidden from view, while we went to see what was going on.
We followed the tracks and found the fox. It was Jasper, one of our neighbors. He was still hunting, so the rabbit was alive. I guess we startled Jasper, though. He looked irritated when we approached him. He told us that he had been hunting a rabbit for dinner when we tromped up. Now he probably had lost it.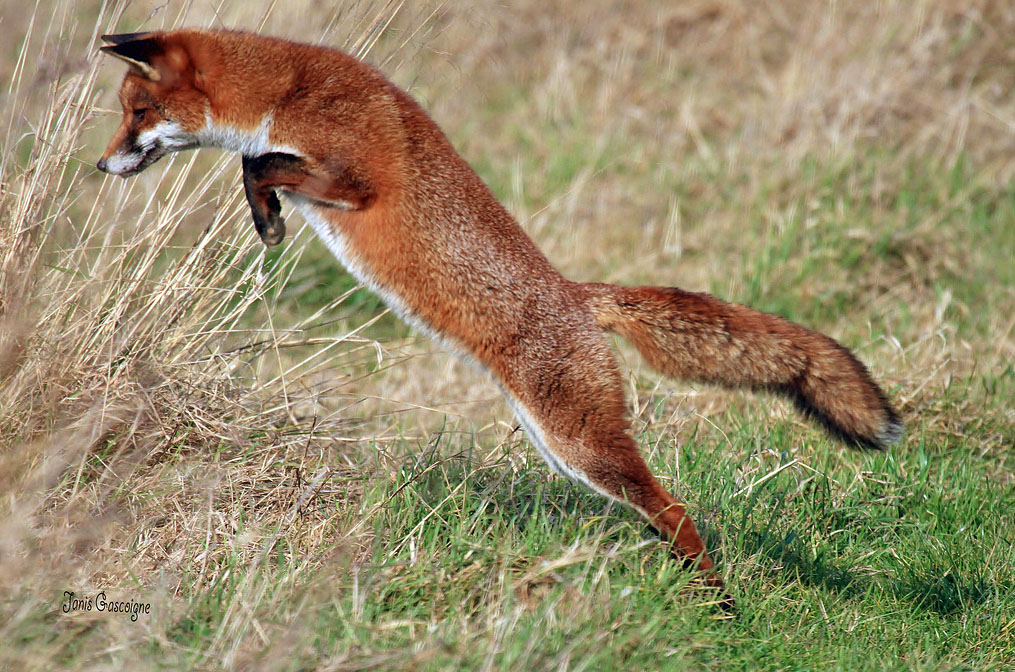 Jasper started to walk around, sniffing. He found the scent of the rabbit again. He ran into the forest. We followed him, and I asked him to stop. He had cornered the bunny, but we startled him before he could attack. Jasper turned his head to look at us.
Before Jasper had a chance to start yelling, I told him that we wanted him to give us the bunny. Jasper thought I had lost my mind. It was his dinner. Besides, bears don't eat rabbits. Why would we want it?
I explained that the rabbit's sister had asked us to rescue him. She didn't want to lose her only family. Jasper looked at us and started to laugh. He'd never heard of a rabbit being that brave before.
We waited to see whether Jasper would release the rabbit. I wasn't sure that the poor thing hadn't died from fright. It had its body pressed against the ground. Jasper looked at the rabbit and decided to let him go. He couldn't kill something after a story like that. He'd have leftovers for dinner.
The little rabbit was frozen in terror. Beau went over and petted him. There wasn't any response, so Beau picked him up and we took him back to his sister.
She was exhilarated when she saw us. She had been sure that we had just gone home. The little male rabbit finally relaxed when he saw her.
We asked if they needed help getting home. The girl rabbit said that their home had been destroyed; that's why they were in the area. We decided to take them home with us to relax after all the excitement. They fell asleep almost immediately.
They decided to build their new burrow near our den, since we were the first friends they made in the area.