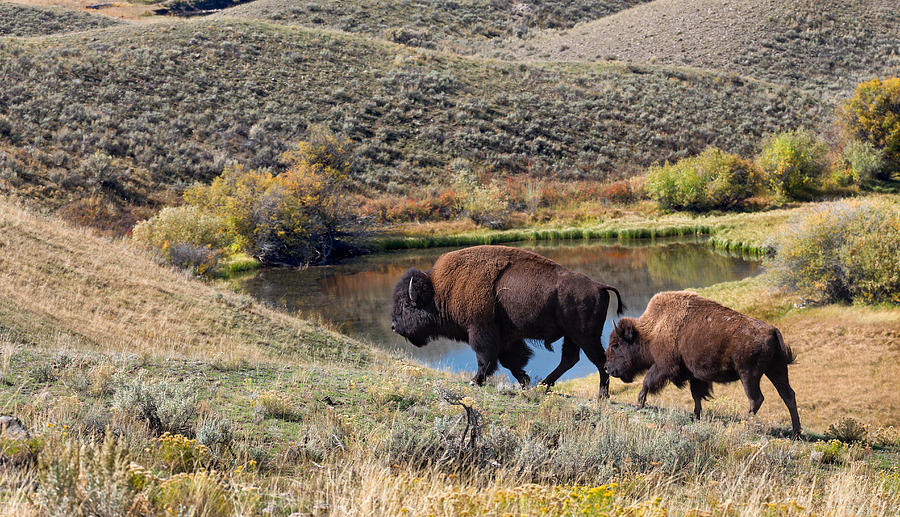 Where we are: The Bison family is going to Wyoming to see Jen's brother Bruce. Bruce has advised them to take the train. John has just discovered that his family will be sharing their space with two jackrabbits. You can read Part 1 here.
John explained the situation to his family and they returned to their car. He opened the door quietly and saw the jackrabbits asleep in the corner. The bison entered, trying not to make any noise. They put their things down as the train started to move.
 The adults settled in for a nap, and JJ went to explore the train. After a couple of hours, his parents joined him, and they went and got something to eat. While they were eating, they watched the scenery.
JJ: Isn't this great, Dad? We just sit here, and the train does all the work.
John: I guess you're right. This is a lot better than walking.
Jen: I'm glad you like it.
The rest of the trip was uneventful. The next afternoon, the train pulled into their station.
Jen: While you and JJ get our luggage, I'll go find Bruce.
John: If you do, it'll be the first time he's been where he's supposed to be.
Jen: Be nice, John. Remember, he invited us to stay with him.
John: I'll try.
She goes outside, but doesn't see Bruce. John and JJ join her.
Jen: I can't find him anywhere. You look. Maybe I missed him.
John: He's a full-grown male bison. How could you miss him? I'll call him.
On the phone:
John: Bruce, it's John…I'm fine. We're at the station waiting for you…Yes, it's today…Today IS Thursday…Of course, I'm sure…I have no idea where you live…No, it's OK. If we get lost, I'll call…All right. See you soon.
To Jen:
John: Your brother is an idiot. He thinks today is Wednesday. He told me I was lucky he answered the phone. [snort] He's lucky he answered the phone.
Jen: Is he on his way?
John: He said that he was bathing and gave me the directions. It's probably safer that way.
They followed Bruce's directions and found a nice shelter in a meadow.
Bruce: Sis! It's great to see you! Beautiful as ever. JJ, almost a bull! John, it's been a long time!
John (thinking 'not long enough'): Good to see you. What have you been up to?
Bruce: Funny you should ask.  I have exciting news. I was cleaning up because I'm going to be in a commercial.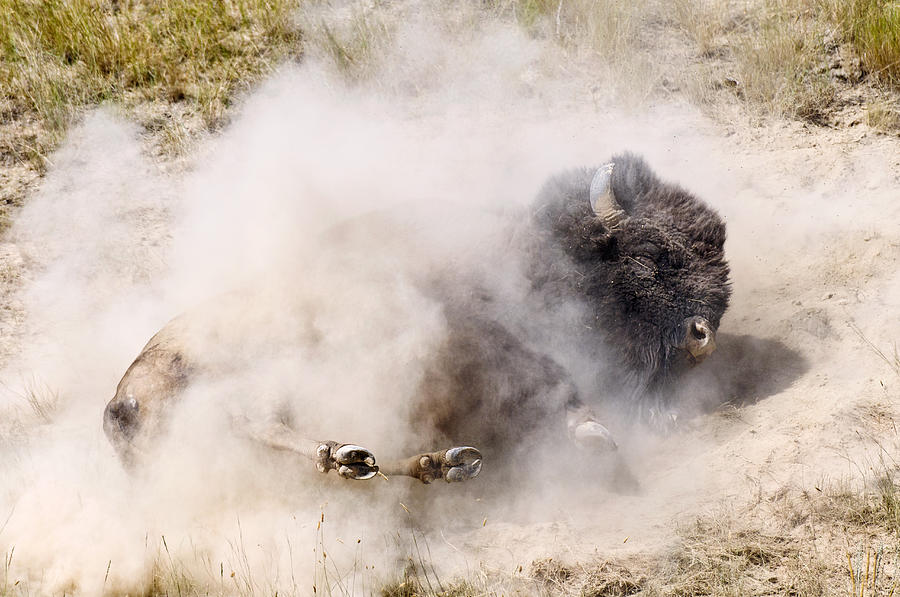 JJ: Really, Uncle Bruce? What kind of commercial?
Bruce: It's for hoof wax. They should a handsome buffalo with ugly hooves. Then his feet get waxed, and it's a handsome bison with beautiful hooves.
JJ: You're the handsome bison?
Bruce: Not exactly. I'm the hooves.
JJ: Oh. Why can't they use the other guy's feet?
Bruce: He has really, really ugly feet. He survived a nasty fungus, but his hooves were ruined.
Jen: So why can't you be the handsome bison?
Bruce: This guy's been their spokes bison for a long time. People know his face.
John: You're going to be Hardwax Jack's hooves? Congratulations! It sounds like you've actually found a job.
Bruce: Thanks, John. I hope I meet someone who sees how talented I am.
John: Good luck. I hope it works out.
Jen: I'm so excited for you, Bruce! When does it shoot?
Bruce: Monday.
Jen: So you'll have a few days to show us around.
Bruce: Sure do. As long as it doesn't interfere with my real job.
John: You have a real job? Maybe it was a good idea for you to move out here. What do you do?
Bruce: I joined a herd out here. Really nice bunch. They needed a night watch bison. So I took the job.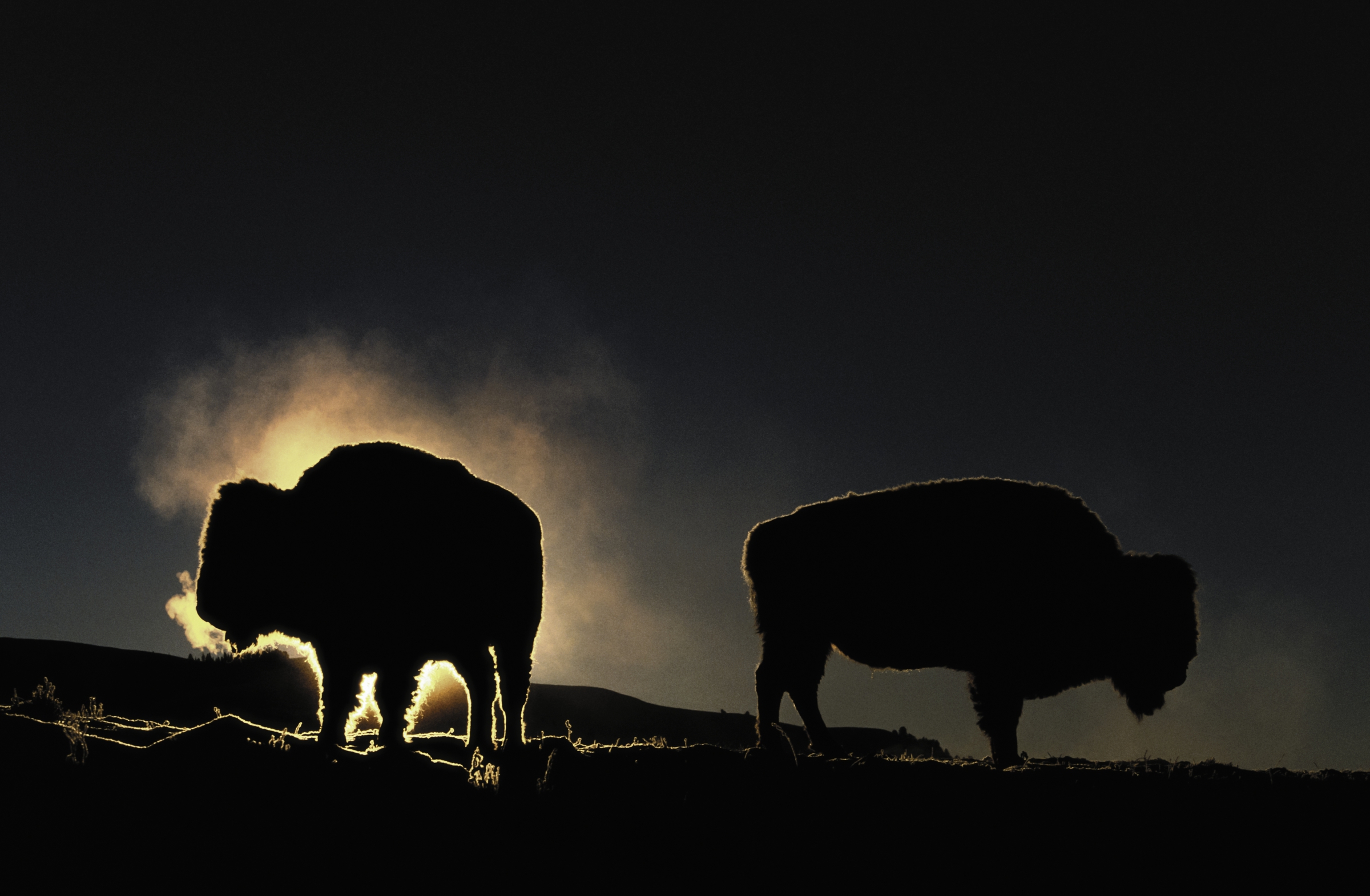 Jen: That's great, Bruce. But bison sleep at night.
Bruce: That's why the job was open.
Jen: How do you stay awake?
Bruce: That's been a bit of a problem. I started by walking around, but that didn't work out so well. When I stopped for my break, I fell asleep.
Jen: What are you doing now?
Bruce: The humans have something they call caffeine. In comes in coffee, tea, and soda. You drink it.
Jen: Bison don't drink those things. It doesn't sound like a good idea.
Bruce: It took some practice. Humans are kind of scrawny, so I needed to drink a lot. And it tastes awful. I swear, people will put anything in their mouths.
JJ: That sounds awful, Uncle Bruce. Did it work?
Bruce: I think it would have. But I had to take so many bathroom breaks that I wasn't much of a guard. Luckily, we live in a safe neighborhood.
Jen: So I'm right. It isn't a good idea.
Bruce: Well, the coffee wasn't. But the caffeine worked; I stayed awake. Now I take pills. The people stores sell them.
John: Don't the humans think it's odd to be selling to a bison?
Bruce: One of the small humans does it for me. I give him rides in exchange.
John: Do you work every night?
Bruce: Pretty much. I'm going to take off Sunday night to be ready for Monday.
Bruce goes to work and the family relaxes, tired from the trip. Jen decides to do some research on caffeine. She didn't like her brother taking something meant for humans.
Next week: Does Bruce really have two jobs? Can bison become addicted to caffeine?
Pictures courtesy of Google Images.