Background: When Michigan became a state in 1837, there were thousands of wolverines roaming the state. So when the day came to choose a state animal, the winner was the wolverine. When the University of Michigan began playing intercollegiate football in 1879, they were the Michigan Wolverines. By the middle of the 20th century, wolverines were scarce. By 1997 there were no wolverines in Michigan, and the white-tailed deer became the state animal.
Here is the real reason there are no wolverines in Michigan. (All narration is done by wolverines.)
1879 (Ann Arbor)
Jimmy: Dad! Did you hear the great news? Some humans are going to play a game called football. And they named the team after us wolverines because we're so tough.
Dad: That's nice, Jimmy. Now help me catch something for dinner.
1890 (Lower Michigan)
Walter: This meal is delicious. I never knew you were such a good hunter.
Emily: Thank you sweetie. I heard something terrible from Betty. Do you remember her nephew Benny?
Walter: Not really. She has about twenty nephews.
Emily: Anyway, some humans got him.
Walter: That's awful. Did they turn him into stew?
Emily: No; that's the strange part. They put him in a cage and said they were taking him to school as a mascot.
Walter: What's a mascot?
Emily: Betty wasn't really sure, but they said he'd be great on the sidelines.
Walter: How very odd.
1900 (Lower Michigan)
Joe: You'll never believe who we saw today!
Peggy: Who?
Joe: George! That guy that the humans trapped last year to take to school.
Peggy: Really? How'd he get out?
Joe: A few of the humans took him out of his cage. They wanted to paint him maize and blue. He didn't know what it meant but he saw his chance, bit a guy, and raced out. Well, we don't really race, but you know what I mean.
Peggy: So did he tell you what a mascot is?
Joe: Apparently when these humans play a game, they like to have a tough animal to represent how tough they are. And if they actually have one of those animals, they show it off to intimidate the other team.
Peggy: Goodness! How awful for the animal.
Joe: George said it wasn't as bad as it sounds. They fed him as much as he wanted and walked him and gave him a good place to live. But the games were really noisy. And they wouldn't let him eat any of the injured players, even if they were on the other team.
Peggy: Humans are strange. You would think they would want to eliminate as many enemies as possible.
Joe: George said that they will look for a replacement. We all need to move.
1910 (mid-Lower Peninsula)
Paul: It looks like it might be time to move north again.
Jan: But it's so nice here. We have the lake, the sun spots, the children have lots of friends. And there's plenty to eat.
Paul: It seems that some of those "football players" live around here. They took Jenny with them when they went to school.
Jan: Oh, no! They took a girl?
Paul: Yep. But humans are clueless. They probably can't tell the difference.
1920 (below the Straits of Mackinac)
Bill: We're going to have to do something. Those humans can still find us up here.
Jack: And they want more than one of us now. "In case one dies or runs off."
Pete: I heard that some of the other students want us as pets. It's ridiculous. Don't they know we're vicious?
Bill: I heard that some of the girl humans think we're cute.
Pete: Grrr
1930 (far west of the Upper Peninsula)
Don: Hon, I don't want to scare you, but the students found us again. They have some kind of contest to see who can capture the biggest, meanest wolverine as mascot. The rest are going to be pets down there.
Ann: I am frightened. You're a big, mean guy. What if they take you?
Don: It's OK. The guys and I have a plan. Tonight we're all going to move over the border to Wisconsin.
Ann: Don't they have mascots in Wisconsin?
Don: Yes, but they're badgers. And the fewer of them the better.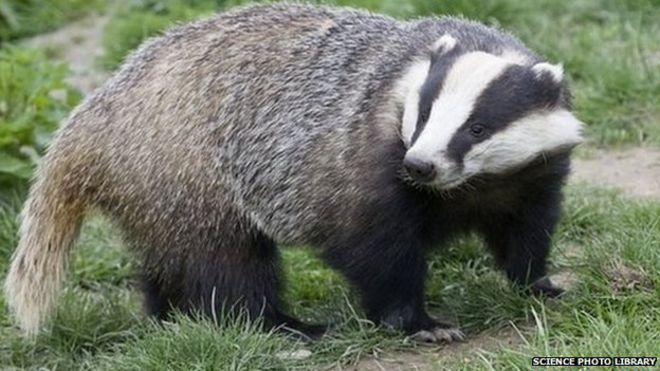 Bucky Badger is the mascot for the University of Wisconsin
Note: Cat is a Michigan alum and would never have a wolverine as a pet. Go Blue!
(All pictures are courtesy of Google Images)