Some humans think it's a little weird how much we groom ourselves (It can take up 30-50% of our waking lives). They never stop to think about how weird we think it is that they bathe so rarely. Or how disgusting that is. We thought we'd take a few minutes to do a little educating on why we do what we do. Once again, it's time to teach your human. (Our pictures include examples of why this important task should not be left to humans.)
Grooming helps us cool down – You will notice that, unlike humans, we do not become drippy, smelly messes when it gets hot or we exercise. We sweat through our pads. The drying of the saliva from our grooming also helps us cool down.
We can wash our own backs – Remember last week when we were talking about how cool it was that our collarbones don't attach to the bones in our bodies (only our front legs)? Not only can we squeeze through small spaces, we can turn our heads around to reach our backs to wash them. Even between the shoulders.
Our grooming may be tied to our general health – Humans don't need to worry about the amount we groom on a regular basis (we are ultra-clean animals). It's if we groom more or less than usual. More grooming could mean stress or tension. Less grooming could mean we can't reach the area anymore or it hurts to groom there. Or it could mean that we got into something yucky.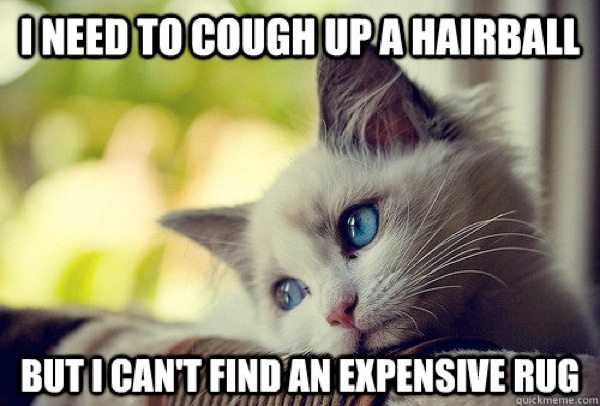 Our amazing tongues are responsible for hairballs. You know how we have those little hooks that help carry the food and water back into our mouths? They also carry any loose furs back there. We have to swallow those furs. Then we have to hack them up. Voila! Hairball. You can use this information as a weapon if you'd like.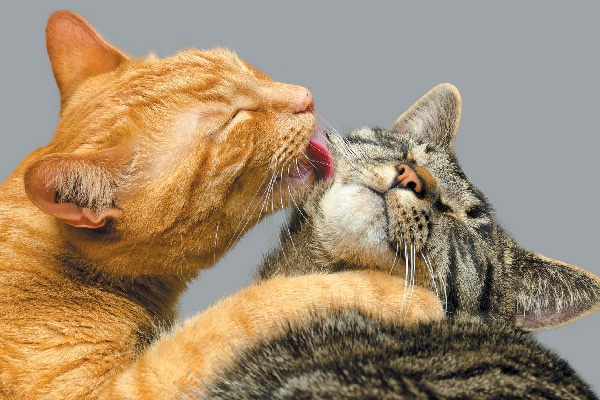 We bond through grooming – No surprise here. We're not going to let just anyone put their mouth on our precious fur. Besides, our moms showed us they loved us through grooming. As adults, how else are we going to get the new guy in the house to smell decent? It marks us a one of the family.
We only groom the humans we love – Once again, we are bonding like our moms taught us. Why do some humans immediately wash off our love? No clue, but we love them anyway. Even if they do smell like human.
Our furs have muscles – That's the secret behind how we fluff up when we get scared. The guard hairs use their muscles to stand up. Humans have puny hair compared to us.
Our furs have cuticles that point away from our bodies – It's kind of like being covered with overlapping shingles. If the shingles are all pointing in the right direction, we're smooth and silky. If some of the shingles get moved in the wrong direction, we can get rough and spiky. Sometimes humans think it's funny to pet us in the wrong direction. Then they get offended when we immediately lick the furs back into place. It feels weird with the furs kinked up. We're not the antisocial ones, they're the ones messing up the natural order.
Hopefully, we given you some good conversation starters. If you have trouble getting their attention, a hairball usually does the trick.
Pictures courtesy of Google Images