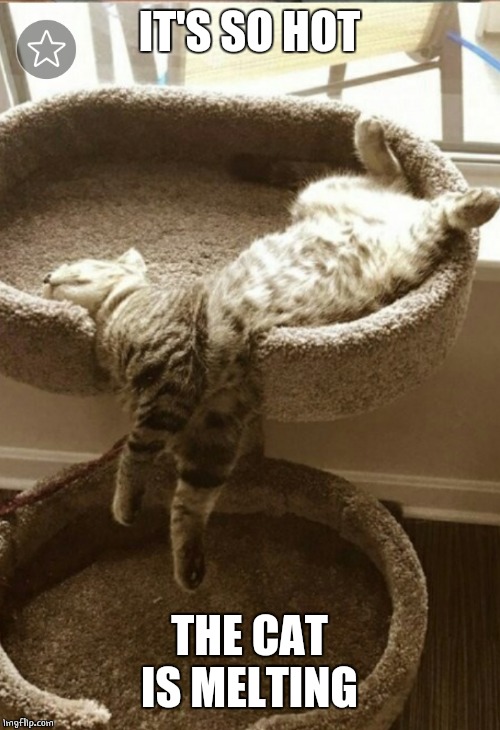 Greetings. Snoops and Kommando Kitty here with another edition of Cat Forum. To be perfectly honest, we have been too hot to really do anything this week, so we thought about writing about how hot we are. But that would be boring since everyone else is hot too.
Instead, we did some research on how to keep cool. Some were pretty basic like never let your human lock you in a hot car or stay out of the sun as much as possible. But some made more sense, so we're sharing those. (If you're one of those kitties who like to swim, that is another option.)
Enjoy ice treats – We were really excited because we thoug it they might have recipes for mousesicles or moths on ice. No such luck. It's pretty much licking ice balls. Maybe you could ask your human to add tuna juice. Sometimes Mom adds ice cubes to our water fountain.
Play with ice cubes –  We don't really understand this suggestion because the "experts" also say we should limit play during the hottest part of the day. You need a hard surface to do this game. It may cool off your front paws which could make you feel cooler.
(Yes, it's an actual cooling bed you can get from AliExpress)
Lay on a cooling mat – You will need to talk to either your human or Alexa to get one of these. You can cool the whole side that is laying on It. It's like an electric blanket for the summer. We do not recommend lying in ice cubes
Wrap yourself in wet towels or have your human stroke you with wet hands – This one sounds a little icky to us. But it probably works if you don't mind your human wiping their hands on you like you're a towel.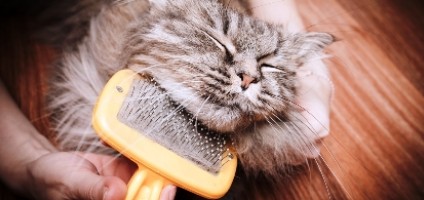 Have your human brush you daily – Hopefully, you already have your human trained to either brush you daily or on command. Loose furs can get trapped in your coat and add to the heat of the season. Besides, we all look even more beautiful freshly brushed.
Elevate your bed – It's a good idea to sleep where the air can circulate below you as well as around you. We recommend a shelf on a cat tree in the shade as a good possibility. If your human has a shelf that is open to air flow, that is another choice. Make sure you have cleared it before you try to sleep.
Get a personal fan – Once again, you will need your human's help. A fan is one of those things where the blades go around an make a breeze. Be sure that your fan is large enough to cool the air, but not so large that it ruffles your furs. Never put your paw near it. It's your human's job to turn it on and adjust it.
Close the drapes – Unfortunately, when you're too hot, it's no time to sleep in sun puddles. The direct sun will make you even hotter. So stake out a spot in a nice shady spot and sleep in comfort. The heat wave will end eventually, and you can return to sun worship.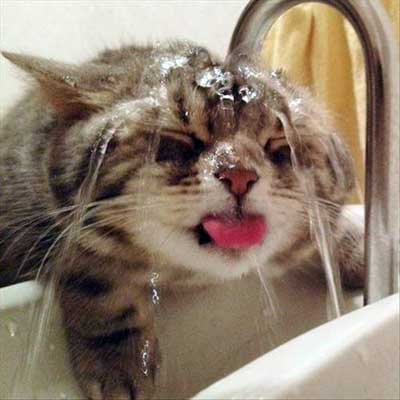 And one final word – Hydrate! Drink as much water as possible to keep your insides and outsides healthy.
All pictures courtesy of Google Images.