Pete was nervous. It was his first time at a CA meeting. He wasn't even sure he belonged. He was really more of a silver vine guy. He got a cup of tuna juice and sat near the back of the room. There were quite a few cats already waiting. By the time the meeting started, there were almost 20 participants. Pete had no idea there were so many cats with 'nip problems.
Leader: Welcome, kitties! We're glad to see so many of you here. A couple of new faces and a couple that we haven't seen for a bit. Would anyone like to start us off?
Jonah: Hi, I'm Jonah. And I'm addicted to catnip.
Group: Hi, Jonah!
Jonah: I've had a pretty good week. I met a girl named Tina at the fish market. We went for a walk. I think she likes me.
Leader (nodding): That's great, Jonah! Did you have any nip issues?
Jonah: No, it was great. She never touches the stuff.
Leader: Who's next?
Sarah: I'm Sarah. And I'm addicted to catnip.
Group: Hi, Sarah!
Sarah: I finally broke up with my boyfriend, Tim. He was a really bad influence. He kept insisting that niptinis weren't the same as eating catnip. I told him that all catnip is a problem for me. He really isn't supportive, so I decided to move back home.
The other cats clapped for her.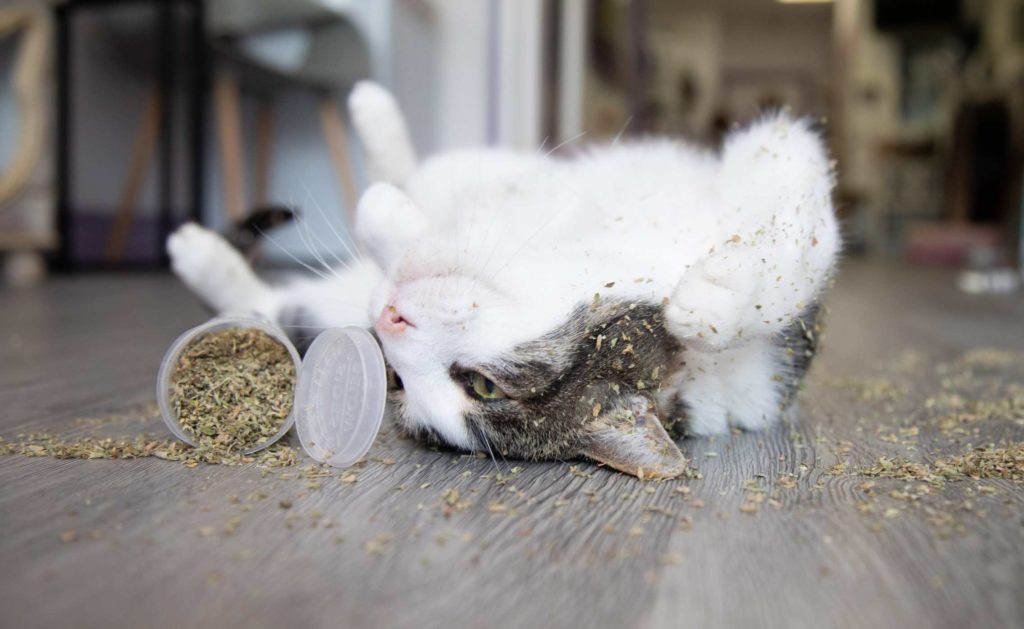 Mel: Hi, I'm Mel and I'm addicted to catnip.
Group: Hi, Mel!
Mel: This is my first time here. I went to a party on Saturday night and woke up under the table. I decided that it was time to get my habit under control.
Leader: Welcome, Mel. We're here for you. I'll help you find a mentor and get started on the program. Let's take a short break.
The leader took Mel aside and introduced him to a couple of other cats. The remaining cats got up and wandered around. A large cat walked up to Pete.
Cat: Hey, I'm Carl. I haven't seen you here before.
Pete: Hey. I'm Pete. It's my first time. I'm a little nervous.
Carl: Don't worry about it. we've all been there. What brings you in?
Pete: Honestly, I'm here because I told my wife I'd come. She had a bag of 'nip that I got into.
Carl: One time? That doesn't sound so bad.
Pete: That's what I thought.
Carl: Was it a lot?
Pete: She got it for a party.
Carl: Oh. A big party?
Pete: It was for a weekend away. It probably wouldn't have been an issue except I kind of fell asleep in the middle of the table.
Carl: Oh.
Pete: And I might have gotten a little testy when she tried to move me.
Carl: Oh.
Pete: And I got really agitated when I saw some flashing lights. I might have growled a little.
Carl: Oh. But it was just the one time?
Pete: Pretty much. Except when we walked past the lady's garden, and I refused to leave.
Carl: What lady?
Pete: A human in our neighborhood grows catnip for the local cats. She gives it away. I don't think she minded that I moved in for a couple of days. My wife said I embarrassed her.
Carl: Well, if it was intended for everyone….
Pete: I only stayed a couple of days. She didn't have any real food. I had to go home to eat. My wife thinks I have a problem.
Carl: Ummmm.
Pete: I'm not really sure I belong here. Talking about it, I think I just had a couple of bad experiences. I'm really glad I had a chance to talk to you.
Pete finished his juice and left.
Pictures courtesy of Google Images