Don't worry. We are remaining an all-feline household. Mom says that she is much too lazy to have a dog. And our human siblings are completely Team Cat as well. But Mom and our human brother were talking recently about how our human dad had wanted a dog several years ago.
We had no idea there were so many kinds of dogs. Some definitely sound like better housemates than others. Lower energy and easygoing personalities sound the best to us. Mom would have insisted on a shelter dog, so we probably would have ended up with a goofy fur sib.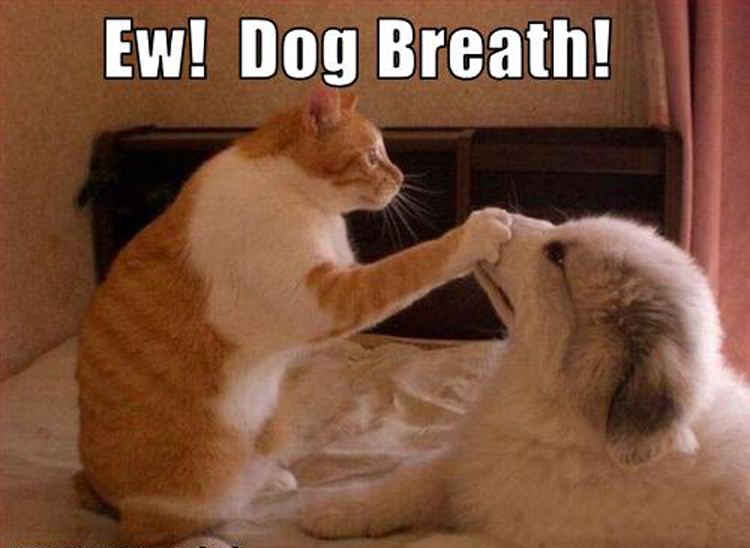 It got our furry brains wondering what life would have been like with a doggy sibling. First thing, it would have probably not have smelled as good. Dogs just smell – different. They probably smell fine to other dogs. But we're cats – with cat standards. It's hard enough dealing with some of the funky human smells.
And dogs eat – different. From what we've been able to read, some are not really very selective about what they eat, particularly about whether what they put in their mouths belongs to them. Or is even food.
We probably would have had to fight for cuddle time too. It's bad enough with just us cats, but imagine what it would have been like with something that considers itself "man's best friend." And it would have been bigger than us too. Humans are so hard to retrain; it would have been a nightmare.
It probably would have taken even longer to train the dog. Even though dogs are obviously intended to be minion material, it would have been a lot of work.
On the other paw, it might have been nice to have someone to blame for stuff getting knocked over or broken. And it probably would have been tall enough to get stuff down for us. And maybe we could have ridden it…
Note: If any of you hear your humans talking about a canine baby, these breeds were mentioned in more than one place as good personality matches with cats: Basset Hound, Beagle, Bichon Frise, Bulldog, Cavalier King Charles Spaniel, Collie, Golden Retriever, Labrador Retriever, Maltese, Papillon, Poodle, Pug, Shetland Sheepdog
Pictures courtesy of Google Images.