First, we'd like to thank everyone for all the love and support you gave Mom after our post last week (and the compassion for our situation). She is doing better.
We would also like to thank everyone for the unwavering support of our dislike of the lentil (That came pretty much from the feline population. There were a few humans who seem to enjoy eating them.)
We found a couple of recipes for Mom to make for us when she's back up to speed.
1 (4 oz.) can of tuna in spring water, drained and flaked
1 cup all-purpose flour
1 tablespoon dried catnip
1 large egg
Preheat oven to 350 degrees.
Place all ingredients in a food processor and process until you get a smooth, thick dough.
Form dough into 1/4-teaspoon balls (about 80 of them).
Place on a cookie sheet lined with parchment paper and flatten slightly
Bake about 15 minutes (until crispy golden)
Cool completely before serving.
May be stored in an airtight container for up to a week or frozen
1/4 cup chicken liver
1/2 cup mixed chicken gizzard and heart
2 cups of water
2 tablespoons of all-purpose flour
1/4 teaspoon of salt
Boil the chicken parts until tender.
Set the liquid aside and chop up the meat.
Mix the liquid with the flour, meat, and salt.
Cook over low heat until the gravy thickens.
The gravy can either be pureed or left chunky.
We're including this last one because the site says that cats love them. Mom hates pumpkin, so we've never tried it.
1 1/4 cups of oat flour, divided
5 ounces of drained salmon
1 large egg
1/4 cup pumpkin puree
Preheat the oven to 325 degrees, and line a baking sheet with parchment paper.
Break up the salmon with a fork or chopper.
Combine 1 cup of flour, salmon, egg, and pumpkin in a bowl using a spoon or electric mixer
Place the dough on the baking sheet, sprinkle with the remaining flour, and press down to a thickness of 1/4 inch. Prick all over with a fork.
Bake for 15 minutes.
Remove from the oven and cut into small pieces with a pizza or pastry cutter.
Spread the bits out and bake for an additional 15-20 minutes (until firm).
Let cool completely.
Store in an air-tight container for a week or freeze to store longer.
Another possibility.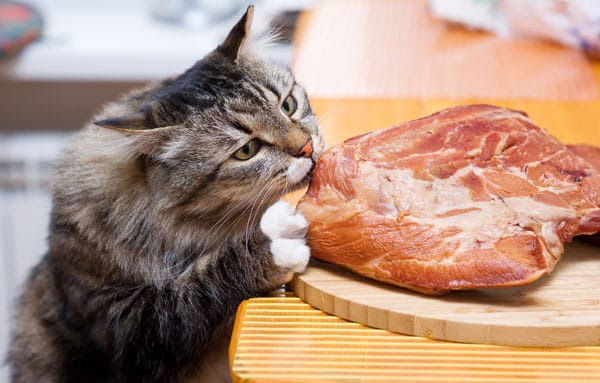 Or we could ask for a pet.