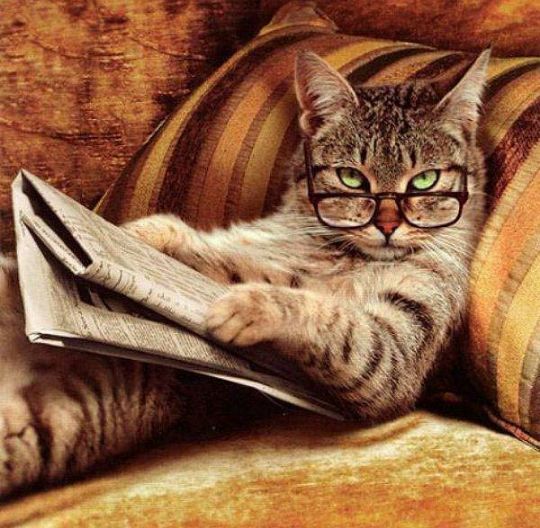 Well, of course we are.
Cats are Smarter than Dogs
Humans always talk about how smart dogs are. That's because dogs are dumb enough to take the humans' tests. We cats have better things to do with our time.
Our brain structure and folding (that thing that make brains look lumpy) is 90% similar to the humans. We're not really sure we agree that thinking like humans makes us smart, but they do. We have 300 million neurons (nerve cells) in the part of the brain that controls thinking and decision-making (the cerebral cortex). Dogs only have 160 million neurons. Cats rule.
We Learn the Same Way Humans Do
Cats have what they call procedural learning. We watch and then we do it ourselves. That's why we can open doors, ring bells, and turning on lights. Generally, we don't turn lights out (that's left to our human minions).
We also have what is called object permanence recognition. Just because we can't see something doesn't mean we don't know it's there. That's why it's a really bad idea for humans to hide our treats. We know they're somewhere, and we will find them.
We totally rock at taking new information and applying it to what we already know. Then we can use what we have learned in new situations. We are extremely intelligent kitties.
We are Smarter than Your Human Baby
We can eat our food by ourselves within a few weeks of being born. Your baby needs to be fed for an extended period of time.
There is no question that we are cleaner than your baby. Your baby doesn't care what they look like or what they are covered in. We wouldn't dream of going out without being fully groomed. And we bathe ourselves.
We are capable of catching our own food. When was the last time you saw a human baby catch a mouse for dinner?
We Train our Humans, They Don't Train Us
We do what we want to do, when we want to do it. We have our humans trained to feed us, cuddle us, and clean up after us. They play when we want to. A few purrs and cute looks, and they are wrapped around our paws.
So stand tall, fellow cats. We are the superior beings.
Pictures courtesy of Google Images.
(We just passed 1,000 followers. Thank you all very much.)