Where we are: Calico Corners has welcomed a meerkat construction company from Africa to the neighborhood. They have brought over their lion financial/legal team to finalize the paperwork. You can read part 1 here and part 2 here.
The lions have hit a few roadblocks that no one in Africa had mentioned. They met with the meerkats to discuss things.
Leonard Lion: Mikki, were you aware that the broker had you buy property that's not in the desert?
Mikki: It did seem odd that we had to request that the lawn be taken out. Usually you need to have it added. So, where are we?
Leonard: It's a place called the Midwest.
Marcel Meerkat: What's it mid-west of?
Leona Lion: No one really seemed to know.
Mikki: They have nice dirt to burrow in. It may not be a problem to work here.
Leonard: The dirt isn't the problem. It's the weather. It gets really cold here.
Leona: And it snows.
Giselle: It gets cold in the desert at night. But what's snow?
Mikki: It's white stuff. It looks pretty, but it's like fluffy frozen rain.
Maria Meerkat: We can't live in that! We'll freeze.
Giselle: It does explain why the cats here have such thick, fluffy coats.
Maria: And houses.
Mikki: So how long does this snow last?
Leona: It could be up to 4 months.
Mikki: That's not good.
The meerkats looked at each other. No one said anything. Finally, Giselle broke the silence.
Giselle: Let's go talk to the cats.
Everyone gathered, and Mikki explained the situation. Oddly, Cielle didn't seem surprised.
Cielle: I'd been wondering what you were going to do in the winter. Then when the lions asked me about the weather, I realized no one had told you about winter.
Tammy: Oh, you poor things! No one told you about the cold?
Leonard: Unfortunately, no.
Mikki: It looks like we'll have to return to Africa. I hate to say that because we've come to love all of you.
Everyone looked distressed, even the lions.
Cielle: I had an idea, if you're interested.
Mikki: Definitely.
Cielle: My family has several businesses and there are lots of air ducts and other small passageways to maintain. You could work for us when it's too cold to construct.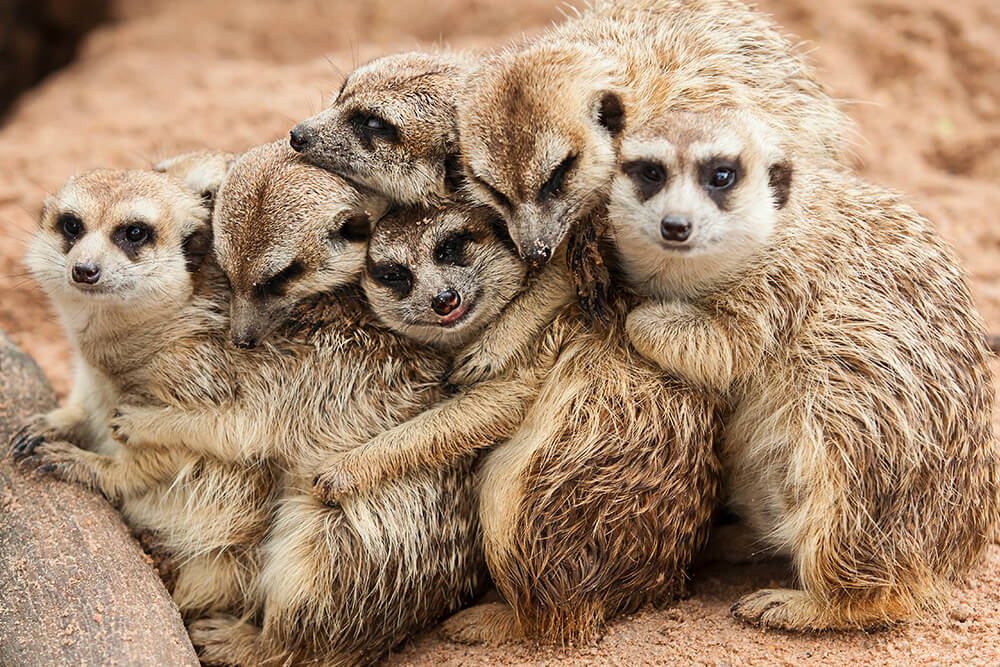 The meerkats huddled together and chattered excitedly.
Mikki: We would like to take you up on your very kind offer. We can learn to sleep inside for that time.
The lions still looked dejected.
Leonard: I guess it's time for us to go.
Tammy: Actually, we've been talking. You two are very kind. We were wrong to be afraid of you. You're welcome to stay if you'd like. If there's no company job, you can be security. No one else knows how sweet you both are.
The lions looked at Mikki.
Mikki: Of course. There's plenty of room for all of us in the house.
The cats all clapped and cheered. And they all lived happily ever after in Calico Corners.
Pictures courtesy of Google Images