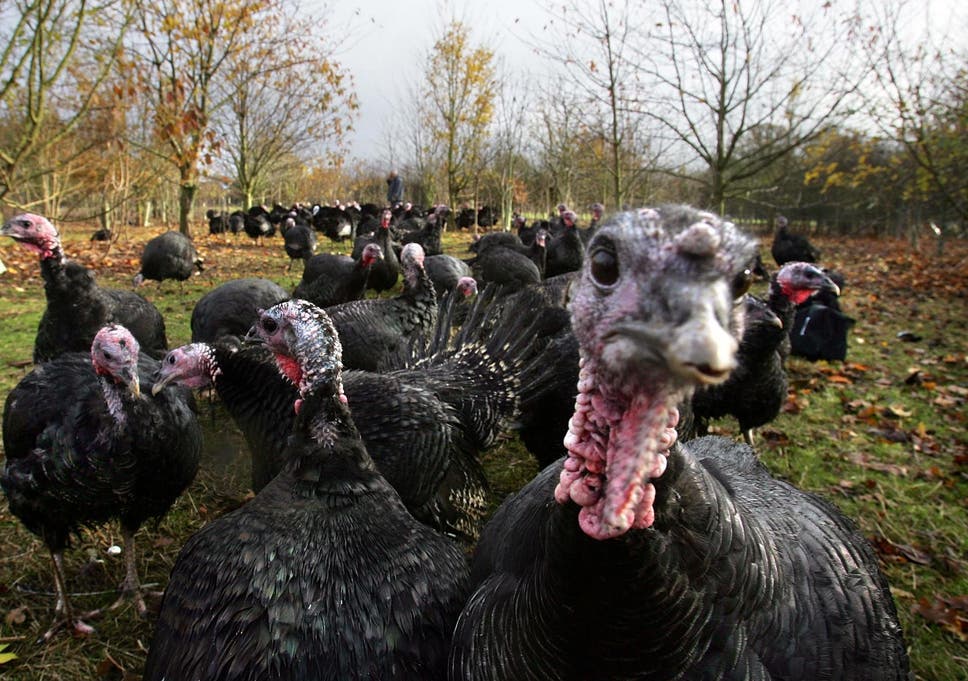 It's the busiest time of the year at the Halber Home for Traumatized Turkeys. Not only did severe anxiety and panic attacks frequently occur around Thanksgiving, but the population always increased substantially. Most of the residents only stayed a short time, until they were reunited with family, but others had no other place to go.
The home itself was actually acres and acres of woods where the turkeys could roam peacefully and forget about friends and relatives who gave their lives in the name of a traditional Thanksgiving dinner for the humans. Some had barely escaped the same fate, while others only knew that they had lost loved ones at this time of the year.
Mrs. Thomas, who ran the home, welcomed each resident as they arrived, telling them the rules of the house:
Everyone is welcome.
You can stay as long as you'd like.
No relating horror stories, except with trained staff.
No talking about other residents behind their backs.
Mrs. Thomas was standing at the entryway when three pigs approached her.
Pig: Hello. My name is Herman. This is Penny and Junior. We're hoping you can help us.
Mrs. Thomas: Well, I'll certainly try. What's the problem?
Herman: We thought we were living with a very kind man. He let us stay in a nice barn and fed us well.
Junior broke in.
Junior: But he was just fattening us up. He's going to send us out to be smoked as hams for next Easter.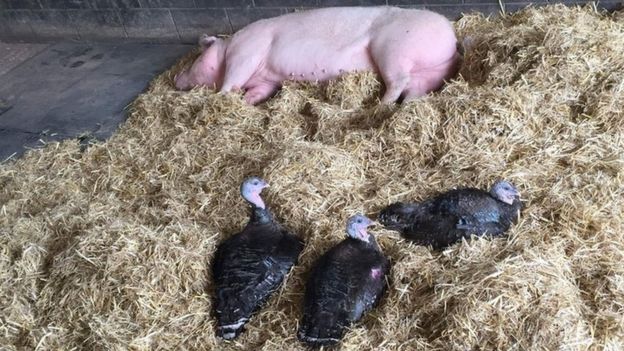 Mrs. Thomas: My goodness! Are you sure?
Penny: Absolutely. I heard him on the phone. He thinks we're just dumb animals who don't understand anything. But he's wrong.
Mrs. Thomas: That's terrible. How can I help? I don't know any pig sanctuaries.
Junior (hesitantly): We thought that maybe we could stay here for a while. Penny has some relatives down South, but it will take a while to make arrangements. And we don't have any time. We've heard that everyone is welcome. We were hoping that includes pigs.
Penny: Yes, please?
Mrs. Thomas: Hmm. This is rather unusual. We've never had anyone but turkeys here before. I'm not sure how the residents would feel about that.
Penny: But we don't have anyplace else to go. He's going to find us if we keep walking.
Mrs. Thomas thought for a few minutes. The pigs were getting more nervous. Every time they heard a noise on the road they jumped. They didn't know what they would do if Mrs. Thomas turned them down.
Mrs. Thomas: As I said, I'm not really sure whether you'd be welcome here. I need to talk with some of the staff.
Herman: How long will that take? We need to keep running if we can't stay here.
Mrs. Thomas: It shouldn't take long. Come in and hide in those woods while we decide.
She pointed to a dense group of trees not far from the road. The pigs sighed with relief. At least they were safe for a while. Everyone probably knew they were gone by now.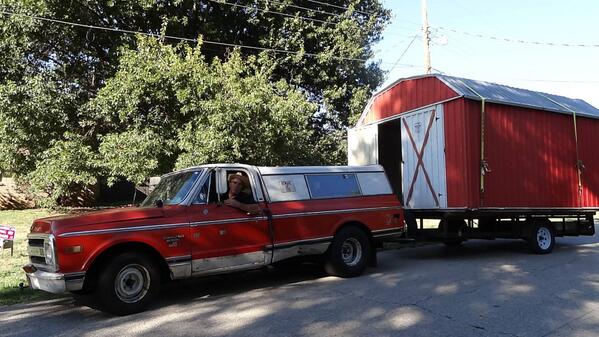 Penny: Thank you so much, Mrs. Thomas.
Junior: We're extremely grateful, even if the rest of it doesn't work out.
They heard trucks on the road and scattered, the pigs to one side and Mrs. Thomas to the other. Watching the truck move slowly along the road looking at each side, the pigs realized the humans were looking for them.
Human 1: Maybe we should get out and look in the woods.
Human 2: Why bother? Those pigs aren't smart enough to hide. They couldn't have gone far. It's not like they can run with the amount of food they've been eating. We'll spot them soon.
Human 1: We have to. Mr. Jeager said we'd have to pay for them if we can't find them. I can't believe they got that gate open. We weren't gone that long.
Human 2: Just keep looking.
The pigs looked at each other in terror.
Herman: You were right, Penny. We're lucky they think we're so dumb. It wasn't any trouble at all to get that latch open.
Junior: We better hope Mrs. Thomas will let us stay. It looks like those guys will be looking-
for a while.
Meanwhile, Mrs. Thomas was meeting with the staff and a few of the long-term residents.
Next week: Will the turkeys lets the pigs stay or are they too traumatized to be around anything other than more turkeys?
Photos courtesy of Google Images