Snoops and Kommando here. Welcome to another edition of Cat Forum.
Kommando: Did you know that humans have something called a horrorscope?
Snoops: What's that?
Kommando: I'm not sure. I think it tells them when something horrible is going to happen to them.
Snoops: I think you mean a horoscope. That tells them what's going to happen based on when they were born. It also tells them what type of personality people have. It's based on where all the stuff in the sky is when they're born.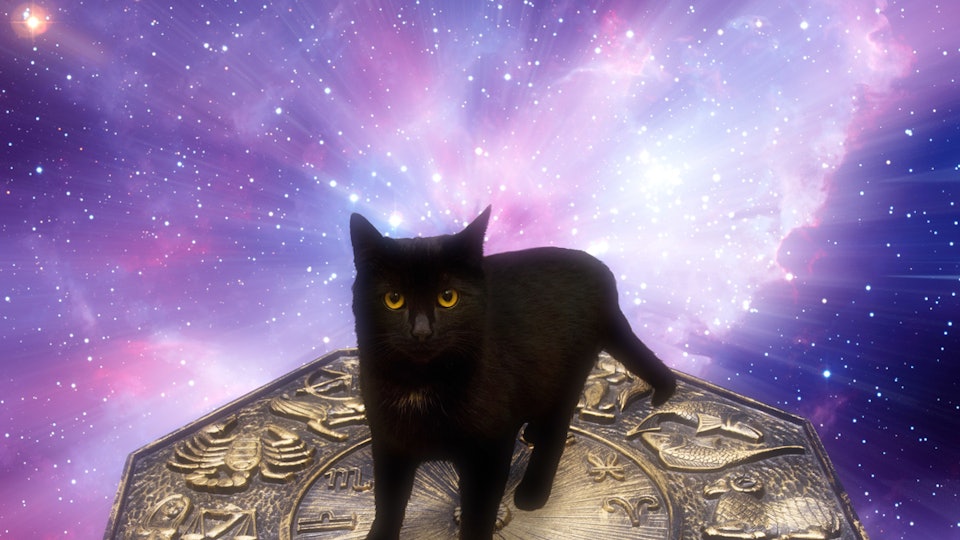 Kommando: Ooh. Cats need something like that. It could tell us whether we're going to get good food or something yucky tomorrow.
Snoops: That's not the kind of thing they use it for. They use to see if they're going to fall in love or get a better job. Stuff like that.
Kommando: Oh. That's too bad. Cats don't need that.
Snoops: Cats do have certain traits based on when they were born.
Kommando: We don't know when we were born, so it won't work for us.
Snoops: Maybe we can look at the personalities and tell from that. Let's see what it says.
Aries (March 21 – April 19)
These kitties have a lot of energy. They are the ones who race around all the time and want to play with anything they find. They are the most prone to bringing their human a paw-caught gift.
Taurus (April 20-May 20)
These cats love to be indulged. They can't get too much attention. They generally will eat whatever is put before them (and maybe even something that's in someone else's bowl). Many of them beg human food as well.
Gemini (May 21 – June 20)
Gemini is the sign for twins, and Gemini kitties have twice the personality in one cat. They have no problem communicating what they want and may have a whole vocabulary for getting it. These are the kitties who race around, get into things, then look innocent about the whole thing.
Cancer (June 21 – July 22)
Cancer kitties are usually quiet and cuddly. And they want a quiet, cuddly environment. They are family-oriented and like to give affection as well as get it. Sometimes they look for their own quiet space to get away from things.
Leo (July 23 – August 22)
These cats demand the most attention of any cat you will meet. They want to be the center of attention and get the most affection. They love playing with toys. They want lots of cuddles and love, and if they don't get enough, they'll come looking for it.
Virgo (August 23 – September 22)
Virgos are the ones who give cats their finnicky reputation. They want what they want and would prefer to have it now. They also want an extra clean bowl and litter box. Virgo cats are clean themselves, so don't mess up the fur.
Libra (September 23 – October 22)
Libra cats know they are the prettiest kitties around. They like to be noticed by humans and other cats. They are social, and want to be in the middle of everything. They pair well with Gemini kitties.
Scorpio (October 23 – November 21)
Scorpio cats are intense and mysterious. They do not like their humans petting another cat. They are moody, changing from loving to aloof like a switch has been flipped. They like to hide and also to hide things. (Most likely cat to leave a dead mouse in a slipper.)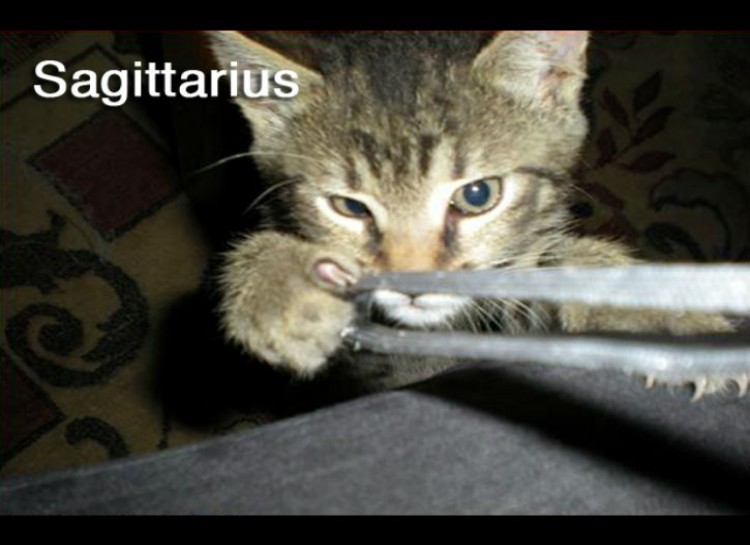 Sagittarius (November 22 – December 21)
These cats love a good adventure, and might even disappear for a day or two trying to find it. They are always on the lookout for something exciting to do or see. It's best to keep breakable things and nervous humans out of their way.
Capricorn (December 22 – January 19)
Capricorn cats prefer a one-on-one relationship with their human. They are used to getting what they want and like it that way. A favorite trick is to "persuade" their human that everyone will get a lot more sleep if kitty gets to sleep in the bedroom.
Aquarius (January 20 – February 18)
Aquarius kitties are the ones with the unique tastes. That's because they hate being bored. They want lots of entertainment all the time. Humans like them because they are the most likely to perform on command.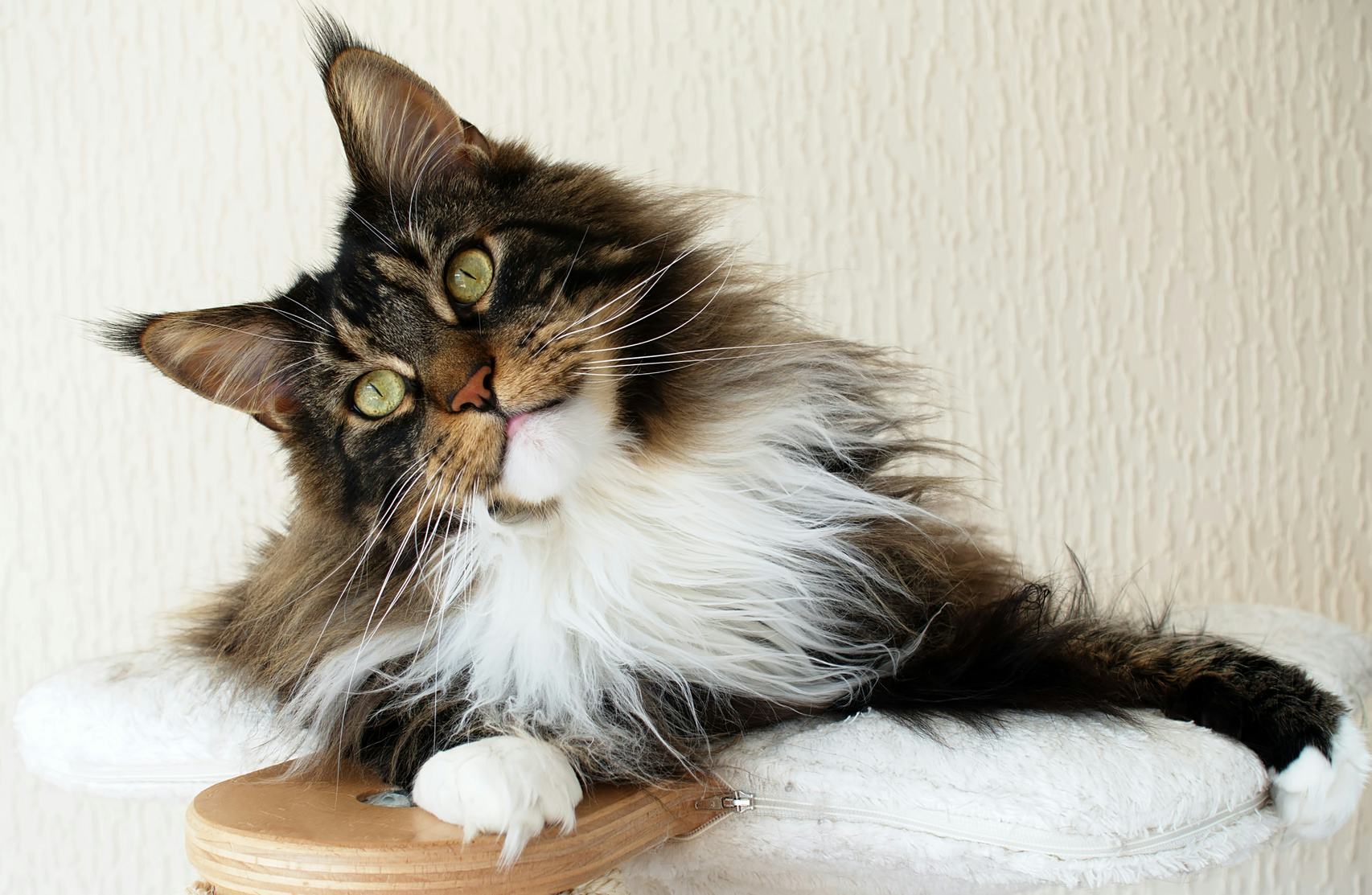 Pieces (February 19 – March 20)
These cats are calm and affectionate. When they sleep, they look like they're dreaming about catching mice and moths. These kitties know when their human isn't feeling well and will give extra cuddles to make up for it.
Kommando: That was interesting, but I can't figure out which one I am.
Snoops: That's because you're in a category of your own.
Information is courtesy of Tarot.com: https://www.tarot.com/astrology/astrology-cats-zodiac
Pictures courtesy of Google Images