Where we are: Katie Kitty has been given a scholarship to Mid-America Animal Tech where she will study providing medical care to the feral cat population. She has discovered that one of her professors is her roommate's father. Rose is much calmer about leaving Katie since she met the Professor. You can read the beginning of the story here.
After the first day of school.
Katie: That was tough. I can't believe how much homework we got on the first day.
Elise: And we have two quizzes on Friday!
Katie: Cats' vital signs and the systems in the cat's body.
Elise: Guess we better get started.
Katie: Can you believe some of the cats are going to a nip party tonight? It's not even the weekend.
Elise: I know. Maybe they don't know how hard the program is.
Katie: Did you see that cute boy cat that was looking at you?
Elise: How could I miss him? Every time I turned around he was there.
Katie: Did you talk to him?
Elise: Yeah. All he wanted to talk about was my father, the professor.
Katie: That stinks.
Elise: It's OK. I'm used to it.
Katie's phone rings.
Katie: Hi, Mama. How are you?
Rose: How was your first day of school?
Katie: Great! I think I'm going to like it here.
Rose: Were you OK after we left?
Katie: Yes, we were fine. (Rolls her eyes.)
Rose: What are you doing now?
Katie: We're getting ready to study.
Rose: OK. I won't keep you. Say hello to Elise and her father. Talk to you tomorrow.
Katie: Bye, Mama.
Katie looks at Elise.
Katie: She is going to drive me crazy. I think she's going to call every day. She says hello to you and your father.
Elise: She just misses you.
Katie: I guess. But I don't think I'm going to be doing anything very interesting every day.
Elise: She seemed to like Daddy. I'll see if he has any ideas.
Katie: That's a great idea. Thank you!
They decide to go to the cafeteria and eat before studying. After salmon mousse and cream, they return to their room and work until bedtime. The next afternoon, Katie gets another call.
Katie: Hi, Mama. How is everybody?
Rose: We're all fine. How are you?
Katie: I'm good. Elise and I are going to see a movie tonight. Take a break after studying.
Rose: You're not going to be out after dark are you?
Katie: I'm a cat. Dark doesn't bother me.
Rose: But it's not safe.
Katie: Don't you remember what Professor Khatt told you? It's perfectly safe here. Besides, it's just down the block.
Rose: OK. But call me when you get home. I want to make sure you're safe.
Katie: All right. I'll talk to you then.
Katie disconnects the phone.
Katie: Meowsers! She is crazy. I have to call when we get back. Did you talk to your dad?
Elise: I almost forgot! He said that he would call her tonight and explain how distracting it would be for you if she called every night.
Katie: I hope he doesn't hurt her feelings.
After the movie, Katie calls her mother.
Katie: Hi, Mama. We're home. All safe and sound.
Rose: That's nice dear. I hope you enjoyed the movie. I got the nicest call from Edgar. He told me that you are adapting well, and I don't need to worry so much. He is going to call me every Friday to let me know how things are going. He suggested that you call me once a week since you will be very busy. I think Monday.
Katie (confused): Sure, Mama. Mondays will be fine. Are you sure you'll be ok with once a week?
Rose: Oh, yes. I don't want to interfere with your studies. Love you.
Katie: Love you too.
Katie disconnects the call.
Katie: Your father is a magician! I only have to call once a week.
Elise: How'd he manage that?
Katie: He's going to call her every week to reassure her.
All goes well for several weeks. Everyone is making plans for the Thanksgiving break. Katie is talking to her mother during the weekly call.
Rose: Edgar tells me you're doing very well in school.
Katie: So far, everything is fine.
Rose: Did you know he and Elise will be spending Thanksgiving alone?
Katie: She says that's the way they always do it.
Rose: Well, I think it's terrible. So, I invited them down here.
Katie (in disbelief): Really, Mama? I don't think it's a good idea to spend that much time with one of my professors. It would look strange.
Rose: Don't be silly. Cats shouldn't be alone on holidays. Besides, you can spend your time with Elise.
Katie: I guess, Mama.
Rose: It's set then. You can all take the train down on Wednesday.
Katie disconnects the call.
Katie: That's weird. She invited you and your father for Thanksgiving.
Elise: That sounds like fun. I've never been south.
Katie: I'm so glad you're going to be there.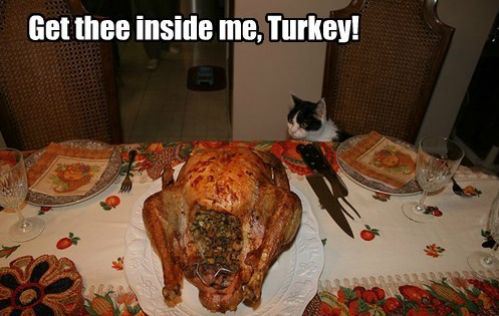 Rose makes a huge Thanksgiving dinner with an entire turkey. The kittens love Edgar. He has brought some of his cat models down and plays with the kittens. On Sunday, Rose drops Edgar, Elise, and Katie at the station.
Elise: Thank you, Mrs. Kitty. I had a wonderful time.
Rose: You're very welcome. I enjoyed having you.
Katie: I guess this wasn't as weird as I thought it was going to be.
Rose: I told you everything would be fine.
Edgar: You were a wonderful hostess, Rose. I'm so glad you invited us.
Rose: Thank you, Edgar. I'm looking forward to seeing you both at Christmas.
Edgar: We'll see you then. I'm planning special gifts for both you and Katie.
Katie and Elise look at each other.
Next week: The finale. What is going to happen on Christmas?