The opinions presented in this article are strictly those of the author. The do not reflect the position of The Cheeseland Times or its editorial staff. Groundhog Day was celebrated on February 2.
Did you think that because they gave us a special day that the humans think we are special? You're wrong.
Humans don't exchange gifts on Groundhog Day. They don't have cute cards for Groundhog Day. They don't say "Happy Groundhog Day!" to each other. If you have been living underground, the entire point of Groundhog Day is to pull a member of several of our communities from their nice, warm beds to tell the humans how soon winter is going to end.
They'll tell you that the groundhog emerges from his burrow on February 2. Let me give you a clue humans. We go into true hibernation (low body temperature, slow breathing and heart rate, and low metabolic rate). We sleep from October until March or April in the northern places where you want to see us. We do not wake up on February 2 so we can tell you how much longer you will have to scrape off your car.
How on earth would we know when winter is going to end? Do they think the information comes from some otherworldly spirit with special knowledge? Do they think we inherit it with our other attributes? No. They think we can tell because seeing our shadow on the morning of February 2 has some special meaning.
They refer to it as "the groundhog seeing his shadow." Listen up, humans. When you wake us up and pull us into the cold upper world, we don't see anything. We are blinking, trying to wake up. The sun is in our eyes. The reason we look grumpy is because we are grumpy. You would be too if someone did it to you.
The whole thing really irritates the female groundhogs. Do the humans think they always grab a male? No. They can tell the difference. They could change their stupid saying to "the groundhog seeing its shadow." Get out of the 20th century humans.
They hold us up under the arms and show us off like some kind of prize. Do they think that's comfortable? They're lucky we're not carnivores. We have to pose for pictures and video. Then they throw us back down our holes and expect us to go back to sleep. After they've woken up the entire family.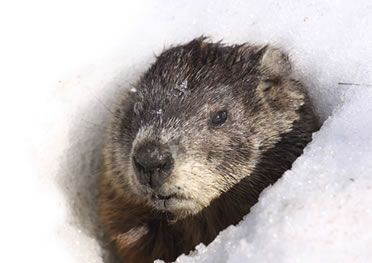 We are more than furry shadow-makers. Let me give you a few facts about groundhogs.
We are part of the squirrel family. In fact, we are the largest member of the squirrel family. We are technically marmots. We are the big, friendly branch of the family. But not when we are woken from a deep slumber.
We mainly eat plants. Clover is especially yummy. We also eat alfalfa and dandelions. Occasionally a slug or a snail is a nice treat. Nuts offer variety. If you'll notice, humans, you consider several of those things pests. Do you celebrate our contributions to containing those populations? No. You want to see our shadow. You know, you have shadows of your own.
As a proud member of the groundhog community, I'll tell them when winter is going to end. Winter ends on the vernal equinox. That's when there are as many hours of sunlight as there are dark because the sun is directly over the equator. This year that is on March 20th.
In the meantime: leave us alone!
Gregory Groundhog
You may reach me at gghog@info.ghog or follow me on Twitter @gghog
(All pictures courtesy of Google Images)