Eva Bruin, cub reporter at the Critter Cover High School Weekly Clarion, is sitting down with our editors George and Lenny for their first interview. They are excited that for once they will be the story.
How did you start your careers?
George: I started out like you, Eva, on my high school paper. I was editor my senior year.
Lenny: Yeah. He took over from a guy who got eaten.
George: An unfortunate case of mistaken identity. Being in the wrong place at the wrong time.
Have you always been a team?
George: Actually, we're cousins. We come from a close family.
Lenny: Our dads are brothers.
George: We grew up together and the job just sort of happened.
Lenny: Yeah. We're like brothers. I'm the good-looking one. He's the brains.
George: Aww. Thanks, Lenny.
What made you decide to come to Cheeseland?
George: I answered an ad on the MousterWorks job site for a blog editor.
Lenny: I saw it first, but they called George for some reason.
George: I actually sent them my resume, remember?
Lenny: Oh, yeah. I got frustrated with all the questions on MousterWorks. I think they might have closed my account, come to think of it.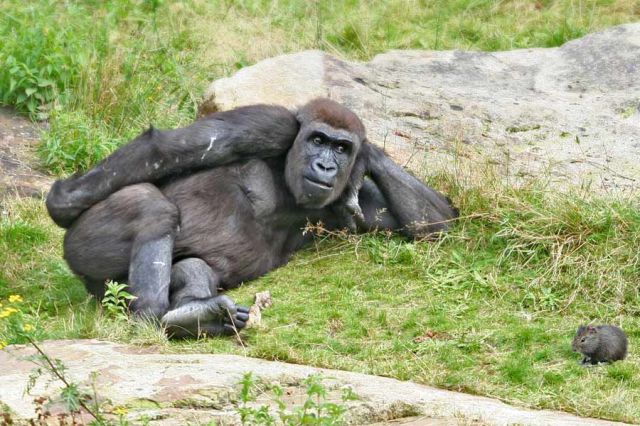 Is it hard working with cats?
George: Actually, Cheeseland is a zero-tolerance workplace. We've never faced any discrimination.
Lenny: They do all of the hiring virtually. Cat didn't know that we were mice until we did the final interview.
George: It isn't really a problem. We have all kinds of animals here: raccoons, rabbits, a gorilla, cats, …
Lenny: And Cat has a strict "No eating family members" rule. We're all considered family.
Are there any interesting stories coming up soon?
George: We heard an interesting news story the other day. At Yellowstone, the humans want to have garbage cans that are too difficult for the bears to get into, but easy enough that any human can use them. Apparently, there's a problem because some bears are smarter than some people.
Lenny: We want to go talk to the bears and get their side of things.
George: It's also been awhile since we did a reptile story.
Lenny: We have quite a few alligator fans, so we're putting something together for them.
George: We've had several requests for a hedgehog-friendly story too.
What are the best and worst parts of your jobs?
George: Paws down, the best part of this job is the animals we work with. I have never been at a place that is so mutli-cultural. And everyone is so nice. Very low stress.
Lenny: And there's no pressure to make things more human-centric. With a human owner, the blog could have run in an entirely different direction.
George: I guess the worst part is the deadlines. We like to keep things fresh, but sometimes it's a struggle to get it out on time.
Lenny: If we could just find a non-human typist, it would be a lot easier…
Do you have anything you want to say to your readers?
George: Thank you for all your support. We couldn't do it without you.
Lenny: Please try to think of mice as something other than a snack.
Pictures courtesy of Google Images.