Jerry was getting more and more frustrated with his algebra homework.
Jerry: Who cares which train is getting to Topeka first? I'm a cat, for crying out loud. We don't even ride trains.
He was starting to doodle on his paper when he heard a slight rustling in the corner. Naturally, he had to see what was making the noise. He stalked over and sat in a crouch, waiting.
Suddenly, he pounced and came up with a plump mouse.
Mouse: Put me down!
Jerry was startled. He dropped the mouse and put his paw on its tail.
Mouse: That's a little better. Now release me.
Jerry: I'm not going to release you. You're just the right size for a snack.
Mouse: You can't eat me. I'm Mac the Magic Mouse.
Jerry: Right.
Jerry started to scoop up the mouse.
Mac: Stop! I can prove it! Have you ever met a talking mouse?
Jerry:  Dude, we're cats. Most mice aren't dumb enough to come into our house.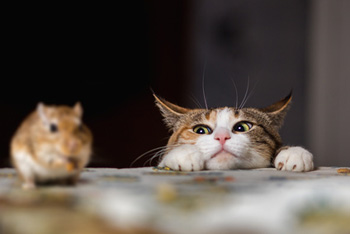 Mac: Fair enough. I'll prove I'm magic. Let me help you with the math.
Jerry hesitated. Mac did look really tasty. But it seemed rude to eat someone he had been talking to. Besides, he didn't want to spend all night with the stupid trains.
Mac: OK. This train from Newark is going to get there in 6 hours, but the one from Phoenix would only take 4.5 hours.
Jerry: Are you sure? Or are you just trying to get away?
Mac: Of course I'm sure. What's next?
The little mouse worked on the math for several minutes before Jerry's mom called him for dinner.
Jerry wasn't sure what to do with Mac. He had never heard of magic mice. What if he could escape?
Mac: Since you're going to be eating, I'll get going too.
Jerry: Sorry, little buddy. But I need you to finish helping me. If you're really magic you'll be useful for all sorts of things.
Jerry put Mac in a drawer and went to eat. When he was finished with dinner, Jerry got the little mouse out again.
Mac: Am I dessert?
Jerry: Don't be silly. I told you that I need you. Let's finish the homework.
Mac quickly did the algebra. He was also helpful studying chemistry. The next day, Jerry discovered that Mac had done everything perfectly.
Jerry: You are magic! The teacher said it was the best work I've ever done!
Mac: I told you! Aren't you glad you didn't eat me? So I can leave?
Jerry: Of course not! Why would I release a magic mouse? What else can you do for me?
By the next afternoon, Mac was getting pretty nervous. He had been sure that he would be able to slip out while Jerry was at school, but the drawer was more secure than he realized. Jerry was being nice to him, but he was a cat. It was only a matter of time before something would trigger his natural instincts.
Jerry: Hi, Mac! Another great day at school! I think I'm beginning to get the hang of algebra. You really are magic! What else can you do?
Mac: Umm. It's nothing really. You just needed some confidence. You don't really need me around. It's probably time for me to get going.
Jerry: Don't be ridiculous. I have big plans for you. The spring dance is in a couple of weeks, and I want to ask Buttercup. She totally ignores me, but I'm sure that you can get her to go with me. It's pawsome having my own magic mouse!
Mac (smiling nervously): Sure, buddy.
Mac had no idea what to do, so he went back to his drawer and began to pace.
Next week: Will Mac be able to work some magic on Buttercup or will Jerry discover that he's just a really smart mouse?
Pictures courtesy of Google Images