Here we are again. Your favorite felines from Cheeseland. Why are we interrupting the lame story about Cat TV? Mom has a concussion from where she fell on the sidewalk. (She is so clumsy. She would be the world's worst cat.) Her brain is a little slower than usual, so we're here to fill the gap.
We have come up with some recipes to make her feel better. You are free to try them yourselves and let us know what you think.
Protein Smoothie
3 mice, preferable without tails1
1 cup cream
½ cup cat grass2
Ice cubes to make it smooth
Put in earplugs. Blend until it is liquidy and a nice brownish-green color
1 If you do not have mice, substitute any fish.
2 Any green will do. The recipe book said that greens make smoothies healthier, and cat grass sounded good to us.
Tuna Melt
1 slice bread1
1 can tuna
1 slice cheese1
1 Only necessary if you are actually going to melt the tuna.
We recommend that you get out the ingredients, then give the cheese to the mice to fatten them up for the smoothie. You can take the bread outside. It will attract birds for Cat TV. Eat the tuna to show how delicious this treat is.
Chicken Soup
2 cups chicken broth1
1 cup shredded chicken2
Vegetables3
Noodles3
1You can buy broth at the store. You don't need to squeeze a chicken
2Remember to only use canned or from the refrigerator. Raw chicken can make you sick.
3It doesn't matter what kind or how many. Most cats don't like vegetables or noodles.
You stir all this stuff together. Put it in the microwave until it starts to bubble over. (Be sure not to let it heat too long. You'll lose too much broth.) Put it through a strainer over a bowl.
Put the bowl next to the strainer. Pick out the chicken and put it in the bowl with the broth. Take the strainer outside and empty it. The vegetables will attract animals for Cat TV.
Potatoes au Gratin
(Toss) Don't know how that got in here. Who eats potatoes?
Caesar Salad
Eeew. Isn't that the guy our human brother keeps reading about? (Toss)
Pickled Pig's Feet
Blech. We hate pickles and who wants to eat the part of the pig he's been walking around on? Do you know where they live? (Toss)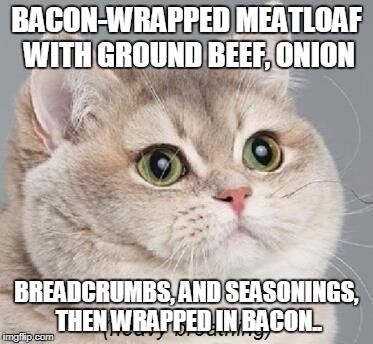 Meat Loaf
1 pound meat1
1 onion
1 egg
1 cup bread crumbs
Salsa or barbecue sauce
Salt and pepper
1It doesn't say what kind of meat, but since it's supposed to be in a loaf, we recommend something small, like mice.
Put the meat in a loaf pan. Like the ones Mom uses for banana nut bread. Put it in the oven and cook it. Put the other ingredients in the refrigerator. Some human will eat it eventually.
We hope you will enjoy these recipes.
Purrs, Snoops and Kommando Kitty
Pictures courtesy of Google Images (except us)