Greetings. Snoops and Kommando Kitty here. We've been going through our correspondence and noticed a trend. A lot of cats are wondering why their humans ask such silly questions. The short answer is: we have no idea.
However, we have come up with some possible answers. Which one you use will depend on your level of cattitude. If you have better ideas, let us know and we'll share them in a later.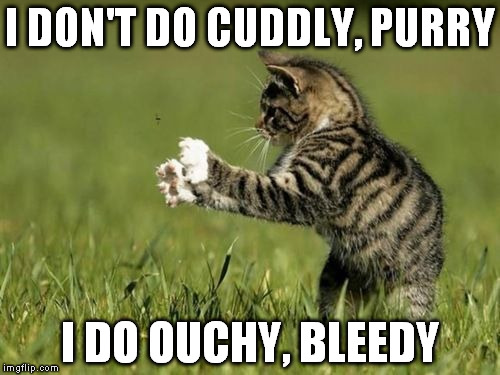 Does kitty want snuggles?
Don't you remember our snuggle appointment is 2:30 am? I'll let you know if I'm available other times.
Don't ever wake me up to ask that question again.
I suppose. But remember: it's a favor because I love you.
Fluffy, do you like the new puppy?
Can you return it?
I suppose he can stay if you can get rid of the smell.
Oh good! You finally got me the servant I've been asking for. I hope he's easier to train that you were.
Don't you love the new, all-natural, low-fat food I got you? You look slimmer and sleeker already.
It tastes like wood, and I'm starving to death.
I've been feeding it to the dog, and I'm starving to death.
I hope you enjoy the chunks I put in your soup so you can appreciate the "interesting, non-carnivore" flavoring.
Why did you put a mouse in my slipper?
I thought you might want a snack in the middle of the night.
You are the worst hunter I have ever seen. I wondered if you could find a mouse if it was right under your nose.
I thought it would make a nice storage facility for my back-up snack supply.
0.2
Will you please stop clawing the chair?
No.
I'm bored. I'll stop if you buy me a hamster.
In a few minutes. I'm almost done.
Why are you always begging for treats?
I want to get rid of these ones so you'll buy the kind I like.
I'm starving.
I like the way you look when I keep coming back. And your voice gets funny-sounding too.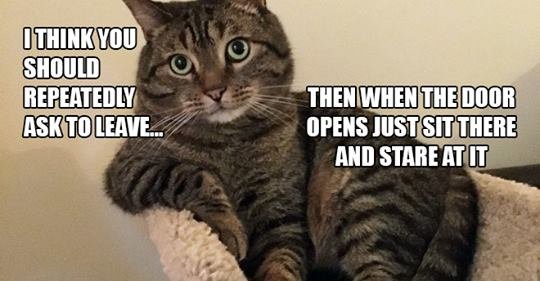 Why are you standing at the back door?
I want to go out, and it was raining when you opened the front door.
I want to go out to see if they delivered my package back here.
I let the puppy out. I'm waiting to see if he comes back.
Why did you whack the dog in the nose?
He looked at me.
He looked too peaceful sleeping there.
It's a game I invented.
Why won't you let me take your picture?
You don't respect my privacy when I'm bathing.
You never pay me for posing.
You always have that thing in my face. Even when I'm sleeping.
Why are you mad at me?
You made me wait for breakfast while you used the bathroom.
You smell weird. You were around other cats.
You bought that icky litter that stinks and sticks to my paws.
We hope these suggestions are helpful. Just remember, some human qualities are just too strange to understand. Like why they get mad if you sleep on the kitchen counter but think it's cute if you sleep in the sink.
Just remember: A snuggle and a purr will get you out of pretty much anything you do. Your "cute" face usually works too.
Purrs and Head Bonks,
Snoops and Kommando Kitty