Ms. Celeste: Good morning, class! Today's the day that we start your presentations on foreign cultures. I'm excited to find out what you've learned about groups who are different from you. Timmy Tortie, you're up first. What will you be talking about?
Timmy: I'm going to talk about human Thanksgiving.
Susie Siamese: You mean when they go to those buildings and talk to God?
Timmy: No. It's a big day at the end of the month of November here in the U.S. They get together with their family and friends for dinner.
Ralph Raccoon: Why?
Timmy: A bunch of them came over from the other side of the world a long time ago. Apparently, the people who were already living here invited them to a big dinner. Or helped them learn how to grow stuff. Or didn't kill and eat them. Or something.
Jimmy Wolf: So they get together to help each other as a way to commemorate?
Timmy: No. Basically, they get together and they eat a lot. Some of them talk about stuff they're thankful for.
Susie: My Mom used to live with humans. She didn't really like Thanksgiving. She said it was really loud. The turkey was pawsome, but the people yelled a lot.
Timmy: Some things I read said that people get really stressed out because they have to spend time with their weird family members. I guess you can't just invite the good ones. And sometimes humans drink stuff that makes them act silly and say stupid things.
Belinda Bear: Why do they do that?
Other Children: Humans are weird!
Ms. Celeste: What else can you tell us about human Thanksgiving, Timmy?
Timmy: Sometimes, they march in parades or watch other humans march in them.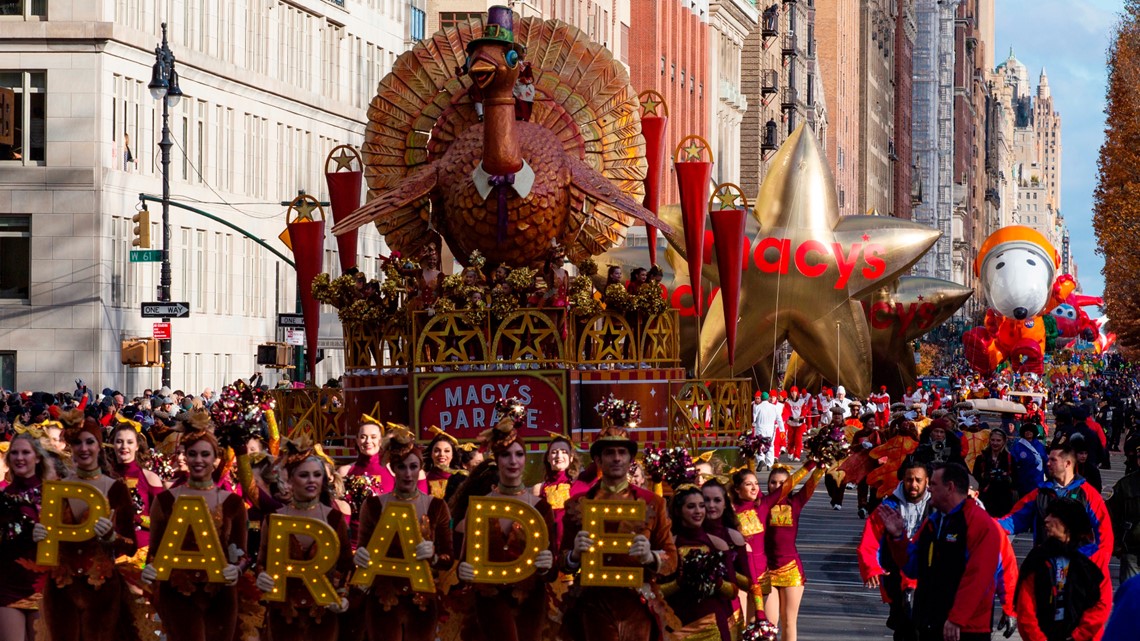 Ralph: What's a parade?
Timmy: It's when a bunch of people walk down a street. Sometimes they do tricks like dancing or riding a bike. Some play instruments or sing. And some ride on platforms that they call "floats" even though nothing is floating.
Tony Tabby: That is super weird.
Ralph: Do they sing and dance about thanking someone or something?
Timmy: Not as far as I can tell.
Ralph: So what's the point?
Timmy: Santa Claws comes at the end of the parade and the humans welcome him back.
Susie: That can't be right. Santa Claws comes on Christmas Eve. He's busy getting ready before that.
Timmy: Don't worry. It's not the real Santa Claws. It's just some human who dresses up like him. They don't look realistic at all.
Jimmy: I'm getting really confused. What does Santa Claws have to do with Thanksgiving?
Timmy: According to Catepedia.com, the humans like to see Santa Claws so they know it's time to start shopping for Christmas.
Jimmy: Couldn't they just use a calendar?
The class laughed, but Jimmy looked confused.
Timmy: It's hard to explain why humans do things sometimes. Someone started doing the Santa thing a long time ago, so now it's what they call a tradition.
Jimmy: So human Christmas kinda of starts at the end of Thanksgiving?
Timmy: Kinda. They do a lot of shopping that weekend.
Tony: That is really bizarre. They get together to eat a lot of food. Then shop.
Timmy: One other thing that a lot of them do on Thanksgiving is watch American football. It's a game with a bunch of men on one team running around trying to keep the other team from reaching the end of the field.
Susie: What does that have to do with giving thanks?
Timmy: As far as I can tell, nothing. Some humans just like to watch other humans play-fight. It gives them something to do while they're waiting for all that food to cook. And it keeps them out of the way.
Susie: It probably gives them something else to argue about.
Timmy: That's really all I know about Thanksgiving. It sounded a lot more promising before I did the research. I think it's a pawsome idea, but it could use some work.
Susie: Yeah. Maybe the animals should take it over and show the humans how to do it right.
Ms. Celeste: Susie, that's a wonderful idea. Let's have our own Thanksgiving.
Next week: The Critter Cover Elementary School Thanksgiving.
Pictures courtesy of Google Images