(I could not find a Cajun Gator pronunciation guide. Please use your imagination)
Somewhere deep in Louisiana, Andre Alligator is getting ready to start the Bijou Bayou Neighborhood Association month meeting.
Andre: Everyone, please find a spot and settle down.
(The group of 20 or so gators are quiet.)
Andre: Today's meeting should be a short one. First, next year's nesting ground will be in the reeds just past the south pooling area. So please remember that you will be fined if you are in that area during nesting season.
Andre: Next item. The humans are upset again. Apparently some of us are getting too close to them. Even coming into their yards.
Gator 1: So what? We stopped eating their tasty little dogs.
Gator 2: And they should stay outside if they want to keep the things on the grill. The smell is too much to resist.
Andre: It doesn't matter whether it's their fault. They threatened to turn me into a pair of boots if it doesn't stop.
(Pierre pushes through the crowd.)
Pierre (breathless): That's not the worst part of what the humans are saying.
Andre: What do you mean?
Pierre: I was peacefully sunning myself when a couple of humans came by. You know how loud humans are; I couldn't help hearing them talk. I could barely understand one of them. Must be from out of town. Anyway, one of them said, 'The new President said he was going to drain the swamp.'
(gasp of disbelief)
Pierre: Then the other one says, 'I hope it's soon. It's about time. Those varmints are all over the place. We need to get rid of them.'
Gator 1: Do you think they're talking about us?
Gator 2: Who else would it be? You heard Andre. They want to turn him into a pair of boots.
Gator 1: But a lot of other things live here too. They don't want to get rid of all that too, do they?
Gator 2: I don't know. Humans can be pretty stupid. Maybe they'll just get rid of enough of it so we can't live here.
Gator 3 (hopefully): He said swamp. This is a bayou. Maybe they're talking about somewhere else.
Gator 4: Do humans know the difference?
Gator 5: What should we do? What if they're trying to get rid of all the American gators?
Gator 6: We need to leave the swamp.
Gator 5: Where would we go? It's too cold in Canada and too dry in Mexico.
(The gators all begin arguing.)
Andre: Everyone, please calm down. We only have one choice. We have to talk to the humans and convince them not to do it.
Gator 4: How are you going to do that? They don't understand us.
Andre: The little ones do. They just outgrow it.
(The gators look at him in amazement. Andre swims to the edge of a lawn an lays in the sun. Before long he hears a young girl's voice.)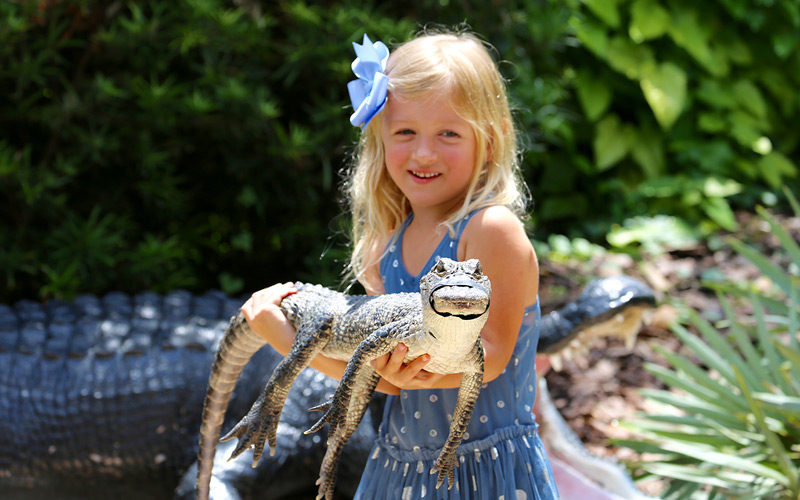 Girl: Hi Mr. Gator. How are you today?
Andre: I am well. And you?
Girl: I'm really excited. My cousin is visiting.
(Andre realizes she may be related to the men Pierre heard talking.)
Andre: Would you do something for me, sweetie?
Girl: Of course.
Andre: Please ask your father why the new President said he is going to drain the swamp.
Girl: Why would he do that? We live here.
(She runs off. Andre worries that he might have upset the child. He lays in the sun and tries to relax. Soon he hears laughter.)
Girl: Mr. Gator, wake up!
Andre: Hello, miss. Did you ask?
Girl (giggling): He says that you're a very silly gator. They're not talking about a real swamp. They want to get rid of a bunch of people who make a lot of money but don't do any real work.
Andre (smiling): Thank you for helping me.
(As he swims away to reassure the others, he couldn't help but wonder why human beings are so strange.)
(All pictures courtesy of Google Images)