Greetings. Snoops and Kommando here again. Mom's sick, so we're back on blog duty, as if being the talent wasn't enough trouble without needing to keep this whole operation afloat by ourselves. Since this clearly won't stand, we're going to nurse her back to health. Mom says we're not "Get Well" kitties, though. (She keeps talking about some former cat – we hate it when she loses focus on us like that.) So we're going to us this post to prove her wrong. Here are some common human ailments, and what you can do about them.
Coughing
Just like us, humans cough sometimes. Unlike us, it's not because they get hairballs. Since they aren't actually coughing anything up, the whole thing is a bit of an unsightly waste of time. Sometimes it can help to lay on your human's chest. However, if they are really seriously coughing, then this isn't always enough. Not to mention that it can make their chest seriously unstable, what with all the convulsions. In these cases, we advise laying over your human's mouth and nose, which is almost guaranteed to stop their coughing.
Fever
If you've ever thought that your human is even warmer than usual, then they might have had what Mom calls a fever. You're not dreaming; they actually do get warmer! As an added bonus, they're even more likely to lay down when it happens, so make sure to take full advantage and get in a nice nap with your human. Ours keeps water on the bedside table when she has a fever, which we think is extra-considerate, since it means we only have to get up if we need to eat or use the litter box. Humans reading this, take note.
Runny Nose/Stuffy Nose
You'd think a nose as basic as the average human's would require little to no upkeep, but you'd be wrong. Somehow, it's one of the most failure-prone parts of many humans, whether it gets clogged or starts to ooze human juice. On the whole, it's pretty gross, so we recommend that you stay away until your human is healed on their own. It might feel callous, but there's really nothing you can do. Humans are tougher than they look (thank goodness).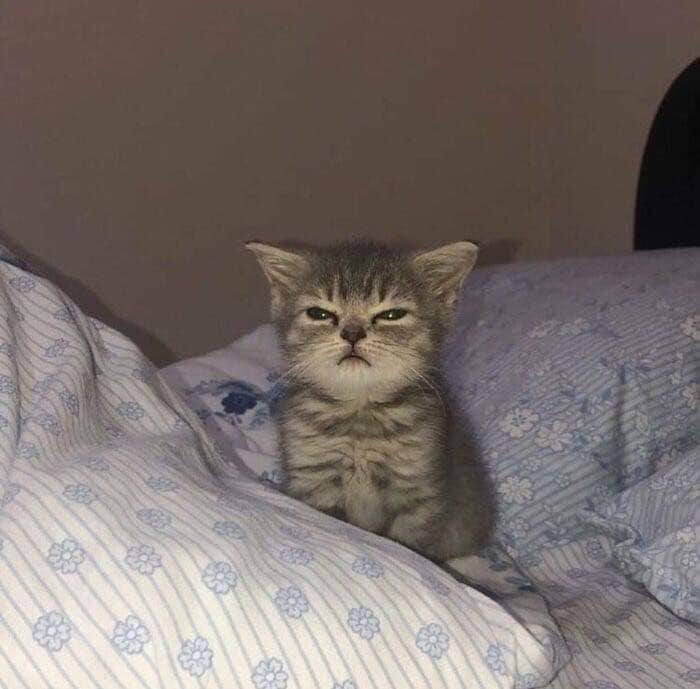 Lethargy/Drowsiness
On a more positive note, your human may become tired and lie down because of their illness. This is what we mentioned when were talking about fevers. As we stated earlier, this is the perfect time to catch up on all those missed nap opportunities from when your human was making lame excuses to leave the house, like "work." (Your very presence should comfort and reassure your human. If it doesn't, or if you can't tell, make sure your human knows you're there, by batting at their face, jumping on their chest, gently gnawing their toes, or whatever you normally do to get their attention. Your human might be sick, but that's no excuse for them to be ungrateful.)
Headaches
Occasionally, your human might complain about a sore head. We've seen how their brains work, so this isn't surprising. In general, they're kind of like fevers, where making sure your human is resting and recovering on their own is the best option. Some headaches are made worse by loud noises, though. If your human winces and holds their head when you hear something noisy, take note. We recommend loudly meowing to cover up the noise aggravating your human's condition – be sure to drown it out entirely, working in a team if necessary.
Upset Stomach
Some humans have very delicate dispositions. For example, Mom gets queasy when Snoops brings her mousy bits to snack on. Many humans complain of tummy trouble from time to time. Our best advice is to just be proactive and keep an eye on what your human is eating. If there's anything you don't recognize, you should at least give it a sniff test, if not a taste test. remember that your human might no know what's best for them, and don't be afraid to be persistent if they don't want to let you see their food. If you're not careful, Bast knows what they will put in their mouths. Ours keep trying to eat lentils.
This list, with the exception of lethargy/drowsiness, is by no means exhaustive, but we hope it provides insight on some of the more common human maladies. Proper care, treatment, and maintenance will have your human performing at peak efficiency – a properly taken care of human takes care of you properly. Also, we had to prove that we're better get-well kitties than what's-her-name. With that done, we wish you the best of luck using our tips to keep your own human in tip-top shape!
Purrs & Headbonks,
Snoops and Kommando Kitty
Pictures courtesy of Google Images