On Tuesday morning, at 5:13 am Eastern Daylight Time, it  will  be officially summer. All those long summer days with lots of sun puddles sound great, but some times it's a little too warm for comfort. So we decided to look around and see if we could find some activities that would help us beat the heat. Note: Most of them involve ice and/or water. If you're not a fan of wet paws, you may want to just lie in front of a fan or air vent.
Water Park – This one's for the real water lovers among us. Have your human put a few inches of lukewarm water in the bathtub. They should also put a couple of places for you to sit in the water where you won't get wet. (An upside-down pot is one idea.) Have them put in a few toys that will float. (Even ice cubes work.) You can bat the toys around and watch them move in the tub. Perfect toy? Floating battery-operated fish.
Ice Cube Bowl – Don't like the idea of sitting with water all around you? Have your human fill a bowl with water and put some ice cubes in it. You can bat the ice cubes around from the safety of your favorite seat. If your human really wants to get on your good side, they can make the cubes out of chicken broth or tuna juice. The best way is to use an ice cube tray, fill it part of the way with the broth, and add a piece of a treat (or catnip).
Fishing Bowl – Really don't like the idea of touching cold, icky ice? Have your human put a few floating toys in a bowl. Hollow plastic or cork are the best. Ping pong balls are ideal. Make sure the bowl is big enough for you to actually move the toys around.
Fishing/Bobbing for Treats – Have your human fill a rimmed baking sheet or other low pan with a small amount of water. Then they should put a couple of plastic lids on the water. (There should be enough water that the lids float.) Finally, they need to put treats in the lids. You can either scoop the treats out with your paw or "bob" for them with your mouth. If your human doesn't want to use lids, they can just freeze some broth or tuna juice into cubes and float them on the water, similar to the Ice Cube Bowl above. Once again, make sure there's enough water for the items to move around freely.
While we were looking around, we also found a few things that won't help with the heat, but sound like fun.
Toilet Paper Tube Puzzle – Once you're finished unrolling all of the toilet paper, give the tube to your human. Tell them to put a few pieces of kibble in the tube, then fold the ends over and seal them. Have them put a couple of small holes in the tube, then put the tube on the floor. You can get the kibble out by rolling the tube around the floor.
Pizza Box Search – Don't let your human throw away their empty pizza box after you're done sharing. They can put a small toy in there (Something that rolls around would be good.) They close the box, then cut several small holes in the top. You can put your paw through the holes to move the toy around (and maybe get it out.)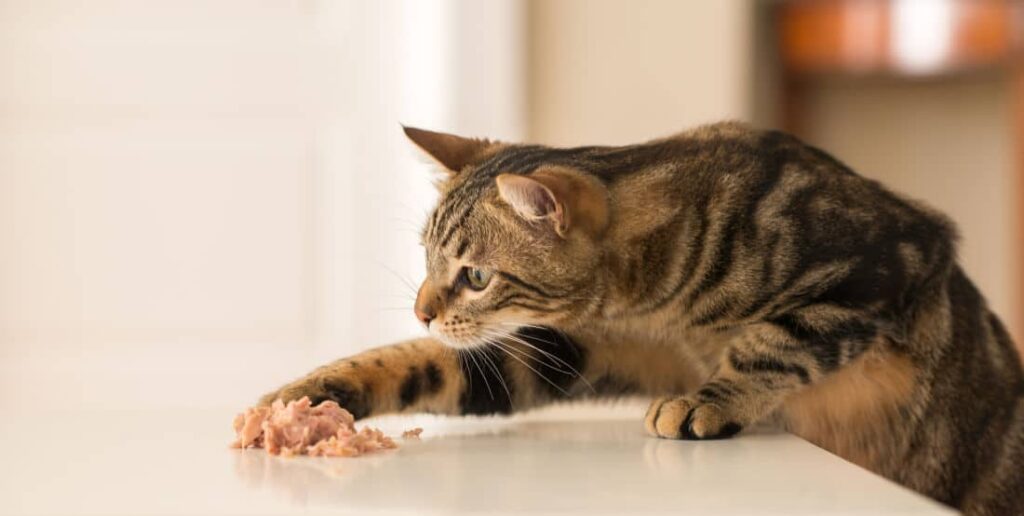 Tube Fishing – Don't let your human throw away the empty paper towel tubes either. They can cut them into different heights and secure them into a box. They put kibble in the tubes, and you have fun fishing the kibble out of the various tubes. (We have a store-bought version of this game, and we really like it.)
Box Forts – Your human can stack a bunch of old boxes and bags together. They need to cut holes in several places so you can crawl around the whole thing.
Rooting Box – Have your human fill a big box with non-toxic stuff like leaves, sticks, grass, and/or river rocks. You can root around in the stuff looking for treats and toys they have hidden. You can even sleep in there if you want.
Kitty Garden – Ask your human to plant some cat grass, catnip, or other cat-friendly plants where you can explore them. There are few things more cooling than lying in cool grass.
Cat Stroller – It's a great way to see the neighborhood without being in any danger from traffic. Be sure your human uses a stroller that is safe for kitties. You should be able to see and smell, but not get out accidentally. Note: If you are a shy or tense kitty, you may find a stroller is not really much fun. There are a lot of different noises and smells in the world, and it may be overwhelming.
Hopefully, you can find something in this list that you and your human can enjoy together. We're not really fans of ice or water, but if Mom freezes some tuna juice, we might give it a shot. On the other hand, the rooting box sounds like a lot of fun. Or napping in that sun puddle.
Pictures courtesy of Google Images.