In honor of April Fools Day later this week, we decided to find some jokes about cats. There are a LOT of jokes out there. Here are some of the ones we really liked.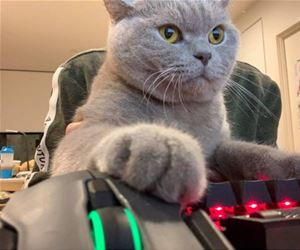 Why don't cats play poker in the jungle? Too many cheetahs.
Why are cats so good at video games? Because they have nine lives.
What do you call a cat who loves bowling? An alley cat.
Why was the cat sitting on the computer? To keep an eye on the mouse.
What is a cat's favorite song? Three blind mice.
What's a cat's favorite button on a remote? Paws.
What looks like half a cat? The other half.
What do cats wear at night? Pawjamas.
What's the difference between a comma and a cat? One is a pause at the end of a clause and the other has claws at the end of its paws.
What did the alien say to the cat? Take me to your litter.
What's a cat's favorite treat? A mice-cream cone.
Why are cats terrible storytellers? They only have one tail.
When is it bad luck to see a black cat? When you're a mouse.
What's a cat's favorite book? The Great Catsby.
How is a cat like a coin? It has a head on one side and a tail on the other.
What's a cat's favorite magazine? Good Mousekeeping.
What do cats do in the morning? Read the mewspaper.
Where do kittens go on school trips? The Mewseum.
What does a scared cat say? Stop freaking meowt.
What do you get if you cross a tiger and a sheep? A stripey sweater.
If the earth was flat, cats would push everything off it.
Cats ears are built to allow the human voice to go in one side and out the othet.
There were two cats looking into a green canary's cage, the first cat said to the other, "That's not a canary, it's green!" the other cat replied, "I don't know. Maybe it's not ripe yet!".
A cat walks into a bar. The bartender asks, "what can I get you?". The cat says, "A shot of whiskey."
The bartender pours the cat the drink and puts it onto the bar. Slowly, the cat pushes the shot off the bar before immediately demanding, "ANOTHER!".
Pictures courtesy of Google Images