Greetings! Snoops here. Kommando has decided to take the week off, so I thought that I would share some hunting tips with you. As most of you know, I am an indoor kitty so the live action will be limited to mice and bugs. However, I do have the inside scoop on the red dot, as you'll see below.
Catching Mice
We live in an old farmhouse, so the mice were here before I was. Mom can't stand the idea of traps, so I do my best to keep the population under control.
Patience is the key to any successful mouse hunt. The humans used to laugh when I sat staring at the walls, but now they say that I'm on "Mouse Patrol." I try to patrol the pantry when no one is around. There is nothing worse than being on the verge of flushing out a tasty treat, then having some human come in because they "forgot to grab the pasta." Sheesh.
I like to hunt alone. Kommando likes to participate in the chase aspect. I can let her do the initial flushing out. But if she gets too involved in the actual hunt, she turns it into a game. Then I either spend hours trying to corner the mouse or it gets away completely. What a waste – no snack and no trophy.
I'm torn on the whole eat or share issue. I used to give all of my dead mice to the humans. (They are really bad hunters.) But they throw the mice away which is a real waste. On the other hand, mice are not as tasty as kibble or my wet food. And it is always entertaining when they find my gift.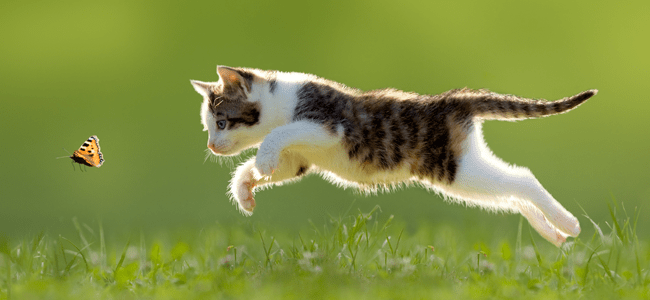 Insects
I'm not sure what happened, but we don't get anywhere close to as many bugs in the house as we used to. Mom works overnight, so the moths don't come around since there aren't any lights on. Ants are boring, and I don't like the way they taste. Our human brother takes care of the stinging insects. (Thanks!)
That only leaves the occasional creepy-crawly or fly. Flies are tough. You have to catch them mid-air, so planning is vital. You need to decide ahead of time whether or not you want them as a snack. If so, a direct paw-to-mouth action is required. Catch-and-release is much easier. Creepy-crawlies are easier to catch, but you have to be careful because a lot of them bite or taste bad.
Overall, I think insects are a waste of time. I think humans should dispose of them. Maybe we just don't get the right kind of bugs.
Wand Toys
Wand toys are a lot of fun if you don't have a sister cat who always takes over the game. You should try to identify which human is least likely to play for a couple of minutes and get bored. There is nothing worse than getting all revved up to play just to have your human suddenly find something else to do.
Be sure to give the toy time to get set. Jumping too soon can take all the challenge out of the chase. And don't play with it too long after you catch it or your human will use that as an excuse to do something else.
Try not to chew through the string. Kommando is really bad about this. We only have one wand toy and it's not the kind that retracts because Mom refuses to buy any more of those. She's says they're a waste of money because they only last one session. Some cats!
Red Dot
As promised, I have discovered a secret about the red dot: it's part of a human conspiracy! Mom's uncle was over and he was playing with us. He said that he was controlling the dot! Sure enough, he could turn it on and off. And he kept me from being able to catch it. He was entertaining himself at my expense.
My advice is to enjoy chasing the dot. But you will probably never be able to catch it because the humans don't want you to catch it. So think of it more as a way to get rid of extra energy or a bad case of the zoomies.
Stuffed Toys
Stuffed toys may be the best to hunt. Especially if you can train your human to hide them for you. And the best part is if you give your "kill cry" with a realistic toy. It is a lot less work for the same reaction.
Pictures courtesy of Google Images (except me!)