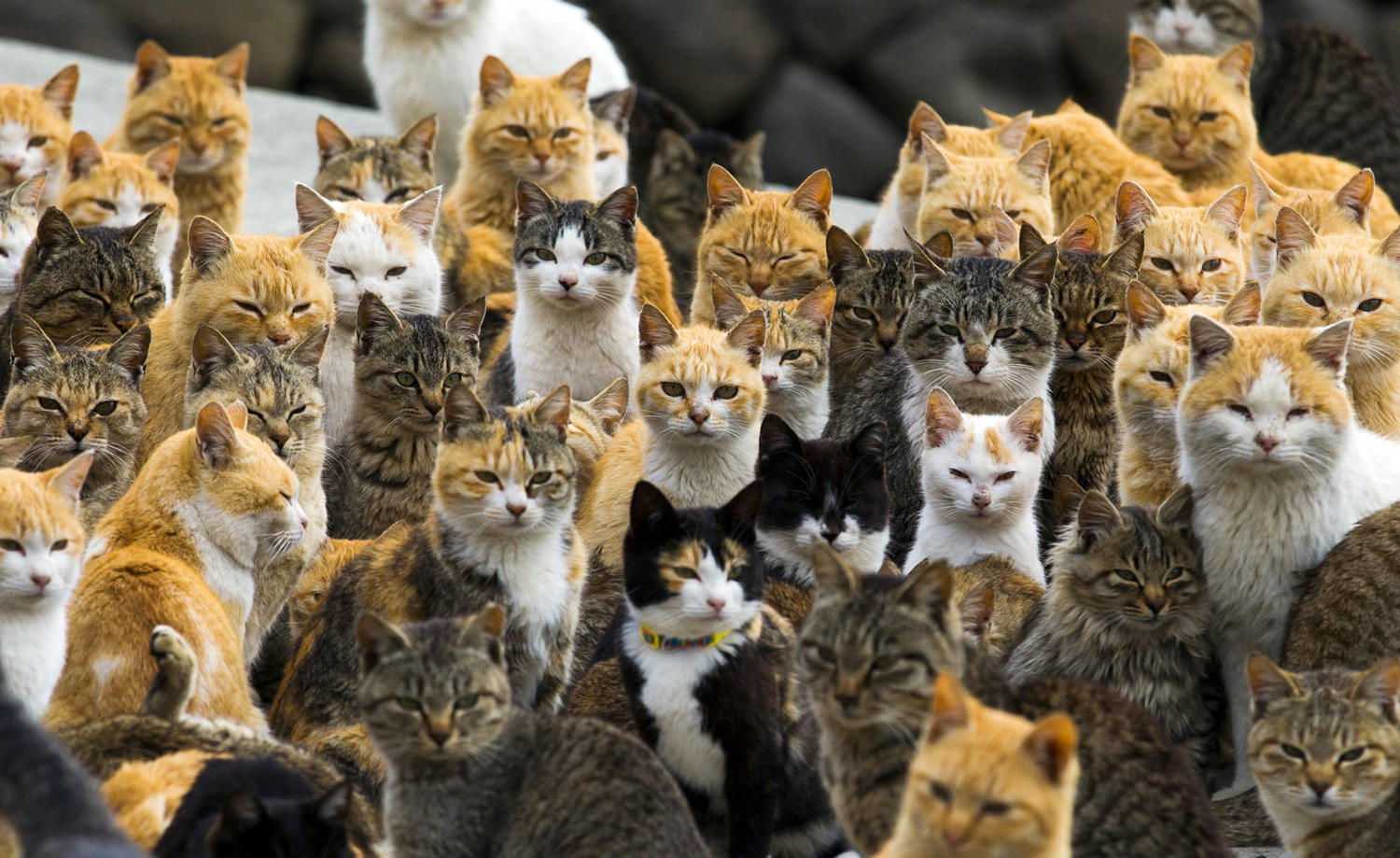 Greetings. Snoops and Kommando Kitty here. You may recall that a few weeks ago we had invaders visitors. Mom said that since we had a post to tell the truth complain, they should have the opportunity to give their side of the story. In the interest of fairness, we have agreed.
 Please introduce yourself with your name and one interesting fact about yourself.
I'm Onyx – I'm very quiet and laid back, but love being around my people.
I'm Spaz – I'm the oldest (and according to Mom, the crankiest). Unlike Onyx, I would be happy by myself with one servant.
I'm Angel – I love playing! (And climbing, and running, and eating. Really, I'm easy to please).
I'm Gypsy – I like playing hide and seek. My beautiful muted colors make it really easy to hide.
Did your humans ask if you wanted to come to our house?
Spaz– No, they did not. First Mom and Dad disappeared for three nights (they said something about a wedding), then they show back up, load us into cages and transport us across at least half the state. It was really disturbing.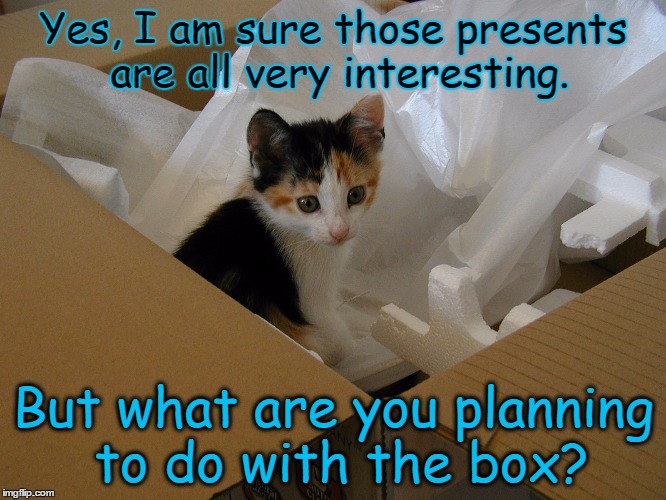 Did they bring back presents to make up for leaving you?
Onyx– although they brought back gifts for other humans, the only cat approved item brought for us was a large paper bag- and you will not believe the challenges I've faced, keeping the other cats (especially Angel) out of it.
Did you like staying at our house?
Gypsy– it was a lot roomier, which was nice. And the quality (and quantity) of both sofas, chairs and cat trees were much nicer. We would definitely approve if Mom and Dad were to move all of us in.
We heard Mom tried to starve you.* Have you recovered?
Angel– Barely. Since we've stayed, I've started fighting to make sure I get the most food- and that I'm fed first. After all, what if next time we get nothing? I've also started stockpiling extra food- although Onyx and Spaz don't seem to want to share their rations for the cost.
What do you think of our Mom (excluding the whole starving thing)?
Gypsy– She was really nice, and seemed to have more attention to give us. She wasn't distracted by "video games" like Dad or "working double shifts" like Mom.
Do you want to come back or was once enough?
Onyx– Although we appreciate the hospitality, once was definitely enough. The travel to and from is traumatic enough, and we missed our familiar smells and sun spots.
Sorry we weren't allowed downstairs. Did you want to meet us or were you happier with just the four of you?
Spaz-I waz okay without you. I guess it would have been tolerable to meet you, although I am of the opinion that each kitty should be a single kitty, with individualized attention. Don't take it personally though- I am still trying to convince Dad to get rid of the other cats (Mom keeps saying no).
Do you miss anything about being here?
Angel– yes, as a matter of fact. The extra space, the additional cat trees, all of the toys, the abundance of sun and nap spots… The 24/7 access to kibble was nice as well (we're supposed to have that at home, but Mom and Dad are really bad about remembering to refill the dish when it runs empty).
Do you want to say anything else?
Onyx– if your humans say they'll be home soon, don't believe them. Humans are really bad at measuring time. Also, if the carrier comes out, run.
Spaz– bring extra food, and bulk up before all road trips.
Angel– appreciate the little things in life. Our humans aren't cool enough to have multiple cat trees.
Gypsy– thank you for having us. We appurciate it furry much.
*While they were here, they got a half can of wet food and all the kibble they wanted. At home they each get a full can. They are sleek and definitely are not being overfed at home.
Memes courtesy of Google Images