Where we are: Bella Bear has decided to run for student government to represent the various types of non-feline animals at the academy. She has been promised the support of many of those animals. To read the first two parts, click on the links to the right.
Several days passed. As promised, the other animals volunteered to do anything they could. The night before her first rally, Bella was nervous.
Bella: I don't know why I said I'd do this. I'm never going to win. All I'm doing is wasting everyone's time.
Daphne: You don't have to win.
Bella: I know, I know. Just running is an important first step for us.
Daphne: No. I mnean you don't have to get the most votes to win.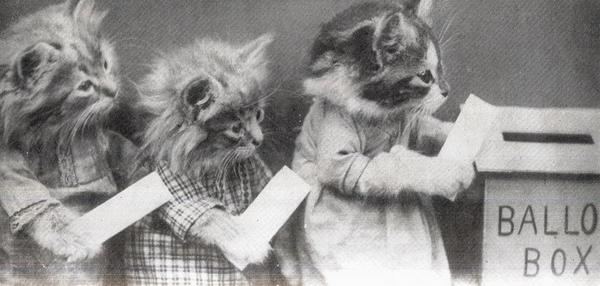 Bella: What do you mean?
Daphne: What office did you register to run for?
Bella: I don't remember. That's kind of embarrassing. I am going to look like an idiot tomorrow.
Daphne: No, you won't. You didn't need to sign up, except to run for a leadership spot. The animal who gets the most votes is President, the runner-up is Vice-President, and third place becomes Treasurer.
Bella: How could I have missed that?
Daphne: You were pretty upset about the cats running everything. You weren't really focusing on much else.
Bella: Has it always been this way?
Daphne: As far as I know. You campaign for President, but as long as you're in the top three, you're elected to an office.
Bella: That's why those cats were always in a herd. That makes sense.
Daphne: I told you the were nice kitties.
Bella: I better get going on my speech.
When Bella was waiting to go on the stage, she was surprised to see that there were a lot of animals waiting to hear what she had to say. There were even a few cats.
Becky Squirrel: Look. The cats sent spies to see what you're saying.
Bella: Oh, no! That's awful.
Daphne: No, it isn't. If they didn't think you were a threat, they would ignore you. Besides, some of them may just want to hear what you have to say.
Ollie Otter: I agree. I always go to all the speeches just to hear what they are saying. Maybe they don't really care if they vote for a cat.
Bella: Well, it's too late to back out, so let's do this.
As she walked onto the stage, Bella heard the cheering and clapping. She hadn't realized how many animals were ready for a change.
Bella: Thank you all for coming. I'm honored that so many of you wanted to hear me speak.
From the back: It's about time someone showed those cats the we can't be pushed around anymore. We're gonna fight back. Watch out kitties, it's our turn to roar.
The other animals began cheering the speaker. Bella was appalled. She didn't want to fight the cats. She wanted to work with them.
Bella: No. That's not the message at all. The cats haven't hurt us. We just want them to understand what we want, too. We want to have a say in what activities and classes are offered. We want to be a team.
The crowd quieted down as Bella talked about her plans and what she hoped to do, starting with afterschool and lunchtime clubs and programs more oriented toward some of the other animals. The audience listened quietly and cheered at the end.
Bella was thrilled. They seemed to really appreciate what she was saying. When she left the stage, she was surrounded by supporters. She noticed a couple of cats standing to the side and went over.
Bella: Hi, I'm Bella Bear. I'm so glad you could make it to my rally.
Phoebe: We were just wondering if you meant what you said to those mockingbirds.
Bella: Sorry? We don't have birds at the academy.
Phoebe: I meant the weasels who wanted to fight with us cats. Did you really mean what you said about wanted to work together? Or is that just a cover for the election?
Bella: Not at all. I don't want to be excluded anymore, but the cats are a huge part of this school. After talking with some of you, I understand that we need to participate to get our ideas heard. I'm trying to be that voice.
Phyllis: We were hoping you'd say that. Quite a few cats are in favor non-cats having a bigger say in things. But we want to make sure it's someone who won't make things worse by turning the school into pro-cat and anti-cat enemies.
Bella: Oh, yes! I completely agree.
Phyllis: Then we'd like to work with you on the best way to reach the cats.
Phoebe: And your team can work it into your message. What do you think?
Bella: I love the idea! Let me introduce you to my best friend, Daphne. She's the one who keeps all of us on track.
Next week: Will Bella cooperative strategy work?
All pictures courtesy of Google Images.