Where we are: Katie Kitty has been given a scholarship to Mid-America Animal Tech where she will study providing medical care to the feral cat population. She has bonded well with her roommate. Elise and her father spent Thanksgiving with the Kittys. They are coming back for Christmas. You can read the beginning of the story here.
Katie: I can't believe it's already the end of the semester. It seems like we just got here.
Elise: I know. We'll be getting our first grades in a couple of weeks.
Katie: Yeah, just in time for Christmas. Great timing.
Elise: I don't know why you care. You have gotten the top grade in everything.
Katie: I know. But the school's paying for everything, and it makes me nervous.
Elise: Let's talk about Christmas break. I can't believe your mom is going to put up with me and my dad for a whole week. It'll be just like having a real family.
Katie: Be careful what you wish for. My mother can be a little overwhelming.
Elise: Well, I think it's going to be fun.
Before they know it, finals are over and it's time to go home for the holidays. Edgar has bought the tickets for the train, and they settle in for the ride. Edgar seems to be in a particularly good mood. He even buys the girls mousicles as a snack.
Katie: Professor Khatt, thank you so much for buying my ticket. I'm sure my mother appreciates that she didn't have to spend the money.
Edgar: I was glad to do it. After all, your mother is going to let us stay with you for most of the holiday break.
Katie: I think she enjoys having people to cook for and fuss over.
Edgar: She is a very nice lady. She has been very kind.
Rose meets them at the station. She hugs them all and talks about all the decorating and baking she has been doing. When they get to the house, it smells wonderful.
Edgar: Rose, I want to thank you again for inviting Elise and me here for the holidays. I think she's tired of spending all her time with me.
Elise (hugging him): Daddy, I love spending time with you.
Edgar: I know that. But it's nice to be somewhere with all these decorations and food. And more cats.
Elise: That's true. Your house is beautiful, Mrs. Kitty.
Rose: Thank you. I really enjoy this time of year. Everything's so sparkly and bright.
Edgar pulls out several boxes in Christmas paper.
Edgar: Do you ladies exchange gifts on Christmas Eve or Christmas?
Rose: Edgar! You shouldn't have bought us anything!
Edgar: I couldn't come here without something for the kittens. As long as I was shopping for the kittens, I decided to get something for everyone.
The kittens surround Edgar, looking at the packages and purring.
Rose: We generally open everything Christmas morning, after Santa Claws has come.
Edgar: Sounds good. I forgot that Santa Claws would be coming here. Elise has been too old for a while.
The next night is Christmas Eve. They sit in the living room and talk about past Christmases and tell stories. Finally, they go to bed. It seems like they just get to sleep when the kittens start meowing.
Muffin: Get up! Santa Claws has been here!
Fluffs: And you should see all the stuff he brought!
Edgar: You must have been very good kittens.
Fluffs: It's hard sometimes.
Edgar laughs, and they all go downstairs. The kittens are right. The front room is full of kitty toys and treats.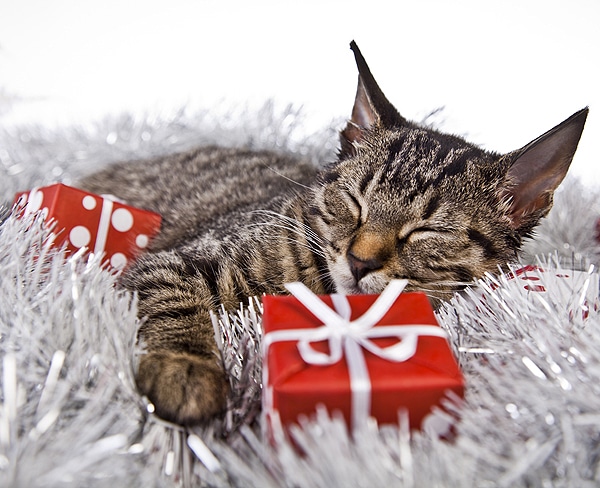 Elise: Wow! Santa Claws never brought me this much stuff!
Edgar (teasing): Well, I guess you weren't this good.
The girls exchange gifts with each other, Rose and Edgar. They ooh and aah over everything. There are only two gifts left. They are from Edgar to Katie and Rose. Edgar picks up Katie's and gives it to her. He also hands her an envelope.
Edgar: Read the letter first.
Katie reads the letter and squeals.
Mama: Katie! What does it say?
Katie: It's from the Dean at Animal Tech. She says that since I have the highest grades in the class, I get to study with Maria Meowska.
Edgar: Maria is a former student who runs a feral clinic near the school. The first-year student with the best grades in her first semester gets to work with her at the clinic. There's very little paws-on experience, but the student learns at lot.
Elise: Katie, that's paw-some! My roommate is a star!
Katie: I can't believe this! It's so exciting! Thank you Professor Khatt!
Edgar: That's not my gift. The letter is from the school.
He hands her a package. When she opens it, she squeals again.
Katie: It's my own stethoscope and examination tools! Thank you!
Rose: Those look awfully expensive.
Edgar: We can't have our intern looking like she had to beg for her equipment. Besides, I get a faculty discount. (He grins.)
Finally, Edgar gives Rose her present. He watches nervously while she opens it.
Rose: Oh, my goodness! It's a necklace with a heart on it. Edgar, you spent too much money.
Edgar: Nothing is too much for you. Will you come north and marry me?
Rose looks at him and starts to cry. Edgar looks scared.
Rose: Of course, I will.
Epilogue: Rose and Edgar were married a few weeks later. She and the kittens moved into Edgar's house. Katie graduated with honors. She and Elise joined Maria's feral clinic and expanded it to offer services to the entire area around the school.