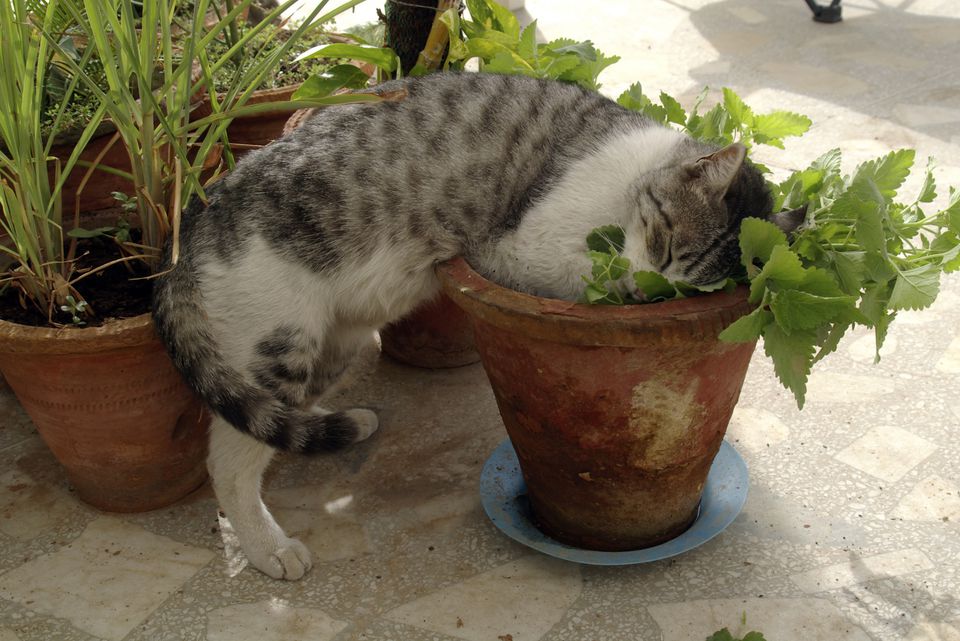 Greetings from Snoops and Kommando Kitty. Mom's not feeling well, so we took over are helping with the post. She didn't like our first idea, "How to Play Hide-and-Seek with the Annoying Dog Next Door." She also ruled out, "Games to Play with Potential Prey."
We are writing about catnip instead. We tried to get Mom to test out the effects of the recipes. She said that she doesn't like mint tea. We think she's just being difficult.
Catnip's been around for a long time. In fact, the humans used it as medicine until recently. In more enlightened societies they still use it. We were thinking that if we can convince the humans to use it again, there will be a lot more laying around the house.
Try leaving some of these ideas for your humans.
Health Benefits
Humans can eat, drink (juice or tea) or smoke catnip to get results.  Catnip has been used to treat a lot of things. (We don't know if it works, but don't tell your humans.)
Stress – If you've been telling your human that the best way to de-stress is to cuddle with you, leave this one out.
Sleep Aid – We recommend highlighting this one. There is nothing more annoying than a restless human sleeper.
Digestive Aid – It's supposed to help all those tummy things that make your human grumpy and extra smelly. It's worth a shot.
Headache Aid – Another thing that makes humans extra grumpy. And they can rub a catnip leaf on their face to help. Unless your human is disgustingly dirty, you can enjoy the leaf when they're done.
Healing Aid – Helps the body sweat out toxins during a cold or the flu. We recommend staying away from the human at this point. Sick, sweaty humans are a little disgusting and can make your fur damp.
Anti-Inflammatory Aid – Humans use it for arthritis, gout, sprained muscles and aching joints. It has something to do with chemicals. We don't understand it and your human probably won't either. We'd leave it out.
Bug Bite Aid – Humans really don't like being bitten. It's a good thing most of them don't have fleas. But if some bug does get them, catnip can help it hurt less. They're supposed to use an extract, but nobody explains how to squeeze the plant to get it out.
Nutritional Aid – It's full of good stuff and not poisonous.
Catnip Tea
Place 1-2 teaspoons of dried catnip flowers and leaves (2-4 teaspoons fresh catnip) in a teacup.
Pour a cup of hot (not boiling) water into the teacup.
Let sit for 10-15 minutes.
Add honey and lemon (They say this improves the taste. We think they are wrong.)
Fever Tincture
Fill a glass container 1/3 full with dried catnip
Cover the catnip with gin, vodka, rum or brandy
Secure the lid. Store for 4-6 weeks.
Strain out the herbs (catnip) and bottle it.
Use 1/8 to ¼ teaspoon every half hour for a fever.
(We recommend changing the recipe to fill the container to the top with alcohol so it can be used as a party drink.)
Calming Herb for Smoking
Dry the leaves and/or flowers of the catnip plant. (It doesn't say, but we recommend not using your dryer. It seems like that would make a mess.)
Prepare it for smoking. (We have no idea what this means. Hopefully the humans do.)
It will either calm you and make you relaxed or give you a mild sense of giddiness.
(Maybe you want to leave this one out of the project. We think the humans who wrote it might have been taking some other kind of medicine and got confused.)
We wish you luck in your pursuit of more catnip. Hopefully we have been of some help.
Ed. Note – This is by cats for cats. Our goal is more catnip, not healthier humans. Therefore, we have not forced any humans to take catnip to see what happens.
pictures courtesy of Google Images